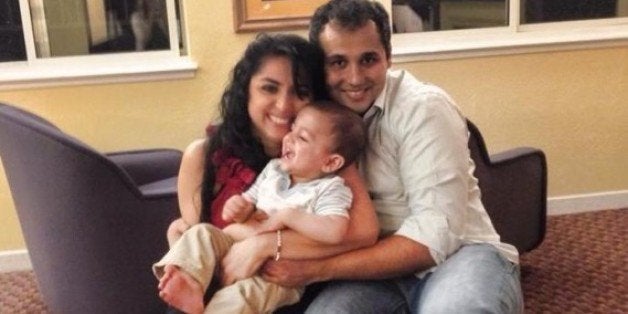 Every couple has a story. We've all burnished and buffed that moment we first met into the gem it deserves to be. Because without that moment there would be none of the wonder that came next – the love, the home, the children, the family.
Here on HuffPost Parents the other day, we asked you to share your stories as messages to your kids -- telling them of the sparks, slow burns and sizzles that led inexorably to their appearance on this earth. We asked because we all want them to know, but also because we all need to remember. It's too easy for this foundational moment to get lost in the day to day.
We asked, and you answered. We were flooded with your love stories – far more of them than we can possibly publish. But for this Valentine's Day, here are some we think you'll love to read. Keep sharing in the comments.
The Editors of HuffPost Parents
Daddy and I met in the fifth grade. We lived one street apart and rode our bikes home from school together. Until, one day, he told me he liked me, and I stopped talking to him. Over the years, we shared classes, passed in the halls at school, knew the same people, but we never spent time together outside of school and certainly never dated. After high school, we went to separate parts of the country and began building our futures. When it was time for our ten-year high school reunion, neither of us planned to go. Our best friends insisted and each played a role in making it happen. At the reunion, I saw Daddy across a crowded room and did not recognize him. I assumed he was there with one of my classmates -- a boyfriend, a husband, maybe. Then I saw his name tag, and could not believe my eyes. We were inseparable that weekend and a spark was ignited. Within one week we were making plans to visit each other. Within a few weeks we were planning our future. Ten weeks later, we were engaged. Ten months later, we were married. Now, nearly fifteen years later, we are more deeply in love than ever. Our love has created two beautiful daughters who give our lives new depth and meaning. Your Daddy shows me every single day that there is nothing more important to him than the two of you and me. He is "romantic" in the traditional sense, but what I love and appreciate most is the mundane, every day things. Like the way he can't wait to teach you something new when you ask a question. Or the way he makes you laugh just by being silly. The way he fills and empties the dishwasher, cooks dinner, picks up after himself, takes out the trash, and so many other things without question, complaint or request. The way he supports my career, my interests, my activities and me with all that he is. The way he still makes me feel physically beautiful despite the passage of time. I hope that you will each find love and friendship as amazing and wonderful as what Daddy and I have. It makes all the difference in the world.--Cheryl Johnson-Hartwell
Your daddy and I met all the way back in the fifth grade. He claims that he knew he loved me then but I'm a little skeptical. We "went out" as fifth graders do, holding hands at recess and sitting next to each other at assemblies. Daddy even gave me a necklace that he got from a gumball machine and I cherished that thing. Then one day, your fickle daddy decided he wanted to "go out" with another girl, so I threw the necklace over the school fence because I was so angry. We didn't really talk much again until our senior year of high school when I decided to give him one more chance. We've been together ever since. Even though we went to college in different towns we visited each other often. We used to send each other letters, long letters that talked about love and plans. I loved your father's letters, they made my week and I still reread them sometimes when I'm feeling sentimental. It was Daddy's idea to get married, he encouraged us to get a dog when I was still nervous, and he was ready to make you guys before I was. And look how right he was! -- Amanda Harris
Yesterday, I met your mom. Yesterday... a hundred years, they mark the same time. I was a junior in high school and trying out for my first play. I stood in a roomful of people I didn't know, save for one. Being the only kid who wasn't in drama class, I really was the odd man out. So, I did my reading in front of everyone then took my seat. All of a sudden, this raven-haired goddess waltzed into the room. She talked to the director and picked up her script and walked out. She got her part without even reading for it. I was agog. Then, I was terrified as I was cast as her husband in the play. I was so nervous around her that I was incapable of kissing her when the script called for it. I couldn't even make eye contact. Every time she was close my face tingled, my breathing went shallow and I got cottonmouth. I survived the play. But, I was done for. About a year later I finally got the courage and asked her out. We had our first date. From that night on, there's never been a woman I've ever loved more. Don't let anyone tell you 'young love' isn't real. This goes double for me or your mom.-- Scotty Schrier
Your father sat at the table next to mine the night my prom date left me at eight. Instead of watching my ex with his new girlfriend, I watched your dad. He was shy and quiet, and didn't have girlfriends. He played baseball. We danced. He was so tall and to this day, he has the greatest smile I've ever seen. I forgot to be sad. I invited him back to my parents' house with my friends but he got nervous and said no (which he later kicked himself for). The next day at school, and for many days after that, we wouldn't even look at each other. When we finally went on our first date, he brought me flowers. His car broke down, so I drove. We met a car full of retirees following a hot air balloon. We saw The Rock. This is all I remember. This, and his smile. Always. Your father's smile has the ability to light the room. You see it, too, I know you do. Later, we broke up, went to college, and the army, discovered the world and ourselves. When we reunited, years later, his smile is the thing that told me I was home.
We aren't a perfect, couple, because kids, there ain't no such thing. But we work hard to stay in love. We try to practice gratitude. We parent as a team. Don't even think about trying to play us. We still make-out in the kitchen, sometimes in front of you, and we hope one day you think it's disgusting. When we all "family hug", we smile over your heads, and we both feel like we're home.-- Kate Moretti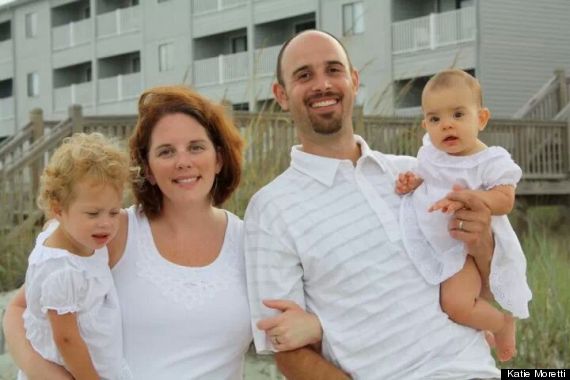 Your daddy and I were two teenagers with stars in our eyes and BIG DREAMS. We wandered around thinking we understood the world and the world couldn't possibly -- EVER -- understand us. We wanted to see Paris and never get old. Instead, we saw Detroit and got married. And at first, we felt we would miss out on the world's great mysteries. And yet... having known your blue eyes, all of you, for so many years now; remembering your little bird mouths opening as I held you, each of you, for the first time in my arms; looking back at the high mountains of the mornings, when you crawled into my bed and fell back asleep, your nose touching mine -- I am contented. Even though Daddy and I can't live together, anymore, even though everything has changed, nothing has changed, really. I love him for giving me you. -- Nicole Jankowski
Dear Girl and Boy, At a New Years Eve party many moons ago, I met a tall, skinny kid with a fake I.D. and an O.J. Simpson-esque Ford Bronco. I had too much champagne and told him that he was destined to be my future husband. Thankfully, that didn't scare him away because twelve years later, he is just that. As you know, he's also a wonderful and loving father. I loved your father before you were both born, but you have most certainly caused my love for him -- our love for each other -- to grow. And if you love me, your mother, you will help me convince Daddy that it's time to sell the Bronco. You'll also never acquire a fake I.D. Or drink champagne underage. Maybe I've said too much. Happy Valentine's Day. Love, Mama -- Susannah B. Lewis
I met your mother at my graduation from college. Now, it's best you read my account of the tale because hers is sure to be different. What you need to know is that true, we saw each other early that graduation day, and true, she did talk to me first. But, it was me, who, while sitting with my family eating a celebratory graduation lunch, looked over at her table and saw a beautiful brunette eating ribs. A beautiful brunette who ate ribs was my dream partner and later that night I inquired about the brunette who was eating ribs from the friend she was eating lunch with. Days later we were out on our first date and weeks later we celebrated our first kiss (for which there are vastly varied stories depending on which of us you talk to). Months later we were in love and years later we were married. It was a chance encounter, I think that part of the story both your mom and I would agree on. It was also a moment I'll never forget. I saw your mother from across that room all those years ago and while I can't say I saw your faces or our vacations or our house or the love all four of us have, I did know she was going to be in my life. That person you two have loved every minute of your lives became my special person from across a restaurant, eating ribs.-- Mike Reynolds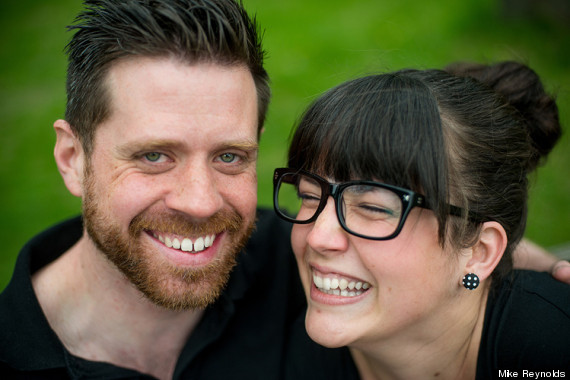 When your father and I met, I was 19, home from my first year of college. He was about to graduate high school. It was Friday, May 13, 2005. Yes, it was Friday the 13th, but it turned out to be one of the luckiest days of my life. I had no intention of getting into a relationship at that time. I'd recently come out of a relationship of a year and a half, and I planned on enjoying the single life. Kids, you can make plans all you want, but understand that life doesn't always go according to plan. My friend Mike came to visit, and he had someone with him. I saw your father's ratty t-shirt and messy hair, and I felt something. When I saw his smile, I knew he was going to be important to me. He called me that night, and we started talking regularly. He kissed me exactly a month after we met, and we've been together ever since. We're the only couple I know of that wishes each other a Happy Friday the 13th.-- L.G. Keltner
Son, the story of how I met your father is a very mundane one, yet it defines our lives. On a crisp September evening in Toronto, a Biology major and a Computer Science major found themselves surrounded by hundreds of English majors in an elective class they had both been dreading. His eyes were kind. His voice was shaky. He talked me into skipping class and took me for Bubble Tea. I hated the tea, but I loved him. I did then, and I do now. We are worlds apart, and exactly the same. He is my sense of adventure and my strength. I am his voice of reason and the hand on his shoulder. We are stubborn and critical; always challenging each other, always pushing each other a little further and a little higher. We don't do fancy outings. There are no grand gestures. Just simple acts of love. I pick the tomatoes out of his salad, and he sips my Coke. He tells me I'm being a know-it-all, and I say so are you. We're so far from perfect. But, so perfect for one another. We thought we had everything, and then we met you. And, then, we knew we had it all. --Anjali Joshi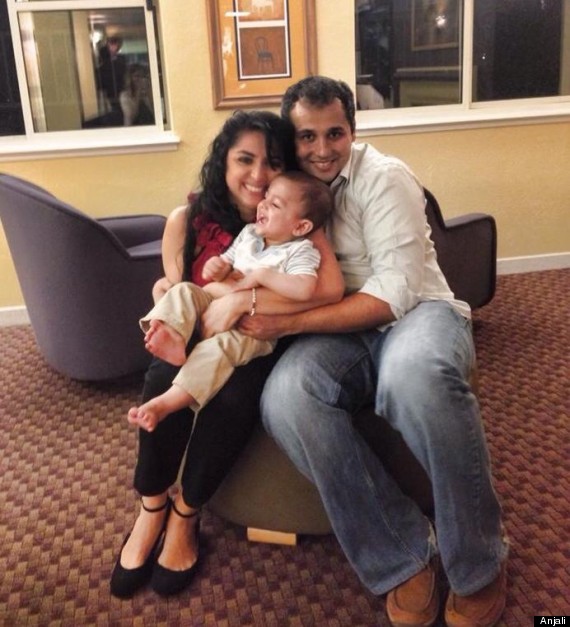 Finding Love Across Land And Sea When I first moved to Northern California, I spent many solitary afternoons at the seashore. I wasn't watching the ocean so much as I was surreptitiously observing the surfers gathered along the edges of the Pacific Coast Highway. They were a different breed from the surfers I'd seen in movies. Rough around the edges. Goosedown jackets, damp wool socks. Dripping wetsuits draped across sun-warmed truck hoods. Gazes fixed west. Inexplicably, I wanted to know more about their world, but I had no idea why. On a Saturday, when I was least expecting it, I met him. And he was one of them. He told me years later that he took one glance at me and decided I was much too young for him to pursue. Somehow I sensed this blockade, and I figured out a way to work my current age into the conversation ("29! I'm 29!"). I saw him light up. I also quickly confided to him that I had never, ever been swimming in the Pacific Ocean. He was dumbfounded and delighted. "Never been in the Pacific? How is that even possible?" And that was how our first date was settled: he didn't ask me out, he simply informed me he would be picking me up the following day. I couldn't have been more pleased; I'd never met anyone like him before. The next day he roared up to my house in his dusty Ford and we drove to the ocean. He had borrowed a wetsuit for me and I was completely mystified by the zipper: did it go in the front or the back? I wiggled, furtively, into the unfamiliar neoprene and did my best to pretend that I didn't feel tremendously self-conscious. He had his gear ready for abalone diving, and he said I could float with the bodyboard while he dove for our dinner in the kelp beds. I was determined to appear confident, adventurous, bold. He fell for it. "What was THAT?" I asked as a series of wide, slow waves passed beneath us. While he was contemplating the fact that I didn't know what a set wave was, I was wondering if my life was in legitimate danger. When we returned to the beach, he made a driftwood fire. He pulled out a cast-iron skillet from the bed of his truck, and seared the abalone in garlic, butter, lemon and wine. I'd never tasted food so rich. Before the sun had even set, I sensed I was experiencing a rare, precious day. I was in madly in love with him already, although I never would have admitted it to him or even to myself so soon. He was everything: strong, protective, funny, fearless, intelligent, confident, capable. Now, after more than a decade spent together, I can reflect on those early days. I know now that that peculiar yearning I felt was the gentle pull of my own future, calling me forward. I sensed his presence before we even met, I was pulled to him like the tide.-- Megan Aho Heronemus I met your mom in a club. She literally stood out, head and shoulders above the rest of the people there. I knew I had to talk to her so I gathered up my courage and made my way to her. She wasn't interested in me and tried to give me the business card brush off. I insisted that we talk. Being persistent paid off. I talked to her for hours until my friends wanted to leave. But she lived in California and I was in Illinois. I never gave up despite the distance. We picked up the conversation where we left off through e-mail and on the phone. I never ran out of things to say to your mom. Sometimes we would talk so long on the phone that she or I would fall asleep, not wanting to hang up. That's how I knew she was the one. I knew I would never want to miss a moment when I couldn't hear her voice or listen to her laughter. We are the same way with you kids in that conversation is important. That's how we show each other that we love, not only to talk, but to be able to really listen. --Chris Bernholdt Your mother and I were both raised in Brooklyn, but we would never have met each other there. Two million people lived between us. Instead, we met in college in a town outside of Boston. We began as friends. I used to ask her advice about other girls. And, then I began giving her rides home to New York. And when you genuinely enjoy someone sitting next to you for hours while trapped on the highway, as I did with your mother, you can see that person being next to you for years, for your lifetime even. So, we drove to the movies. And to dinners. And to parties. We took many long road trips. Sometimes we just drove around our college campus for no reason. I once blindfolded your mother and drove her to a dinner in Little Italy and then to a spot under the Brooklyn Bridge where I read her a poem I had written her. Now, as New York City dwellers, we are in a car so seldom that we feel entirely out of our element when we have to drive somewhere. We don't have nearly enough time to celebrate our love the way we once did, but I know that we both think about each other a lot. And, I know that somewhere on a highway between here and Boston, the spirits of our younger selves are riding side by side, smiling, debating, meeting one another, while your mother and I sit next to each other on the couch thinking of you both.-- Ariel Chesler
It was love at first sight when your mother and I met — if you can call her, the city girl that she was, mocking my suburban upbringing at a table full of our peers "love", anyway. We were interning at a large organization, and I walked it, suit and tie, with a baseball cap to the side, more swagger than sense. I dressed to impress, bringing my portfolio of drawings to show these guys how cool I was — and she deflated my ego like a porcupine rabidly chasing after a balloon full of hot air. We became good friends very quickly, but it wasn't until a fateful New Year's party where we'd even consider dating. But apparently it all worked out, because we got married and eventually, there you were! So remember, son — sometimes she's being mean to you for your own good! No. Wait. That's a horrible lesson....-- Casey Palmer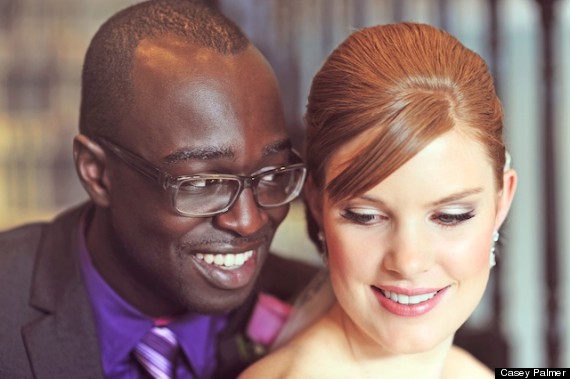 Mommy was a free-spirit, that means Mommy went where she wanted, when she wanted, she worked jobs that filled her heart more than her wallet, she lived on couches and had enough "stuff" to fill a small laundry basket and that was how she liked it. Daddy was a hard-working single father to your big brother and sister; he worked a job that made sure he had food in the fridge and doctors appointments for his young children. When Daddy met Mommy she was like a breath of fresh air, exciting and fun. When Mommy met Daddy she loved his passion for his children, his calm, gentle nature and his nicely tattooed bicep. We went on one looong date that resulted in marriage and the blessed birth of you. Mommy is happy to be brought back down to Earth by Daddy, and Daddy enjoys his occasional trips to the outer hemisphere.-- Liz Pearson
It would be hard to imagine two people coexisting in closer proximity without being an item (do kids still use that term? how old am I, exactly?) than your mother and I did for nearly a year before we first held hands, first shared a Haagen-Daaz milkshake, and first confided in each other our wildest hopes and dreams over a gigantic slice of Lorenzo's Pizza on South Street. We worked banker's hours together every weekday with only 18 inches of desk space separated us until even that foot and a half wide imaginary wall crumbled at the bank's annual holiday party in 1998. There, your mother found me irresistible in that too tight olive green suit I'd had since I was a teenager. And who could blame her, I was pretty hot. Despite never hitting the dance floor as a pair that night, the twinkle in our eyes and shy conversations on our tongues made it obvious to everyone around us that something magical was about to happen. It took another couple of days before we'd make it official over a bowl of slippery noodles neither of us understood how to eat with chopsticks, and then a few more before we knew for certain that we'd never share a dessert or a slice of pizza or an Asian Fusion noddle bowl with anyone else ever again. Also, it is very possible that our relationship was centered too much around food. Hence all the trips to the gym your mother and I made while you were growing up. -- Jeff Bogle
Your dad and I met at work, my family's business, when he was twenty-one and I was barely twenty. I was the receptionist for the summer, and he was just starting his career. We flirted all day for most of the summer, and I even came to know the sound of his steps as he came down the hall. This gave me just the right amount of time to glance at myself in the mirror before plastering on an eager "I'm pretending you're NOT the reason I have this goofy smile on my face" look. One time I was so flustered by his mere presence, I ran into a door on my way out of the front office. He says it was then that he knew. At the end of the summer, two weeks before I went back to school out of state, I finally decided to ask him out. My plan was to casually scan the movie section of the newspaper as he visited me in the office and ask if he'd seen a particular movie. Before I could do that, I went to make some copies in another room. While there, in walked your dad. I was busy making sure my work was correct and he said, "I have two tickets to the baseball game on Saturday, do you want to go?" And it was set: my last first date.--Theresa Haider
Your mother was wearing a very large Santa Claus hat in a trendy bar. She was there for an animal fundraiser that some friends and I put on every month. It was near Christmas so the Santa hat wasn't too out of place thankfully. She had the biggest, most genuine smile I had ever seen. I immediately approached her and said "Hi, I'm Trey". We talked at the bar for hours. After our first date I knew that I loved her. We dated seriously for 8 months and then broke up for 5 years. In late winter of that 5th year she called me and asked if I wanted to get some tea. I knew then at that casual drink that we'd be married. It's the other piece of the puzzle. The phrase 'you complete me' sounds so trite and like a line from a movie. But viewed as a puzzle, which life and relationships are, she completes me, and I complete her. -- Trey Burley
Your mom was the quiet one. I used to watch her from my perch behind the bar as I made margaritas and poured draft beers for the Sunday football crowd. She smiled, always. She had full, beautiful lips. I nearly collapsed at the knees once as I watched her pulling a scrunchie from her hair to readjust her pony tail. We had never spoken outside of our roles as bartender and server until by chance, I happened to be walking through the kitchen one day and I saw her talking on the phone. I heard her telling somebody how disappointed she was that whoever was on the other line couldn't make the Happy Gilmore movie they'd planned to see. I wanted to see the movie too, so I stopped and asked her if her boyfriend had stood her up. "I don't have a boyfriend," she said. "That was my friend cancelling our plans for later tonight." She was out of my league, no doubt, but I told her that I also wanted to see Happy Gilmore. She smiled a smile that I still remember today, 18 years later, as though it just happened, and we made arrangements to see the movie. It wasn't a date, in my mind, but your mom and I kissed that night. Your mom kissed me first, in spite of what she might tell you, and we were soon kissing each other as only new lovers do. I knew right away that those full, beautiful lips would be the last ones I'd ever kiss with such passion again, and they have been.-- Donald E.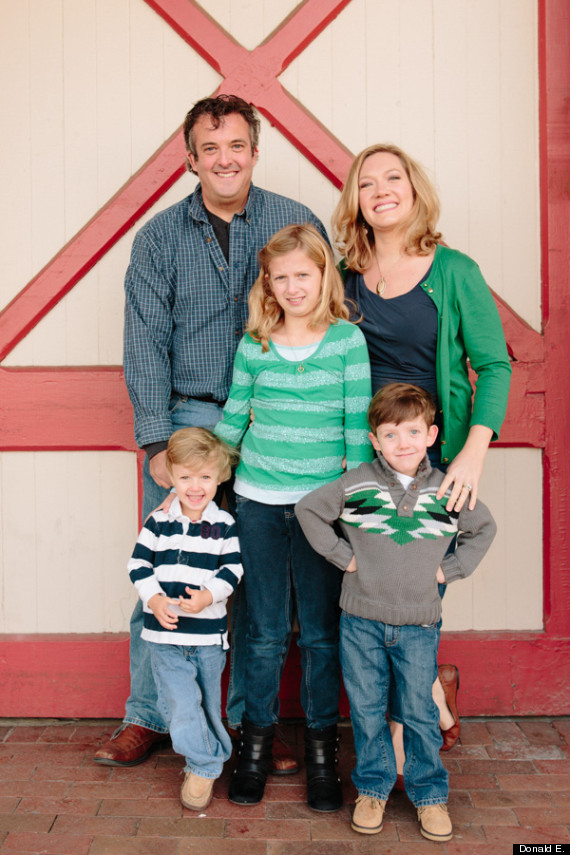 Long before you were born, Mommy worked in a building with lots of other busy people. One day she had to collaborate on a project with a young guy who was new in the company. Mommy didn't like that because she was used to being the boss and not having to work with other -- newer -- people. But the person paying her said she had to so she went ahead half-heartedly. And guess what? It wasn't bad at all. This young man was sweet, smart and funny. So they worked together on this project for a few minutes and then talked and talked and talked about everything under the sun. He was the first person that understood all the goofy, silly, quirky thoughts that went through Mommy's head. He was the first person to understand the need of hers to laugh, play, daydream and live the moment. He thought just like her. So much so that although they knew it was unconventional, they agreed to marry on their first date later that "project day". Five months later they had a beautiful wedding party and celebrated their spontaneity with all their friends and family. Their heart of hearts told them that although it was spontaneous and irrational and crazy, they made the smartest, safest, surest decision of their whole life. -- Monica Dreger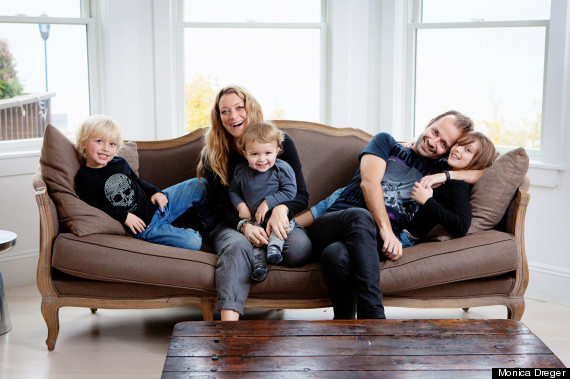 Back when there were newspapers, boys, the people who made them worked in cramped, dusty, frenetic places called newsrooms. Desks piled high with files and old news releases. Ringing phones. Last week's grease-stained pizza box carelessly tossed on top of a file cabinet. That's where I saw your mother for the first time, boys. As she moved through the newsroom on her first day at the paper, my eye was drawn by the luminosity of her smile and her confident stride. I sat there, stunned, and watched her over the top of my computer screen. She turned that smile on me and that was it. I contrived a "chance" meeting at the elevators that very afternoon. Workplace romance? Not at first. We were friends, then more, then we found ourselves one moonless night on the beach near Tierra Verde, where in the pink shadow of the Don Cesar Hotel I asked her if she wanted to spend the rest of her life with me. We're a decade married now, boys, and it shouldn't be news to you that I cherish and appreciate everything your mother does and everything she is.-- Carter Gaddis
This here's a tale for all the fellas" is how our story begins. Those words, the first line of Young MC's "Bust a Move," are the first words that I heard your mother say. It was karaoke night at the bar where I had just been hired, and your mom was a waitress. As those words hit my ears, I looked up at the stage and saw your mom singing. With people dancing and jumping all around me, I stood motionless. Not because of her rapping abilities, but because of her gorgeous smile. We were introduced that night and quickly became friends. That friendship turned into a romance and that romance turned into… It turned into a young woman standing by her boyfriend's bed every day as he struggled with life after having a stroke. As my health returned, I knew one thing, that there was no way I wanted to go through this life without her by my side. Ten months later that woman with the gorgeous smile stood across from me one rainy Saturday as we pledged our love and a lifelong commitment to one another, and we've been busting a move together ever since.-- Jason Greene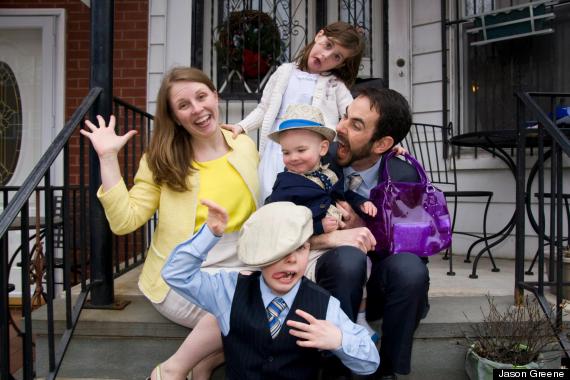 Hey buddy. You've heard some wedding talk lately, so I thought I'd tell you a little more about how your Papa and I met. It was 16 years ago, and your dear old Daddy was dating someone else, but he wasn't very happy. This person sent out an email to all his friends announcing a new email address. He failed to do something called "BCC," so everyone saw everyone's email address and everyone emailed everyone else to say hello, share photos, etc. This was many, many years before Facebook. It was an ancient form of communication called "AOL." One of the people who sent a photo was Papa. I saw it and thought he looked very handsome, so I said hello through an email. And then over the phone. And then I said goodbye to this other guy, and said hello to your Papa in person. I fell in love with him that very first time we met, and have never stopped loving him since. I can't wait until April when you get to see us finally get married. Why did we wait 16 years to get married? Partly because it wasn't legal for Daddies and Papas to marry until just a little while ago. And partly because we wanted to wait for you.-- Brent Almond
I met your dad on the internet. I know that don't sound very romantic, but that's just the start. We spoke for months before we met. He lived in New York City and I was from a small town in southern New Jersey. On New Year's Eve he came and picked me up. Those big brown eyes had me in an instant. We knew right then and there that this was love. I moved in the next day. From the first time we saw each other, we have been together and never left each other's side. That was the craziest decision I ever made, however it was one of the best!-- Danielle Crespo
Kids, when people ask me how I met Mama, the short and sweet answer is usually "she was a fan of mine." At the time I was making a web-comic parody of the reality TV show Survivor, called "Survivor: The Comic Series." She was a fan both the show and of my comic – such a fan that she signed up for my e-mail newsletter. But I didn't actually use the mailing list anymore, so for some reason (and I did this for no one else before, or after) I felt like I should send this new subscriber a message thanking her but letting her know I didn't do that anymore. I must have been extremely charming, because that e-mail led to more corresponding; the more we e-mailed the more we recognized one another as kindred spirits and we became fast friends. Then one day she dropped a bombshell, saying that she had something that she needed to tell me, but was afraid that it would scare me away. Her dark secret? She collected knives and swords and other various bladed weapons! My response surprised her: "You're kidding! Me too!" And so here we are, happily married for 8 years now, and parents to two of the most adorable little boys anyone has ever seen. And no, son, you can't play with our swords. -- Chris Routly
On a warm summer evening, at a Renaissance Faire, I got a little wistful because there were couples all around, dancing together and in love, but I had nobody. Then I accidentally backed into somebody. He reached around to steady me, and we swayed back to back... and then the power went out. So, as a group (his friends and mine), we went to his camping area and spent a few hours chatting. We ran into each other again the following week, and we haven't been apart very much since. We married three years later, and will celebrate our 9th anniversary next week. I could still spend hours talking about anything and everything with him... you, the weather, politics, art, movies. And we still often notice the same things... a funny shaped cloud, an oddly worded sign, a beautiful sunset. He is my rock, my best friend, my favorite traveling companion, and my support through good times and bad, including those years when we didn't think we'd be able to have a baby. And since you came into our world three years ago, it's only gotten better. -- Chandra Donahoe
Your Mama and I meet a long time ago. We were friends first for a long time. I did not know this but your Mama liked your Mommy right away. When I decided to move away to another state your Mama was upset and told me so. But we were still friends. When I returned to Colorado your Mama and I decided to hang out. Your Mama has always been funny and very creative and she can paint awesome pictures. Your Mommy really liked that about her. Your Mama is also kind, loving, sweet, thoughtful and the best friend I have ever had. Your Mama knew I wanted to have kids so we went to the doctors and they helped us find the perfect person to help us. Then the magic happened and you were brought into our lives. We love you David more than anything! I think you have brought me and your Mama closer together as a family. That is the best love story to me. --Ambrey Nichols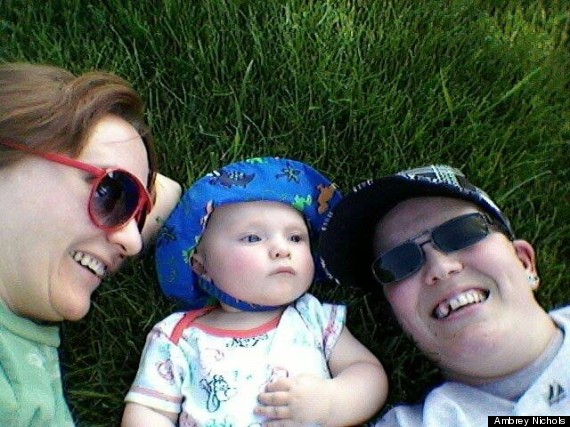 Daddy and I met twenty years ago. Back then, I thought I needed someone who met all of the items on my "checklist" and your Dad met none of those items. We were friends, but I was too silly to give in to the idea of being more. One very hot and humid day, after having told your Dad the night before that I needed a couch for my apartment, he showed up at my door. A neighbor of his was throwing away their couch and he not only asked for it for me, but also carried it, by himself (a full couch), and strapped it to his car, by himself, and drove it to me and carried it, by himself, up two flights of stairs to my apartment. When he got to my door, he was proud, but also trepidatious as if he had gone too far and a bit embarrassed as he was sweaty and sticky, and worried I'd hate it (because, frankly, that couch was being thrown away for a reason). Luckily for me, it was the first time that I actually was smart enough to look into his eyes and see something that my immature checklist -- and I as the creator of such a checklist -- had failed to realize. And it was of the utmost importance to me, and that is a deep kindness. I fell in love with him in that moment on a porch of an apartment building in Virginia and have never looked back. -- Nicole Fitzpatrick
Your father and I met when he was a last minute substitute on a blind date I didn't know I was having. My friend Diane had dragged me to the movies where she had planned, along with our mutual friend Todd, to introduce me to Todd's friend Eric. But Eric didn't show and Todd grabbed your father as a replacement. I had a cold and really didn't want to be there. Also, my nose was red from sneezing and I was wearing my very ugly down jacket and a comical pair of red fluffy earmuffs. Your dad was post-call, meaning he had been up for 36 hours straight. We both fell asleep in the plodding French film, which should have been my first hint that we were meant to be. Then we all went out to dinner where Eric actually joined us -- but it was your father who got all my jokes. Dad called the next day -- to beat Eric to the punch, he says -- and when he hung up a long time later he remembers thinking "wow, I can talk to this girl for hours." What he didn't yet realize is that I could talk to ANYONE for hours. But your father is the one I want to talk to forever.-- Lisa Belkin
Your father and I don't remember how we met. It's been 18 years, and we still struggle with this. We know it was during our first semester of college but the where/when of it all is lost to time. To be honest this used to bother me - I mean who doesn't remember how they met? But now I realize that's ok - because here's why. Movies and books will convince you that you need that lightening bolt for love to strike. In reality though, lightning bolts can hurt, be destructive and may not be what you need to build a lifetime of love. Instead, we became friends. Then one day Daddy asked Mommy out, she misunderstood it to be a romantic date (Daddy swears it was just meant to be as friends but he didn't make that clear), Mommy took some initiative and kissed Daddy, and Daddy's reaction was, "Well I guess then we're going to go on a date". And then we had our first fight (something along the lines of "Well couldn't you have made that clearer before I kissed you?" and "Well it was hard to when you were kissing me."). Needless to say it got sorted out. My point: we may not remember how we met, but we remember how we got together, and that's even better. -- Sarah Albertini-Bond
I met your mom renting a car. I needed one. She rented them. Because I wanted a car with a CD player in it, she had to drive me to another rental location. We got to talking. We make each other laugh. She drops me, puts me in my car and home I go. The next morning, I get a voice mail. "This is Lara. I rented you a car. A man called, saying he left an envelope in the passenger's side visor. Could you check?' I do. I check the whole car, including the trunk. No envelope. So, I call her office and leave a message with her manager. "I looked for the envelope. There wasn't one. Can you also tell Lara that I thought she was cute and funny and nice and if she wanted to ask me on a date, she didn't need to come up with a lame ass reason to call me." "You want me to say that?" the manager asks. "I want you to say that exactly." This leads to trading of voice mails and an hour long conversation on my way home that started with her saying, "It was another car." The next day, I call her and ask her on a date. We've been together ever since. And while I was doubtful about the existence of the envelope for a long time, now that we're together almost ten years and three of you in, I really don't care if it was real or not. Because fate works how fate works and I believe that meeting her is proof that it's real.-- Alan Kercinik
The first time I saw your mother in person we were visiting a museum. We saw each other and I poop you not, I was stunned. Stunned by her glow. Stunned by her smile. Stunned by the fact that she was even prettier in person. Stunned by the fact that something inside of me changed instantaneously when I saw her, and I had no idea what it was. Needless to say, our first introduction was somewhat awkward. I was sort of aloof by way of awkward and she was just smiley. Damn her and her smile. It just makes you do stupid stuff. A week later, I told her I loved her.-- Charlie Capen
And last but not least...
Neighborhood, grammar school, she stood out, I liked being around her. High school, she's a freshman I'm a junior, still attracted to her. First date, a Sunday afternoon movie (father said no to a night movie), both families cautious but caring. Korean War, going to get drafted so I enlist for four years and she said I'll wait. Separation was difficult, wrote every day I could and received her letters when ever we had Mail Call, not too often in a war zone. Came home from tour with a year and a half left, got engaged and prior to my discharge got married in a beautiful ceremony. First baby two years later, two more followed. After sixty-one years of marriage with an outstanding, wonderful, happy family. We're still in love. Comfortably retired enjoying what God provided for us.-- Harry Kolb
Related