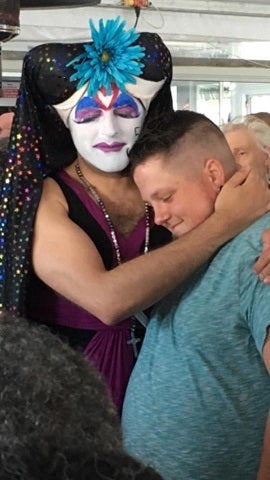 I am a gay man who grew up in the shadow of Matthew Shephard's horrible murder. More than Ellen or Will and Grace, Matthew Shepard's death defined my coming out process. It told me to be careful and it told me to be afraid.
Behind the rainbows and pride parades, gay identity is defined partly by our fears of death and violence. Orlando is the most recent tragedy, and it is not an isolated event. As a community, we have been bullied and beaten. We have seen our friends take their own lives. We have seen queer children tortured and electrocuted by parents, "doctors," and clergy trying to force impossible changes onto them. We watched our politicians gunned down in state offices. We bore AIDS, visible on our bodies, like stigmata.
Through all of this, we were mocked. We were called lepers and sinners. The government exonerated our killers and denied us the drugs we needed so desperately to survive. And many of us, especially our trans family members and our family members of color, die still—while too many of us are complacent.
Watch our community long enough, and you will learn about dying.
As we celebrate our legal and social successes—coming out, legalized sodomy, gay marriage— we begin to forget that, behind every inch of every victory, we are pushed forward by our dead. We learned, the hardest way possible, how to turn pain into anger and how to turn anger into change.
If my early understanding of gay life was defined by Matthew Shepard, my later understanding of gay life was defined by my community. At the top of this post is a grainy picture of me in drag as Sister Luvinya Always as I weep with a close friend during a vigil in Provincetown, MA—the most gay-friendly city in the United States, perhaps the world.
It took all my energy to attend the vigil as Sister Luvinya, even in Provincetown, a city littered with rainbow flags and love. I joined the Sisters of Perpetual Indulgence—an international order of clown nuns who, like real nuns, take vows to serve our community—because I watched too many of my fellow queers suffer. Last night, I did not feel ready to be around other people. But, my vows forced me out the door.
Ultimately, I'm glad I went out as Sister Luvinya. A handful of people, especially tourists from cities with their own chapters of the Sisters, expressed how happy they were to see a nun that evening. One man shared with me a powerful story about watching the Sisters at a vigil in San Francisco during the AIDS epidemic, their black veils blowing in the wind. Another man told me about his friends in North Carolina, who are starting a new Sister chapter there to counteract the negativity from the state's recent anti-lgbt legislation. I also remember a woman telling me about her friends in the Orlando order and how heartbroken they are. We took a photo together that she intends to send to them.
I didn't cry much at the vigil. Being an academic, I generally compartmentalize and process later. However, after our vigil, and after our march across town, we had a moment of silence. When the dj broke the silence with Judy Garland singing "Somewhere Over the Rainbow," I bawled—like a baby.
This photo of that moment gives me strength. I'm holding my friend while we cry together, but we are also laughing and talking about slapping the dj for such an unfair, tear jerking moment. I'm watching the entire dance area cry. I can't recall the last time I saw so many people cry so suddenly, with such abandon, together.
The images of my community crying en mass are images I will remember forever.
When I enter an LGBT space and I feel afraid, I hope I consider these images. This is a community so many people have died to build and to protect. This is a community that laughs and cries together. No one should have to die for this community, but people will and this is a community worth dying for.
If we are to remember our dead, we must keep building. We must remember our pain and turn it into love and anger. We will move forward, and we will carry our dead with us. We will mourn with tears, with glitter, and with protests. As long as we are not complacent, we will honor them and we will remember.