We've been gauging the US economy based on post-it notes sales. We print 3M Post-it Notes and about 13 or 14 years ago, we started getting orders regarding real estate - sort of a "we buy ugly houses" pad made out to look like a UPS notice left by the driver. People started ordering thousands of them, I daresay, we printed millions of sheets a month. It turns out a real estate promoter who had seminars, sent his clients to us. So the people who wanted to follow his method of buying and selling would use us as their post-it note printer.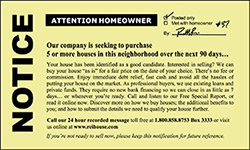 It may not be known, but a bulk of the printed post-it notes are ads or forms or something that covers the whole sheet, it's not necessarily a pad for writing notes. It can be anything.
Anyway, for years, we got tons of orders for these real estate pads, it got so out of hand at points that we refused to do them. People had no idea how to send in the art for printing and it took us hours to set up one pad job which should have taken minutes and it really affected the business, so I would say for maybe a year, maybe a bit less, we refused all of these orders.
We eventually took the orders on again, and I guess in that time that passed clients understood what a PDF file was and how to send things camera-ready. We would send them the template and they would make the changes and send it back for printing.
Anyway, it all came to a sudden halt, I would say maybe in 2008 or 2009, when the housing bubble burst. That was the first thing to go with our business. Those millions of sheets and pads just stopped. Oh, we had other customers that we normally print post-it notes for - doctors, lawyers, stores, clubs, schools, whatever, but the real estate pads that had been such a headache at one time, just stopped. It wasn't even a trickle, it just stopped.
But now, about a year or so ago, the real estate pad printing started to come back and we receive a couple of orders a week for the same old item that we had such a love/hate relationship with in the past. I've found it fascinating that this tells me the economy is better and housing is selling and people are back promoting their real estate business, where they had stopped for a long time as far as we were concerned. It's not gang busters like it used to be, when people ordered 50,000 sheets at a time in the past, now they may be ordering 1000 to 2000 sheet orders now. But there is movement, which is a good thing.
Tom Falco is a writer and a cartoonist, but also works with TheDiscountPrinter.com, which prints post-it notes, pens, drinkware and the like.
Calling all HuffPost superfans!
Sign up for membership to become a founding member and help shape HuffPost's next chapter