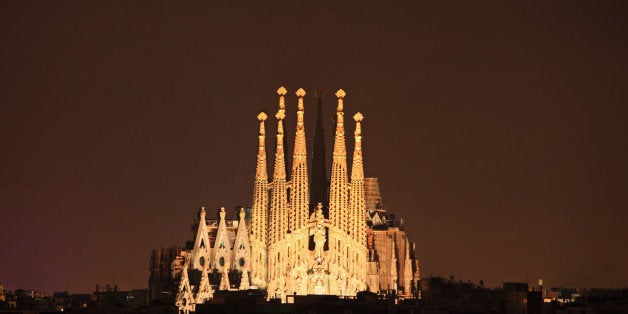 This summer, our family spent five weeks traveling around Spain. The four of us visited Madrid, Granada, Sevilla, Valencia, and Barcelona, spending about a week in each city. Now, we are not exactly new to the whole extended family travel situation, but, nonetheless, even for us, traveling with kids for five straight weeks has the potential to become both irritating and exhausting. Don't get me wrong, this trip was pretty incredible and filled with unforgettable family memories, but we definitely experienced our fair share of frustration and chaos all while enjoying lots of family bonding time.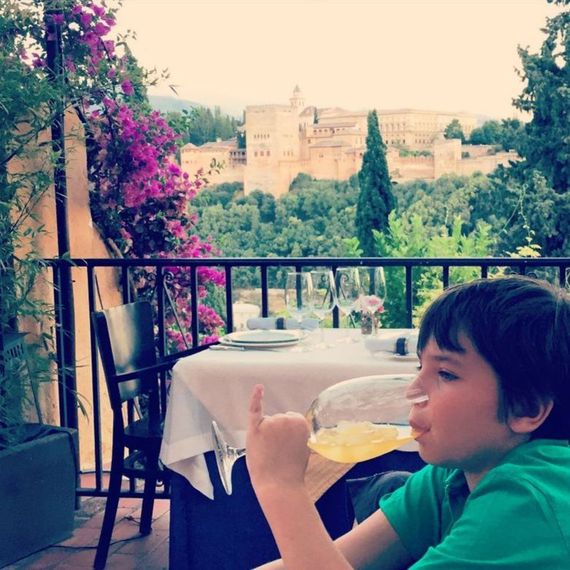 Images by Andrea Fellman of Wanderlustliving.com and Savvysassymoms.com
So how do you travel for five weeks without losing your collective minds?
Here are a few things that kept us sane.
We rented an apartment in each city through Airbnb. When traveling with kids for extended periods of time, apartments come in handy and enable you to buy groceries, make small meals, stock up on snacks for the kids, and do laundry along the way. I have also found that renting apartments usually put us in a neighborhood with local coffee shops, grocery stores, and fruit stands, all of it out of the way of the hectic tourist areas and main streets. A few of the apartment owners gave us detailed maps and suggested restaurants beloved by locals. It helped us enjoy a more authentic city living experience than we would have experienced at a hotel.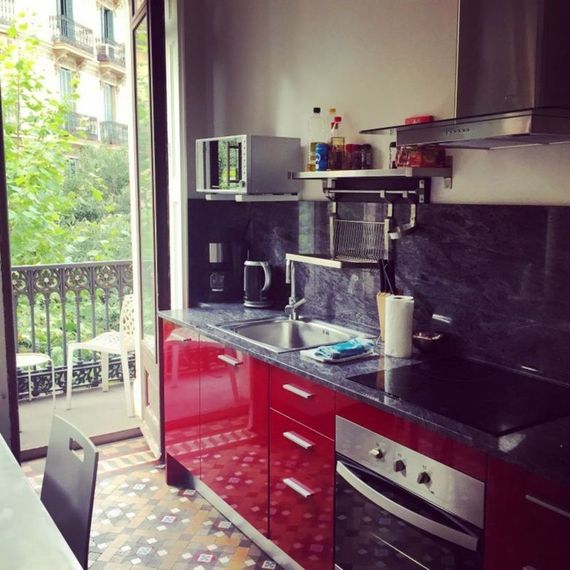 Give the kids their own money
We decided at the beginning of the trip that each child would get a set amount of money to spend over the five weeks we were in Spain. My kids are 8 and 10 and we feel that this taught them how to budget, save, and think before they spent their money. It also curtailed the begging and pleading for souvenirs! My daughter quickly divided her money by five so she knew how much she could spend in each city. Then if she did not spend the allotted amount in that city it would roll over to the next city. The kids even pooled their money together once to buy a toy to play with. To make the money even more valuable to them, we made sure it wasn't a simple handout. They earned the cash by writing a report on all five cities before we left for our trip.
When you're traveling with kids, it's critical to take into account your surroundings and plan accordingly. Depending on what part of Spain you're in, you have to adjust your schedule based on the heat. As one local told me "The only people walking around Spain in the summer from 2 - 7 are the tourists." In the South of Spain, where it is the hottest, everything really does close up for afternoon siestas, because it's truly sweltering. There we found that our day had to be split in two, we would plan to do something in the morning, go back to the apartment for the afternoon then head out again at night to do something else. But, once we were in Barcelona, where it was cooler, things did not close up and we did not need to take advantage of siestas. Instead, we would sleep in and start our day much later. We often started with Barcelona's popular brunches around mid-morning and then stayed up really late.
If you have not gone on a Segway Tour while visiting a city, I highly recommend it, especially if you're traveling with kids! These tours truly saved us; the kids didn't complain about walking, instead they happily lead the way. We did our first one in Granada, with Play Granada, whose guides took our kids out to train them and make sure that they were both tall enough and mature enough to handle the Segway. We loved it so much we did it again in Sevilla and in Barcelona. (Please note: Barcelona does have a slightly higher age limit. My son was unable to go.) Segway Tours were something the kids looked forward to and ended up probably being their favorite thing about the whole trip!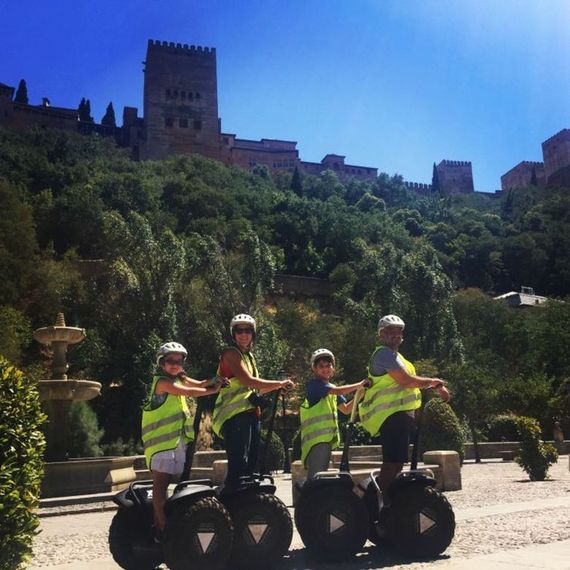 The family that splits up, stays together. A little known secret of family travel is that you don't all have to do everything as a family unit everyday. My husband and I have been practicing this parenting philosophy for years and it is even more useful when traveling. When the sibling fighting starts and you just can't take the bickering anymore, split the children up. Usually this meant one of the kids would do some shopping with me and the other would do some geocaching with my husband. We even ate breakfast at separate tables once, on purpose. The added bonus is that it gives each parent a little one-on-one time with each child.
Technology & Social Media
Now hear me out, because I know there's a lot of negative press about screen time, technology, and social media for kids. I believe that there are positive and creative uses for all of it and I can never forget that it's technology that actually allows my family to work and move about the world whenever we want. Technology allowed my daughter to keep in touch with her friends all summer, which gave her some comfort, engagement, and fun. She would Facetime with her friends and literally give them a virtual tour of the apartments we rented, text her friends and talk about what she did or saw that day, and started to get more creative with her photography to post photos on Instagram*.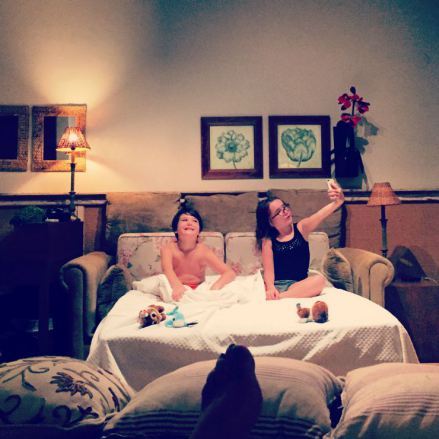 One day, when our kids were complaining about all the walking, we bought them each a $20 Penny Skateboard and had them ride all the way home. It was the best $40 we spent all summer and I wish we had bought these at the beginning of the trip. They stopped at every empty alley and courtyard to ride them and, poof, there was no more complaining. It took us two hours to get back to the apartment. My husband and I were able to sit on park benches to relax, bask in the sun, and enjoy our environment. I was able to go into some shops without them pressuring me to hurry up. Best travel find ever.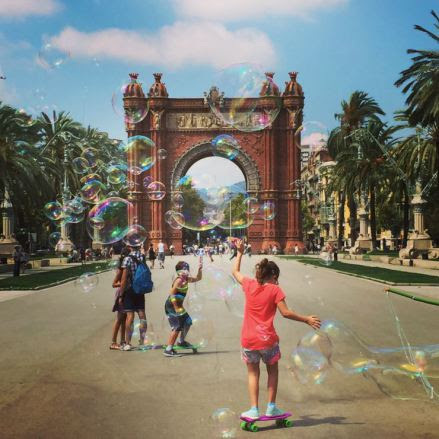 Check yourself into a Spa
Just because visiting a luxury spa isn't on the '10 must see things to do in Sevilla' brochure, doesn't mean it isn't worth finding one. In the middle of our trip I must have started showing signs of travel fatigue, because my husband found a spa and Arabian bath house for us to visit. It was pure genius and I fell in love with him all over again. He went in the morning and I went in the afternoon; we tag teamed staying with the kids. A little pampering totally revived and renewed my travel spirit.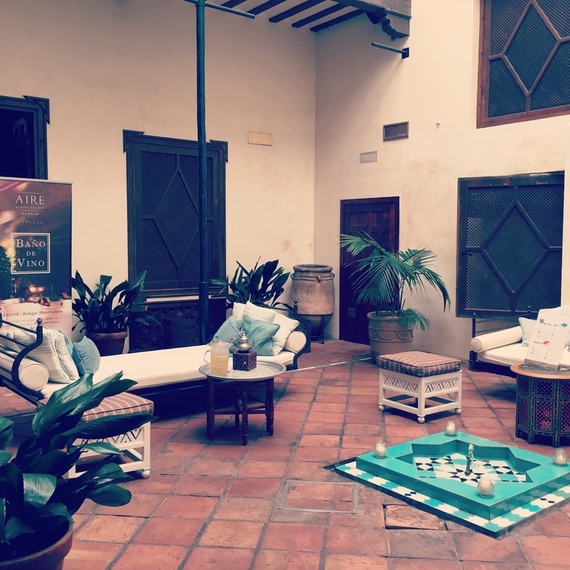 Three things that should never be underrated when traveling anywhere with kids is coffee, wine, and some form of ice cream. Coffee shops are a safe haven for parents to get some much needed alone time. Wine helps calm your nerves when everyone is getting on your last one. Gelato exists on every street corner for a reason - to bribe your children. Good behavior, visiting a museum, or being nice to your sibling earned my kids points towards their daily scoop of gelato. Don't make me take away the gelato.
Our family has been going on extended travel trips for years and we prefer it this way because we find that we can really settle in and experience a place without being stressed about packing all our coveted experiences into too short of a time frame. When you have lots of time at hand, you can also take a travel day off without feeling guilty about wasting a day. No doubt about it, this type of travel is easier on the kids and less stressful for the parent!
*Please note: Each social media platform has their own terms of services in regards to what ages children are allowed to be before opening an account. Please use your own discretion when proceeding.