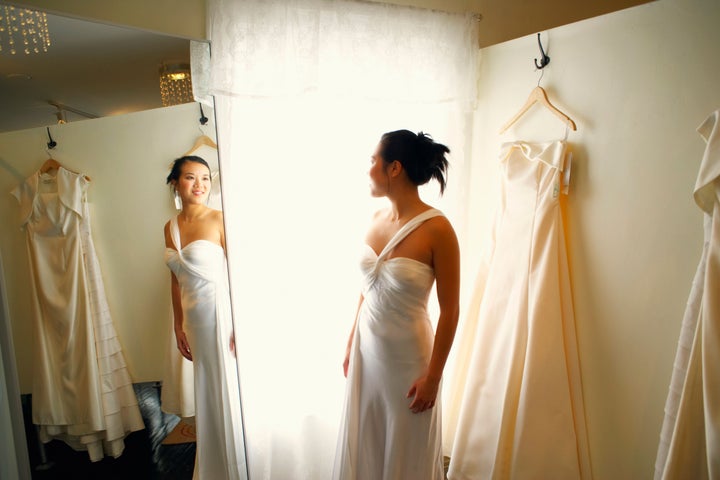 As a wedding dress designer, I travel to my own trunk shows and I see firsthand the women getting married and their choices, concerns, and ideas. Despite what we know about reality TV and bridezillas, not every bride is an exhibitionist, and not every bride is excited to be a bride.

There's a certain group of brides who show up to the bridal salon in their business attire. They throw down their very important car keys, swing their heads back and put one hand on their hips while checking an iPhone or Blackberry in the other, and firmly state in baritone that they just want to wear a white suit. I suspect that these women are successful, and smart. They don't want to be manipulated and cycloned into the uncontrollable matrix of wedding preparations.

I am always amazed by these women! I usually respond that I have no pantsuits available, and that they should try a narrow and simple dress. I am not sure how this happens but when a woman tries on my dresses, she is immediately transfigured. It may be due to the whiteness of the fabric, or the definition of her body through the silhouette of the dress, and the natural flow of the expensive silk brushing against her legs as she moves. She tries her first dress on and is shocked by her own beauty. She begins to trust me. I suggest the same shape in lace, and she marvels at how skinny she looks and wonders at the many years she has professionally hidden herself in cashmere and heavy black tights. Bit by bit we inch our way into curiously trying on larger dresses and in one courageous statement she squeaks, "Can we try a veil?" The moment a veil is placed on her head she begins to cry, and then to sob.

It is the abandoned dream and vision of herself that was once forgotten somewhere between the divorce of her parents, high school exams, and her first broken heart. It is the internal struggle of regrets versus survival and that suddenly in the mirror a vision of herself looking like she is in love, and looking like she is vulnerable, and even giddy with joy makes her uncomfortable. It is a woman that she does not know. It is the woman she used to be, even as a little girl.

As a child, she would dream of being in love. Images from Disney movies, ballet, music, and TV convinced her some gallant man would profess his indisputable love for her and then confirm his aching desire to spend eternity with her in a perfect wedding.

I think that these thoughts are quite typical of young girls. They dream of being coveted, and they dream of being a princess. As little girls become teens and young women, often their princess fantasies are stamped out and substituted by professional protocol, and corporate culture. They have to fight for themselves to get ahead and protect themselves. They are taught not to rely on others, especially men. Reality and dashed expectations have given them a somewhat hard edge.

Even now in the middle of planning their weddings, they are still carrying the baggage of years of suppressed dreams and desires.

My work isn't just about making dresses, it's about helping women reclaim their identity, and embrace the truth of who they are. It is showing these beautiful, dignified, and intelligent women through the silence of the gowns, that they should expect to be coveted, loved, and admired not just for what they do and whether they're successful, but for living within the acceptance, truth, and beauty of who they are.

Part of the creative process for me is not just creating the dress, but watching the bride become who she is. There's a transformation from the woman who entered the salon as a manager of sorts with a massive to-do list that included buying a dress, to the woman who sees herself as a bride, someone to love and be loved.
Related