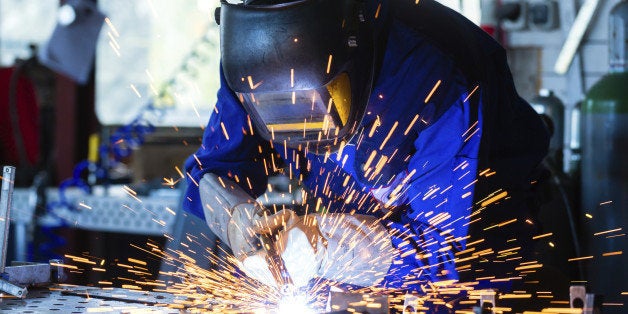 "Life's kind of like a jigsaw puzzle -- you throw out all the pieces and it looks like, what a mess! But the further down the road you get the more pieces interconnect and you start to see a good picture starting to form," said guitarist and educator David DeLoach in one of my episodes of Waking Up in America.
What's really cool about the puzzle of our life is that it's not two-dimensional -- the pieces also interconnect with other pictures, other lives, and people we meet on our path -- whether they stay or only pass through. We can never be quite sure where the crucial, completing piece will come from.
That's why the best advice I ever got was to listen and keep my eyes and heart open; to be as alert and as awake as possible.
Most of us look to teachers and experts when we have missing pieces in our lives, failing to recognize when they are filled in from everyday people -- regardless of what they do or what authority they have. And yet the lessons and the puzzle pieces are everywhere.
A few years ago, I was performing a Christmas concert in Minotola, New Jersey when I met Joe, the local "welder guy." I was grateful to Joe for fixing my microphone stands and the step of our van, but I don't think I fully appreciated him until when, at the end of the concert, he presented me with a piece of art he had welded for me and I paused to look into his brown eyes. I caught a glimpse of his beautiful soul that longed to give, serve, and love that was freely shining through, and I sensed he had a puzzle piece for me.
I traveled back to New Jersey to interview Joe for my show, and while there I got a deeper understanding of the shift in life he had made from commercial welder to metal artist. As a welder, he was detached from his dreams and his passion. He learned that to find his true self and purpose he had to first detach from something else: the toys and the lifestyle he has always known.
Joe never thought of himself as an artist. He didn't think much of who he was, or what his dreams were. He didn't go to college and ended up working on the family farm, as he says: helping his dad and uncle to live their dreams.
Even when in his 20s he started his own welding business and experienced success, he wasn't happy. Still he played the cards he was given and did his best to fill the role he was given to play.
Joe's always had a passion for creating, building, and fixing. His first words, he tells me, were "me help." So whenever his friends asked him to fix things, Joe thrived. He was driven by love and romance to make his first piece of art as a gift for his girlfriend.
Soon after that, a friend asked him to make something for a fundraiser. Then another for a charity auction. For the first time, Joe's talent and his giving heart were not only recognized, but acknowledged and needed. He felt encouraged, but still he held back. His commercial business provided not only financial security but also a place where he could hide.
As is the case with most of us, it's external situations that push us into looking deep inside ourselves and deciding to make changes within. Some people will say that's how God gets our attention.
So, a crisis hit Joe's business, jobs became scarce, and his dad sold the family property.
Just like the metal he cuts in preparation for welding, his life fell apart.
"I feel like I was broken down and rebuilt the way I'm supposed to be," he explains.
Joe had to detach himself from his "big toys" and everything else that was holding him back and still providing him with a sense of security -- his comfort zone.
His faith was tested and he was asked to trust, to leave his boat at the shore and align his path with the purpose he was created for -- to serve, help, inspire and give without being afraid of being who he is meant to be.
He sold everything and began to create art full-time.
"Starting at nothing again really put everything in perspective. It gave me a chance to have a clean slate and I really do believe that ... the push was really what helped me get to where I'm at right now."
Joe gives a lot of credit to his friends who provided him with support and who believed in him when he was "getting rebuilt" -- the process through which he learned to trust, both himself and God.
"I'm getting happier every day," says Joe and smiles with so much emotion, I tear up. I sense how much courage it's taken him to fully embrace the beautiful soul that he is and accept the gifts he has been given, through which he is most powerfully contributing to the world.
Every piece of functional metal art he sends out or donates through his company Vin Art has a "piece of his heart and soul" in it. He is dedicated to his Italian heritage of sharing good things in life -- beauty, love, friendship, faith, joy and music.
These are the pieces of the puzzle he delivers to me and so many others who find ourselves moved and touched by his art and his friendship. And it's more than metal that Joe welds into our lives:
"You have to really take a step back from your life first, and look at where you're at and ask yourself is this where I wanna be? Because too many people get caught up and it's hard to detach at at that point. But it's not impossible. Everyone can change their life and make a difference."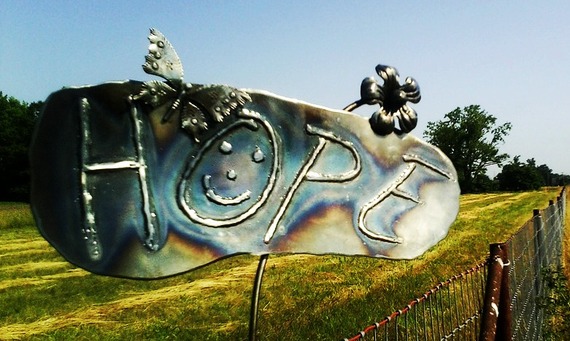 Joe Marolda is a metal artist at VinArtbyJoe.com. Passionate about his faith, friends and his Italian heritage, Joe puts his heart and soul into every piece of functional art he sends out or donates.
DISCLOSURE: A few years ago Joe made a piece of art for me, but in the process of writing this blog I haven't received any financial compensation, service, product, art pieces, or cost reimbursement.