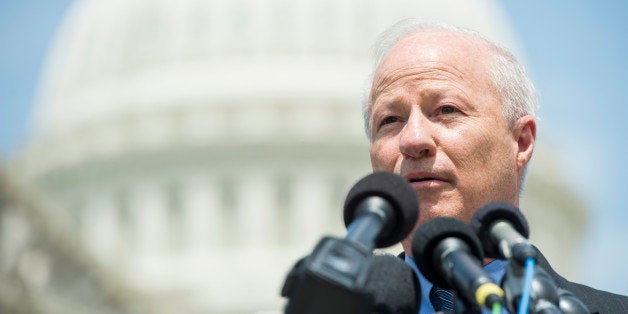 Rep. Mike Coffman (R-Colorado) has been accused of being "out of step" with his district by his opponent Andrew Romanoff, the League of Conservation Voters, and others. Is this true? Is this something we can actually measure?
We should keep in mind that Coffman has had a difficult job as a representative in recent years, as his district changed a lot since he was first elected. He went from representing one of the more conservative districts in the country to one of the most moderate after the last redistricting. It's not easy to change one's stripes that quickly. So how well does he represent his current district?
Well... it depends how you look at it. Here's one way. The chart below graphs each member of the current House of Representatives based on how conservative their district is (the district's vote for Romney in 2012) and how conservative their voting record is in Congress (their "ideal point"). Republican House members are red dots; Democrats are blue. This isn't a perfect way of measuring representation -- it makes a lot of assumptions about how these two measures compare to each other. But it gives us a rough idea of how closely members are sticking to the people they represent. Basically, if a member is right on the trend line, he's voting his district. If he's above the line, he's more conservative than his district. If he's below it, he's more liberal than his district.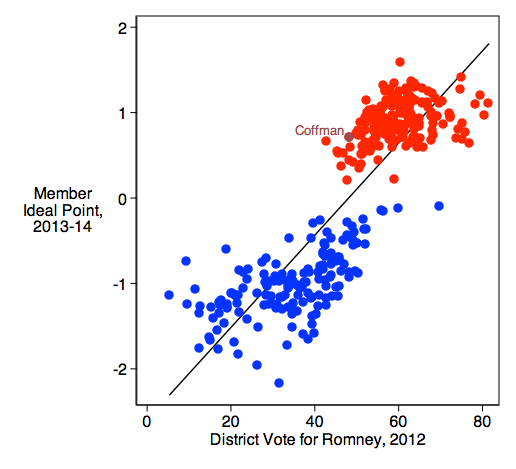 Judging from this analysis, it looks like Coffman is considerably more conservative than his district; he's well above the line, although he's hardly the biggest outlier out there. This suggests that Coffman is voting a bit too often with his party than might be safe for someone who represents such a competitive district. It doesn't mean he can't win reelection, but his voting record is risky.
But that's not the only way of looking at it. Here's the same data, but with separate trend lines for the two parties: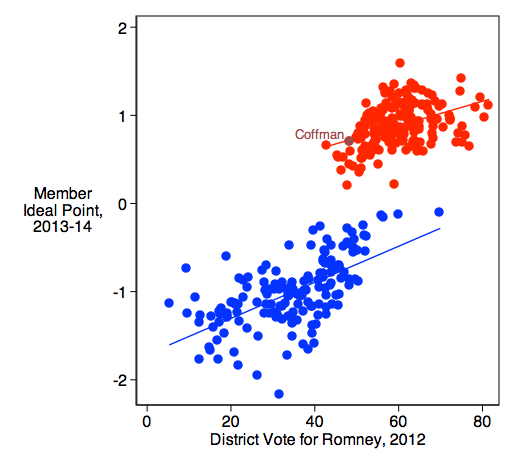 Coffman is right on the Republican trend line. That is, he represents his district the same way Republicans do everywhere. Yes, he's somewhat conservative for his district, but no more so than other Republicans tend to be.
So is he out of step? Probably. But not atypically.
This post is part of a series about Real Time with Bill Maher's "Flip a District" initiative. Authors live in the state of the Congressperson whose district the program seeks to "flip." To learn more about Flip a District, visit here.
REAL LIFE. REAL NEWS. REAL VOICES.
Help us tell more of the stories that matter from voices that too often remain unheard.