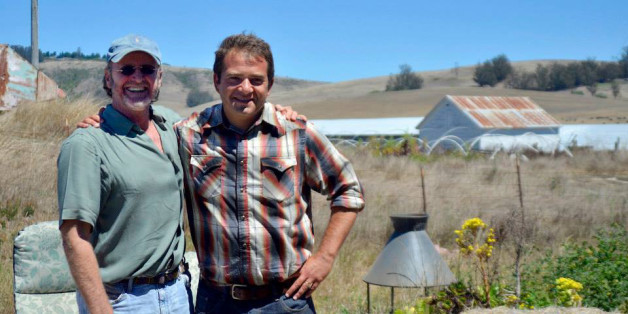 This story was produced in partnership with Facebook Stories. Submit your own Facebook story here.
---
Sometimes a chance to help solve a problem hits you like a ton of bricks. And if that problem relates to a fundamental human need, like food, suddenly your chance becomes an obligation. You pull together whatever gear you've got and get to work. My project CropMobster started just like this on my family's farm. Now we've got a fired-up community of people posting, liking and sharing their way to a world where food waste becomes a thing of the past.
On a Sunday evening last March I was standing in our farm's walk-in cooler. I noticed that boxes of perfectly edible, sellable and sharable produce had returned from farmers market unsold. This good food was destined for the compost pile, not to people and definitely not to our bank account in the form of a sale. The food was going to waste! And at that moment the bricks hit me and I realized how frustrating a loss this represented for our farm and for all the people who needed that food.
I decided to post an alert to our farm's Facebook page. The thinking was perhaps someone would take this food off our hands, help us recover some of our costs and get this food to people who could eat it.
Within an hour, a local resident named Megan read the post, got in on the deal, and organized her neighbors. The next morning she drove to the farm, filled her car with our food and then took off on a neighborly sharing mission. The result: our farm made a bit of money on produce that would have otherwise gone unsold and Megan and her crew received a great deal on great food. Plus, we all had a great time getting to know each other a bit more along the way. It was "win-win" for everyone.
The next weekend, the same thing happened and again, using our Facebook page, we made an instant alert about amazing food that needed to find a home. This time, Jennifer jumped in to take the lead. The next morning she drove out to the farm, loaded up her mini-van, and shared the food with her family and friends.

After those first two weeks, we saw clearly what was happening. People were getting together with our farm and rapidly crowdsourcing a home for food at risk of going to waste. My wife Jess and I then reached out to our friends Gary and Joanna at PressTree to help us build an instant alert system that neighboring farms, grocers and others could use. Without hesitation they jumped in and after a weekend hacking session, our CropMobster prototype was launched.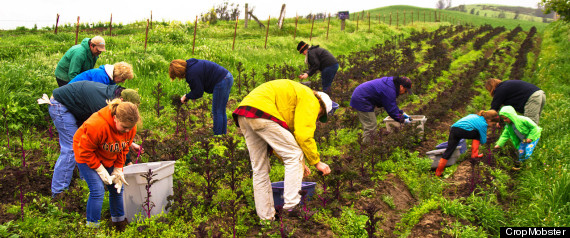 CropMobster works like this: First, anyone with surplus food at risk of going to waste can publish an alert. It can be a deal, donation, freebie or hunger relief food gleaning. Second, the alert is shared via email, Facebook and other social media sites. Third, if the alert is compelling, people will treat it like a straight up emergency, share the alert, and jump in to turn that emergency into a celebration. Affordable or free food will get to individuals, small businesses and hunger relief groups. Farmers and other food businesses like grocers or distributors will earn a bit of revenue, visibility and gratitude along the way. Finally, after each situation of awesome results an impact story is published to congratulate and thank each CropMobster who pitched in to help.
CropMobster launched on March 24, 2013 to solve a specific problem on one farm. Since then we've grown from a small project into a fun and useful social impact venture serving 12 San Francisco Bay Area counties. One instant alert at a time, this community has saved approximately 300,000 pounds of food from going to waste and is closing in on nearly 1 million servings for individuals and hunger relief groups. Just as importantly, small farmers and food businesses have earned much needed funds and generated a ton of goodwill. And, in case you're wondering how we keep the lights on, our fellow CropMobsters leave us a few dollars in our online tip jar after a job well done. At this stage every penny counts and allows us to generate even further impact.
Here's the deal. Our world is just now coming to grips with the rude reality that one-third of our world's food supply is wasted each year. This exacts a huge toll. If food waste were a country it would be the third largest emitter of greenhouse gas emissions next to China and the U.S. We know that 28 percent of the world's agricultural land is basically used to grow edible food that is wasted. And this food needs to get to the millions of people who need it!
Take a moment to imagine one-third of all mobile devices rolling off the assembly line and into the dump. Crazy to think about, huh? Well this is happening with our food supply. For a lot of reasons the dots aren't being connected. Some food is a bit ugly or misshaped and can't be sold; other food is perfectly edible but has passed its "sell by" date and gets thrown out. The list of reasons goes on and on. But at the end of the day food waste is a crazy, wrong and incredibly inefficient catastrophe and it's time to end it. It's time to make sure that perfectly edible food gets to people and is never wasted!
So at CropMobster we're working out of an old turkey barn-turned-office and plowing our way into the food waste challenge one alert and one community at a time. We're working our tails off and we're trying our best to make sure any community can have the tools needed to quickly transform food at risk of going to waste into nutrition, value and inspiring stories of impact. Onward!
Nick Papadopoulos pitches in on his family's farm in Petaluma, Calif. He and some good friends started CropMobster as well as Food Waste News to support local communities working to make food waste a thing of the past...and to do so in a way that creates as much delight, nutrition and value as possible. If this story fires you up to end food waste please share this essay and join CropMobster on Facebook. You can also help fuel their mission by contributing to their online tip jar.
Calling all HuffPost superfans!
Sign up for membership to become a founding member and help shape HuffPost's next chapter