As part of our Blended Family Friday series, each week we spotlight a different stepfamily to learn how they've worked to bring their two families together. Our hope is that by telling their stories, we'll bring you closer to blended family bliss in your own life! Want to share your family's story? Email us at divorce@huffingtonpost.com.
A family may change after divorce but it doesn't have to fall apart. Just ask Heather Belanger. The remarried mom of two prides herself on the close co-parenting relationship she shares with her ex-husband Tony.
"As far as my son is concerned, it's normal to see mom and dad at each other's homes and to see mom and dad there for all of those special moments in his life," Heather told The Huffington Post recently.
Below, she shares more about her blended family.
Hi Heather. Please introduce us to your family.
At my house we have me, my husband Mike, our daughter Grace (1) and my son Alex (5). At Alex's dad's house, there's his dad Tony, Tony's girlfriend Jesse, plus their 3-year-old daughter Violet.
Tony and I have been divorced since February 2013, but separated since 2011.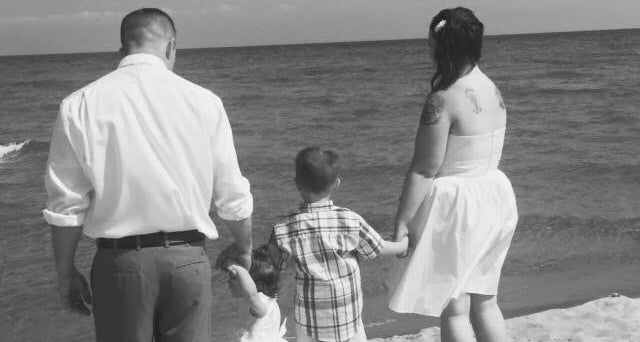 Mike, Grace, Alex and Heather. (Photo courtesy of Gabrielle Wyckoff)
How did you forge such a close relationship with Tony and Jesse? As a parent, why is that relationship important?
The most important thing in our eyes is for Alex to know that even though he comes from a "broken home," the love and commitment his father and I had from the very beginning is still there, because we're a family. Family is family and nothing is more important at the end of the day.
As for my relationship with Jesse, we didn't set out to be friends, it just naturally evolved. It started between the births of Violet and Grace, after the emotions following the divorce had begun to fade. We both felt it was important for Alex to be close to both of his sisters. And the more we did things together for the sake of Alex, the closer we all became and the easier it was for us to realize that working together as a team benefited everyone. It's also practical; with both my husband and my ex working a lot, it's awesome to have the help or the extra set of hands.
What are some of the biggest challenges you've faced as parents since the divorce?
This is a tough question! I'd like to say the relationship between our families has come to be through trial and error, but really, there hasn't been much of that. We've just adapted as situations have changed and it's worked out in our favor. Most of the challenges we have come across have come from outside our family, when people are confused or critical of our situation. People's perception on how we do things is that it isn't "normal" and anything not normal is chastised or questioned, which is frustrating.
What's the best thing about being so close even after divorce?
As far as any of us are concerned, our kids are happy, healthy and in my opinion, more fulfilled getting to see two families come together and work together so well.
What's your best advice for other divorced parents struggling to co-parent?
My advice would be to find the things that are preventing co-parenting from happening and figure out a way to resolve those issues. Is it hurt feelings? Jealousy? A grudge? Look at your behaviors and think about whether you're comfortable with your kids following that example. None of that can be more important than getting in as many moments with your kids as possible, so try to compromise and make it happen.