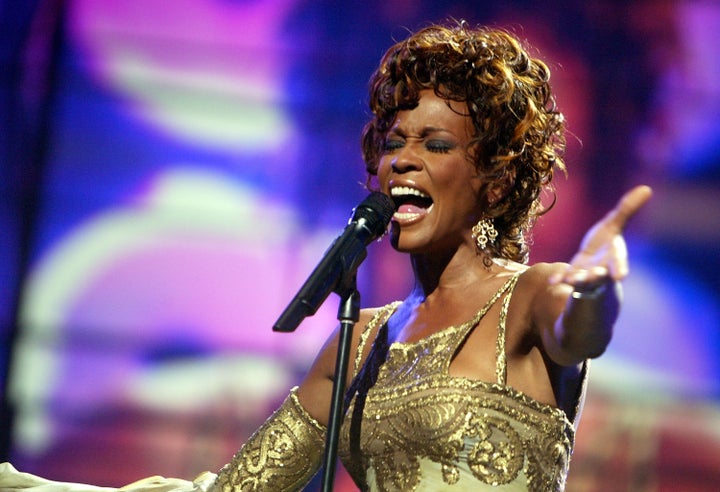 Whitney Houston came into my life one cold, gray day in January, 1993. I was a mother of two young children, and had relocated across the country, to a brand new city, for my husband's work. I didn't know a soul. And then, I learned that my husband of 12 years was having an affair and wanted out of our marriage.
Within days, my life began to ricochet like an off-kilter pinball, skidding down the track at breakneck speed. I found myself flailing, trying to make sense of my new reality and fighting off the inevitable. Yep, I was falling apart and incredibly afraid. Afraid of divorce. Afraid of being on my own. Afraid of the unknown and the inevitable. I was searching for answers, solutions, support. I was searching, too, for solace.
And I found it in music. Most of all, I found it in Whitney.
Far from family and friends, Whitney Houston's music became my lifeline, my reason to keep going. I hadn't even seen the film "The Bodyguard"; after all, with little kids in tow, it's hard to get out of the house, especially without a support system in place. So, when things started to go wrong, I did what came natural. I put the kids in their car seats, and took off for long drives. I needed to feel the wind on my face, the motion of the car, and, most of all, I needed a place where I could think.
And, as we'd drive away, I'd turn on the car radio. I can't remember the first time I heard Whitney's rendition of "I Will Always Love You" but, as soon as I did, I was hooked. The passion and beauty in her voice mesmerized me. The range of feelings she'd emote made me believe she understood the agony of love.
"I Will Always Love You" was an instant hit -- a song played on the radio practically nonstop. I'm sure, anyone around then remembers what a sensation it was, breaking records on the Billboard chart and winning countless awards -- the People's Choice, the Soul Train Music Awards, the MTV Movie Awards, the Billboard Music Awards and, of course, the Grammy Record of the Year and Best Pop Vocal Performance in the Female category.
I, of course, couldn't get enough of Whitney and her signature song. Luckily, whenever I'd start fiddling with the radio dial, it didn't take long to find a station that was playing it. Time would stop for me as I listened to Whitney give her all and sing her heart out about bittersweet memories and saying goodbye. It was as if she was singing my story, helping to empower me and give me the fortitude I needed to get through the crisis that was my life. Her impassioned singing and bravura gave me a way to put closure on one chapter and open myself to the next one. In Whitney, I found the strength and will to go on and face my situation head on.
I eventually purchased the "The Bodyguard" soundtrack so I could listen to Whitney all the time. I love this album but my favorite songs, hands-down, remain the ones Whitney sings, including "I Have Nothing," "I'm Every Woman," "Run To You," and "Queen of the Night." Amazing songs sung by a stellar voice. A voice that gave me the courage to deal with my divorce. A voice that in time helped me to heal. A voice that has now been snuffed before its time. Much too soon.
Thank you, Whitney, for the gift you gave to me and to the millions of people all over the world who were uplifted by your exceptional talent. You gave voice to our emotions and for that, you will always be loved.