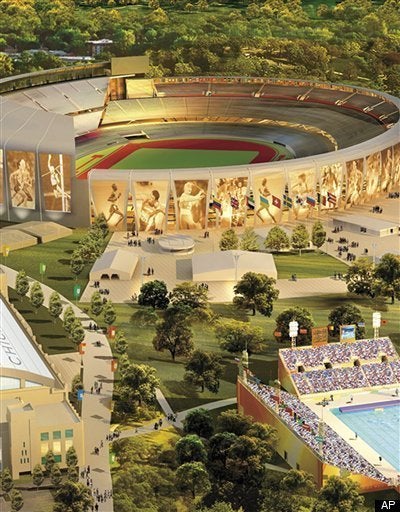 Did you watch the 2008 Olympics in Beijing? Did you see those incredible opening ceremonies? How will Chicago top that in 2016? Here are some ideas for how we might show the world what Chicago culture is all about:
- The Chinese had dancers in glowing costumes. We can have politicians in orange jump suits.
- They began the opening ceremonies with 2008 men beating traditional rhythms on drums. We can have 2016 Bucket Boys.
- They had a light show and fireworks. We can have little white Christmas tree lights draped over the entire stadium and leave them up all year.
- They did a giant calligraphic painting. We can use spray paint.
- For the Olympic symbol: five interlocking pinkie rings.
- Mascot? A white elephant with a crown that looks like Soldier Field.
- And for the grand finale, an Outfit punk can light the Olympic cauldron with a Molotov cocktail.
But the Olympics is much more than the opening ceremonies. How about some new events that will give the hosts an advantage?
- Relay races with plain white envelope hand-offs.
- Concrete overshoe swimming.
- Automatic weapons marksmanship.
- Badminton with real pigeons.
- Fencing government property.
- Outdoor cigarette smoking.
- Lincoln Avenue bicycle slalom.
- One handed driving while texting.
What other sports do you think will show the world what Chicago is all about?
---------------------------
Craig Goldwyn writes for AmazingRibs.com and wants to see backyard barbecue added to the roster of events in Chicago. This commentary originally ran as an op-ed in the Chicago Tribune on 8/19/08.
REAL LIFE. REAL NEWS. REAL VOICES.
Help us tell more of the stories that matter from voices that too often remain unheard.