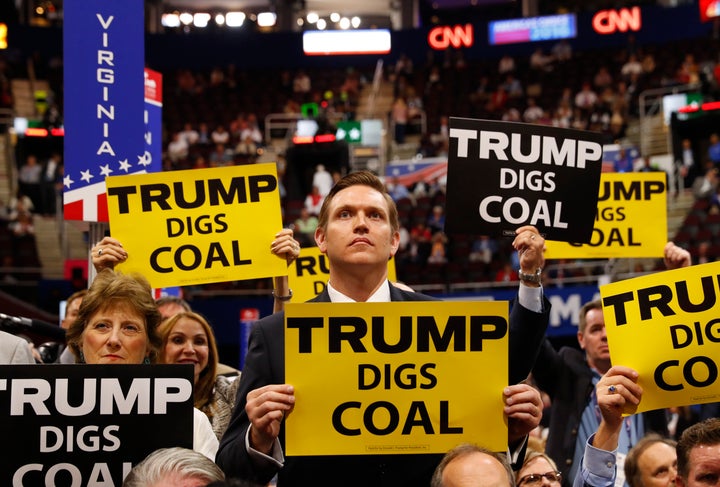 Not one to linger on a single topic too long, President Donald Trump this week quickly shifted attention from his administration's health care loss to reversing President Barack Obama's course on ensuring a healthier planet.
The Trump Administration says undoing the Clean Power Plan would help the economy and bring back coal jobs.
Instead, the administration's environmental policy would position the United States as a laggard stuck in the 20th century as the rest of the world recognizes the need for a fossil-free future. And interestingly, our latest data to be released next week show Trump's climate policies run counter to significant 21st-century gains the United States has made decoupling economic expansion from fossil fuels emissions.
Next Wednesday, Global Footprint Network, an international research organization, will launch an open data platform (beta at http://data.footprintnetwork.org/) along with a new edition of our National Footprint Accounts, which detail the Ecological Footprints of more than 200 countries. A country's Ecological Footprint aggregates a population's demand for food; timber; fiber; built-up space for infrastructure like cities, roads, and housing; and forests to absorb excess carbon emissions from burning fossil fuels. A country's Ecological Footprint can be compared to that country's own capacity to meet that demand.
Based primarily on United Nations data sets, our latest results reveal some eye-opening trends in the United States. If everyone around the world lived liked the average American, we would need the equivalent of five Earths to sustain the global population's lifestyle.
But there is some good news: The total Ecological Footprint of the United States declined 14% from a peak in 2005 to 2013 (the latest year UN data is available). On a per-person basis, the US Footprint reduction was even greater, at 19% over the same period. This is the largest Ecological Footprint reduction for any country over the same period—in fact it is equivalent to the entire Ecological Footprint of Germany.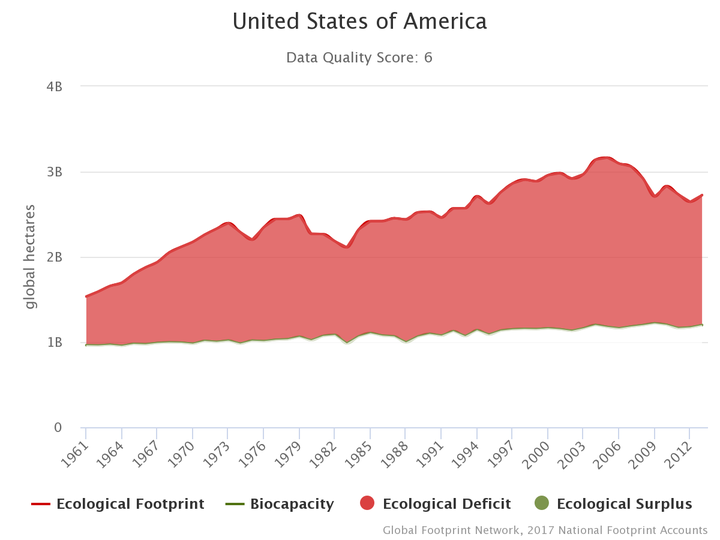 Meanwhile, the US Gross Domestic Product per capita has grown 20% over the same period, making the US a compelling case for resource decoupling.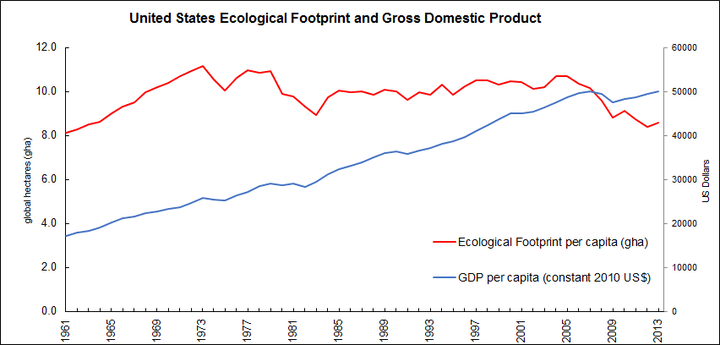 What is driving this Ecological Footprint reduction? The carbon footprint is the largest component of the Ecological Footprint both globally and in the United States. The overall carbon footprint of the United States declined 20% from 2005 to 2013.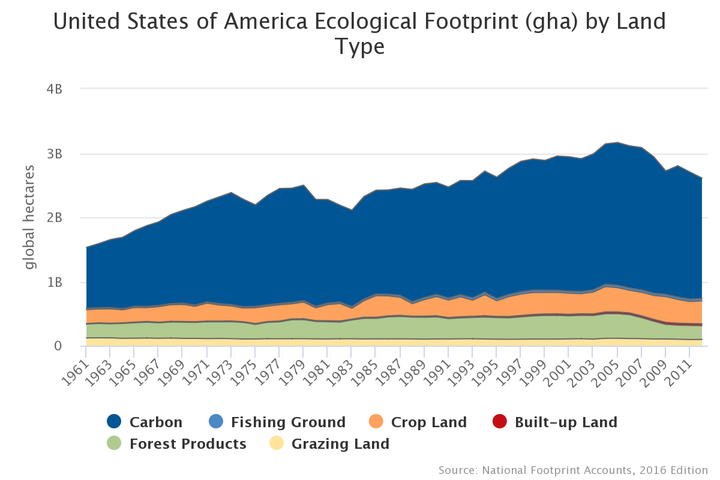 This decline is reinforced by data from the US Energy Information Agency (EIA), which reported primary energy consumption of coal dropped 21%, from 22.8 Quadrillion Btu in 2005 to 18.0 Quadrillion Btu in 2013, while petroleum consumption declined 14%, from 40.3 Quadrillion Btu in 2005 to 34.6 Quadrillion Btu in 2013. Meanwhile, consumption of lower carbon-intensity natural gas increased nearly 19%, from 22.6 Quadrillion BTU in 2005 to 26.8 Quadrillion BTU in 2013, and renewable energy consumption increased nearly 49%, albeit from a smaller base of from 6.2 Quadrillion BTU in 2005 to 9.3 Quadrillion BTU in 2013.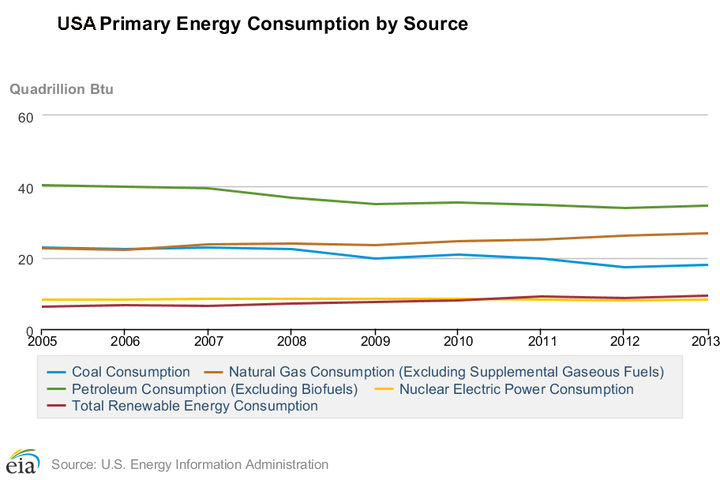 At the same time, renewable energy jobs are surpassing fossil fuel jobs by 5 to 1. While we understand the challenge of losing a job, it just does not make sense to invest in an industry without a future. This seems akin to continuing to support the production of VHS tapes at the age of digital content, or the rotary telephone in the smartphone era. The important distinction, however, is that VHS tapes or rotary phones do not contribute to climate change.
This does not mean that we should leave coal miners behind. As with any industry affected by technological advances and policy changes, we need to help those workers transition to jobs that sustain them and that truly produce value for society.
The decisions and investments we make about our infrastructure today will stay with us for decades if not a century to come because this infrastructure will last that long. China, as a solar panel industry leader (who's even been criticized for subsidizing costs) and one of the few countries to laud the Paris Climate agreement earlier this year at the World Economic Forum, is positioning itself as a 21st century leader preparing for a carbon-free future.
Sure, China has far to go as it suffers among the worst pollution in the world—a point that makes clean energy even more important to its residents. But Trump's policies to "make America great again" seem to take the country back to a time when Los Angeles similarly suffered from smog-filled skies.
A friend from India suggested over dinner this weekend that supporting coal jobs is like supporting the caste system—an attempt by the powerful elite to keep average workers in their place. We hope that cynical view does not hold true. However, what we do know is that supporting coal for the sake of jobs—especially when a growing body of data (not fake news!) shows a decoupling of our economy from fossil fuels—is short-sighted for the US economy as well as the planet as a whole.
REAL LIFE. REAL NEWS. REAL VOICES.
Help us tell more of the stories that matter from voices that too often remain unheard.
BEFORE YOU GO