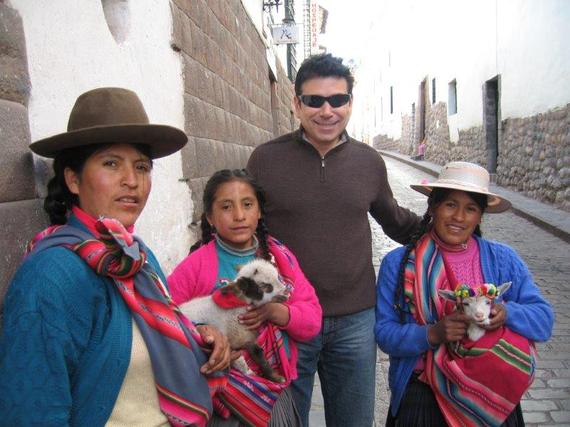 If a picture is worth 1,000 words, what is an experience worth? The experiences of travel are what make one's journey priceless. The memories of these experiences are what make travel last forever.
Perhaps this is because I have been to 85 countries, but when I travel, it's no longer stunning sites that fuel my wanderlust, but rather the connections that I make with local people. I cherish the memories I have of making new friends from around the world while immersing myself in local culture that makes an area genuine and unique.
Modern travelers seem to seek these experiences as well. In 2014, the travel industry was abuzz about the possibilities of experiential travel: living like a local (or even better, with a local), taking cooking classes, volunteering, and more. Today's travelers seek more than amenities and creature comforts, more than getting their picture taken on the Golden Gate Bridge or under the Eifel Tower, and more than quick stops at crowded monuments and museums and a quick stop by the gift shop for baubles. Real experiences - real connections - are what compel people to travel.
I began to see the benefits of "going local" at an early age. During my childhood, my parents and I traveled from San Francisco to Greece each summer. In Greece, I learned to bake bread when I was 12 years old. When we ate at restaurants, they were authentic and frequented almost exclusively by locals. The experience of cooking and eating with family and friends in Greece has profoundly shaped my outlook on travel, food, and culture.
Because of my upbringing and experiences, this "new" phenomenon of experiential travel seems natural to me. Doesn't everyone want to live like a local when they travel? Doesn't everyone want to learn to cook a wonderful seafood risotto in Bologna, to visit a coffee shop or a happy hour among a city's real inhabitants, and to hike off the beaten path on a remote island in the Azores? Seeking out and engaging in an unfamiliar culture is what travel is all about.
There are so many ways to "go local." When I was younger, and backpacking in Athens, I spent a week sleeping on a local family's roof and eating meals in their home. This was a great way for a 18-year-old to save money and learn from a native family an amazing city.
Amazing things can happen when you immerse yourself in local culture. I was at a ultra-cool, Polynesian themed Tiki Bar, Sugar Cane in Clapham, London, when I met Alex and Jenny, art enthusiasts, and fellow fans of uncommon, inebriating watering holes. After many a fruity rum drink and shots of tequila (bad combination), my newfound friends invited me to their home for supper. The next night, I ate a most memorable meal of canard à l'orange in their Mayfair home. What better way to make friends than over a home-cooked meal and bottle or two of wine? My experience in Alex and Jenny's welcoming home is unforgettable.
On another trip to London for the annual World Travel Market, my wife and I met a wonderful couple, Dave and Jen, that managed a bar in the London neighborhood of Acton. Oddly enough, we had met over social media - LinkedIn and Facebook. My wife and I were lucky to meet our new friends in person and stay in a room above their pub, The George & Dragon. I would come back from a hard day's work at the travel convention, explore the new neighborhood around the pub, and afterwards, go behind the bar and pour myself a pint of Guinness. My hosts were amazing; the experience of sleeping above their bar will be etched in my mind forever. My chance online encounter with this couple, and other coincidental encounters like it, can make travel experiences unbelievable.
Today, online resources make going local easier than ever before. Far before Airbnb, I lived abroad with relatives and friends, and even "couch surfed" in the homes of locals that I did not know. Now, there are now websites dedicated to every aspect of experiential travel. You can stay in a real French home, help build homes in Africa, assist marine biologists in Thailand, and even take cooking classes in Tuscany.
There are so many ways to blend into your new stomping ground using technology. You may know that you can stay in a local's home using Airbnb. Another great service, homeexchange.com, allows you to swap homes with another traveler and exchange your amazing travel experience for theirs. And through couchsurfing.com you can stay on someone's living room couch or in a spare room very economically. While using any of these services, your new neighbors during your stay can be wonderful sources of information and help you blend into local society. Living in a local home or apartment can change your perspective of a new place in a profound and meaningful way and make traveling anywhere in the world a one-of-a-kind social experience.
Another opportunity for unique experiences abroad is sharing meals. Food sharing sites like eatwith.com, mealsharing.com, and festly.com connect travelers with local hosts to experience home-cooked meals. These sites are all about immersing oneself in local society and culture. Ten years ago, hardly any of us were self-proclaimed foodies. Now, local cuisine has become an important factor in choosing travel destinations. In the last decade, some chefs have skyrocketed to celebrity status. Travelers now often seek vacations in beautiful and relaxing locations, but the focal point of a journey is to experience the local gastronomy. Consider the timeless and refined cuisines of Paris, Rome, and Athens. Combining a culinary excursion with the richness of a historical destination can make for a wonderful holiday experience.
You can also immerse yourself in another culture through volunteering. There are so many ways to make the world a better place, and what greater satisfaction is there than knowing that you're making a positive difference in a new place? International Student Volunteers (ISV) works with grassroots initiatives to offer volunteer projects in Costa Rica. ISV volunteer programs directly benefit the local communities of Costa Rica and offer a wide range of volunteer positions in wildlife conservation, community development, children's programs, and environmental management. However you wish to make an impact, there is a volunteer project for you with ISV in Costa Rica. There are also many other volunteer experiences elsewhere. You can travel to save tigers in Taman Negara, or turtles on the Perhentian Islands in Malaysia. Wherever you go, GoOverseas.com offers the experience living with a local family while you volunteer. The possibilities to make the world a better place are endless.
The next time you travel, truly experience a new place. Go to a local happy hour and work on learning a new language over a pint. Make friends by sharing a meal or renting a room in a local home. Research volunteer experiences and homestays. Richer, more authentic travels further the international community, enrich the senses, make travel more fulfilling, and truly make the world a better place.
Popular in the Community