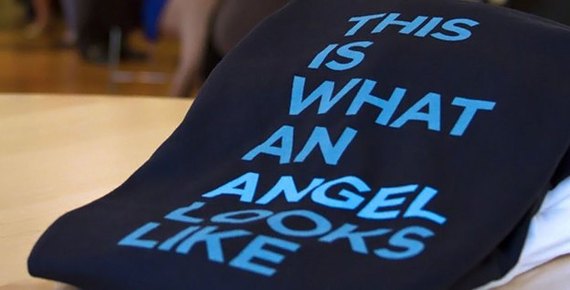 Photo courtesy of Pipeline Fellowship Fund
It was a late night in New York City when two of my friends and I sat in the corner of a loud, bustling restaurant in the West Village discussing how to get on top of the glass ceiling in our entrepreneurial community.
"I can't believe that in the year 2014, we [women] are still dealing with being passed over by men so often," my friend said Linda.
"Is it that women are still getting passed over, or is it that the right people aren't looking?" I asked. "Are we not aggressive enough?"
"Where's our food?!" my other friend Victoria belted, beckoning our server to keep the wine flowing.
"I dunno," Victoria said sitting back in her chair. "When I'm doing business I don't think of myself as a 'business woman' trying to act like a man or trying to be any which way. I don't try to be feminine or masculine. I just run my business and get the job done."
"So you're an androgynous CEO then. That's probably for the best," I said.
"We need more women investors," Linda said. "That's the only way the landscape is going to change."
I took a sip of wine and reflected on when I attended the Founder Institute a few years ago. There were more than 50 students accepted that season. Only 15 of us graduated, and of that number only three were women, including me.
"We need more women role models to encourage other young women," I said."
Linda threw a french fry at me face. "Exactly. We need more women investors."
What do you think? Why should leveling the playing field for women entrepreneurs be important to people other than women entrepreneurs? And what will do the trick? Here are some ideas shared by members of the women's angel investing community in New York City:
Making Men A Part Of The Solution
Bill Schnoor, partner and co-chair of Goodwin Procter's Technology Companies & Life Sciences Group, says nurturing female business leaders is crucial for the well-being of society.
"Until we have solved all the world's problems, we simply need to be sure that the talent pool feeding into new ventures is as wide as possible," he shared. "The data overwhelmingly show a great gender disparity in the number of ventures founded by women, which means we are selling ourselves short and not drawing on the widest possible talent pool. It's reasonable to conclude that one of the barriers to entry for women seeking to launch new ventures is a lack of women investors."
That's why Schnoor became one of the earliest champions of the Pipeline Fellowship Fund. Founded by Natalia Oberti Noguera in 2011, Pipeline Fellowship is an angel investing bootcamp for women who want to invest in women-led social ventures. Having trained more than 70 women and committed more than $350K in investments, the fellowship is making men a positive part of the equation.
"The blogosphere has been inundated with cries of 'we need more women as VCs!'" said Oberti Noguera. "When I started Pipeline my sense was that there was a bit of frustration coming from men on that side, and some men gave me the sense that they want to be part of the solution."
Oberti Noguera has made sure that the mentors in Pipeline Fellowship include women AND men.
Focusing On Possibilities, Not Problems
According to research conducted by Young Women Social Entrepreneurs (YWSE), only 1/3 of social entrepreneurship fellowships go to women. Adding salt to the wound, a study led by Peter Roberts at Emory University shows that female-run, early stage, post accelerator enterprises are 15 percent more likely to be profitable than male-run businesses, even though they are 40 percent less likely to get funded.
"Over the last 14 years of working with aspiring women social entrepreneurs, YWSE has found the root cause of these challenges to be lack of confidence, lack of partnership and support from peers, and lack of mentors and examples of other successful women social entrepreneurs," said YWSE founder, Sara Ellis Conant.
It's true. Even though 53 percent of affluent women are interested in investing in environmentally responsible businesses compared to 33 percent of men, according to Pax World Investments, the success of male-run social ventures is far more celebrated than the success of female-led enterprises.
"It's really hard for women entrepreneurs to raise funding as a for-profit social venture, yet male-led social enterprises are making it," said Oberti Noguera. "Warby Parker has succeeded. Ben and Jerry's has succeeded. Toms Shows, Honest Tea -- all these companies are led by men. We know it's possible to do well in the social sector. Women need to be in the spotlight too."
The possibilities are becoming more visible, thanks to Pipeline Fellowship and other women angel investing networks such as 37 Angels, which was launched by a Pipeline alumna, Golden Seeds, the Women Investing In Women initiative and others.
Pipeline Fellowship graduate Heather Cabot is exemplifying these possibilities. During her time in the program she invested in the woman-led social enterprise Cissé, founded by Diana Lovett.
"I think the expanding pool of capital from women investors is very promising for [female] entrepreneurs," shared Cabot. "The growth of opportunities to pitch to women investors thanks to Springboard, Women 2.0, Astia, Pipeline Fellowship, and the growth of women-venture-focused angel groups, plus female focused crowdfunding like Plum Alley is really exciting."
She added that learning to understand risk was a valuable part of the the Pipeline bootcamp.
"One of the best things about the mentors who spoke with Pipeline Fellows is that they were very blunt about the risks involved with these early stage investments," Cabot said. "Most of these deals will not make money or result in a huge exit. In fact, many of these companies may not be in business within five years. On the other hand, the great thing about being an angel is that you get a behind the scenes look at what it takes to start and run a business, and you get to help that venture get off the ground."
Spotlighting Successes - All Successes
Schnoor says the best way to help bring more women-led companies to the forefront is to share successes.
"Nothing succeeds like success, and in this case women's successes as founders and CEOs on the one hand, and as angel investors on the other hand will create a virtuous, self-reinforcing cycle," Schnoor shared.
Cabot agrees.
"I would like to see more and more female founders and CEO's get the media exposure they deserve, and I would also like to see more examples of women working in non-traditionally female-identified industries highlighted by the media," she said. "Those are great stories because women AND men need to see women starting businesses beyond fashion, beauty, kids and mommy types of ventures. They are out there for sure."
With more women and men coming together every day to support and promote the growth of women-led social businesses, the job is getting closer to getting done.
What else do you think needs to happen to level the playing field?
This post was originally published on The Toolbox, a new technology and social change platform founded by Peter Gabriel.
REAL LIFE. REAL NEWS. REAL VOICES.
Help us tell more of the stories that matter from voices that too often remain unheard.