Half of all refugees in the world are youth. As countries host millions of refugees and aid reaches the most vulnerable, programs that invest in youth and their potential have the opportunity to empower generations to come. Two organizations are supporting refugee youth, furthering their agency in telling their own stories and the potential to chart their own lives and careers by providing them with the tools to do so. Re:Coded has created a coding bootcamp in Iraq to teach refugees and IDPs how to code and place them with companies upon graduation and Another Kind of Girl Collective has provided a series of workshops to teenage girls in the Za'atari refugee camp in Jordan and in the city of Irbid in northern Jordan engaging Syrian girls in artistic and technical training in photo and video tell their own stories in first person. Both founders gathered on September 7 at the N.Y.C. Humanitarian Tech Meetup at the NYU School for Global Affairs to discuss why engaging youth in refugee contexts matters.
Re:Coded's mission is to create innovative, socially minded leaders in conflict-affected communities using technology and entrepreneurship. Founded by Alexandra (Ali) Claire, an Australian who splits her time between Iraq and New York, Alexandra saw a demand for such an organization while working in Iraq. There are currently 65.3 million forcibly displaced people worldwide, including 21.3 million refugees and 10 million stateless people1. Sustainable employment is one of the greatest problems refugees face. At the same time, refugees have a lot to contribute. According to the latest Tent Foundation report, investing 1 euro in welcoming refugees can yield nearly 2 euros in economic benefits within just 5 years2. Refugees provide a development dividend - to themselves, their children and their country of origin. While refugees earn globally, they spend locally. Estimates by Re:Coded are that for every fellow trained by Re:Coded, 3-5 people are impacted through the fellows' purchasing power. At the same time, there is a gap between opportunity and availability. In the United States alone, there are 1 million unfilled vacancies for programmers. This summer a school was created to fill in the gaps. Re:Coded received funding from the United Nations Development Programme (UNDP) and in conjunction with its partners, conducted outreach in refugee and IDP camps. It recruited youth committees to get the word out and even held information sessions at peak hours when many IDPs would be gathered. Before any of the Re:Coded bootcamp took place, Ali did extensive research in Iraq on what worked and what didn't in terms of programming. She saw there were few programs for youth and began conducting market-based research, looking into skills gaps as well as remote opportunities, with the goal of targeting the youth, specifically the 17-35 age group. Alexandra went to the CEO of the Flatiron School in New York, who provided all of the school's curriculum to Re: Coded, pro-bono. Flatiron School has produced 5 graduates for the New York Times, 3 for Spotify, and 12 for xo group to name a few and has had a 99% graduate employment rate.
The 'Full Stack' coding bootcamp received 500 applications from refugees and IDPs and from those 500, a cohort of 50 fellows were chosen. As all coding curriculum is in English, there was an 8-week intensive English course program. Though one downside has been having to jump through the hurdle of English fluency to get to the next hurdle of coding adeptness, the upside has been greater access to global markets. Trainers for were all hired locally, aware of the needs of the refugees, having been refugees themselves. Volunteers teaching English as well as serving as mentors, assisted in the teaching of soft skills, allowing fellows to learn more about the tech world and to be connected on a personal basis, receive career guidance, as well as refine their code.
I spoke to one of Re:Coded volunteers attending the event who works for General Assembly. Despite not receiving volunteer training from Re:Coded, she has instead received a great amount of curriculum to help teach English to the fellow she was paired with. Moreover, the relationship wasn't one-sided: she enthusiastically begun learning Arabic at the behest of the fellow and the two exchange daily emails. Though they are about the same age, one is already a mother and provider to her children, but what binds them together is a belief in technology and in human potential.
Re: Coded has also guaranteed employment for all of its fellows, implemented one-on-one training, and provided daily support, such as free lunch, free transport, free credit for internet usage, free access to handheld devices, and free childcare for all fellows, so that mothers, fathers, and caretakers could learn without one sacrificing for the sake of the other, making it possible for a husband and wife to participate in the bootcamp together. Moreover, 40% of the fellows chosen were women, a number which speaks to diversity more than tech programs and companies within the United States as only 28% of proprietary software jobs are held by women, 25% of IT jobs, 5% of tech start-ups are owned by women, and one 11% are executives at Fortune 500 companies. Re:Coded is also representative of refugee movement: while 58% of refugees live in cities in urban areas, 65% of Re:Coded fellows also came from urban areas, while 35% came from refugee camps. Half are Iraqi and the other half are Syrians. Though they were in different professions previously, such as teaching, Re:Coded has allowed them to develop new skills, learn more about the tech world, opportunities available to them in the Middle East, as well as possibilities for starting their own businesses, something Re:Coded wants to expand upon further by starting an innovation lab and possibly an entrepreneurship fellowship. Re: Coded has also addressed security concerns as groups such like ISIS use technology for spreading violence, by allowing fellows to choose how they build their digital presence, whether by creating aliases or by omitting identifying information such as photographs, seeking a balance between access to livelihoods and digital security.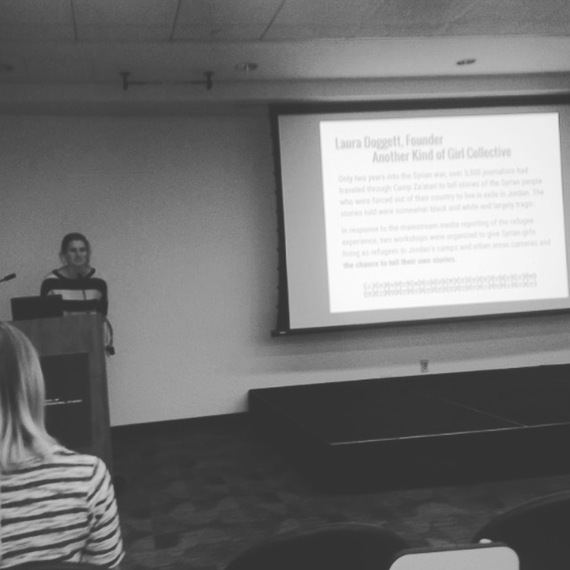 Laura Doggett, community artist, educator, and founder of the Another Kind of Girl Collective began the event with screening a film one of the participants in her workshops created in the Za'atari refugee camp in Jordan. Featured in the New York Times op-doc, 'Another Kind of Girl' was made by Khaldiya Jibawi, a 17 year old Syrian who describes her pre-Za'atari days as living life as a Bedouin, but with a house instead of a tent. The film is full of color, light, friendship, and family. We see Khaldiya's siblings play and hear Khaldiya explain they never played with their hands before coming to the camp, instead amusing themselves with some new toy. By contrast, at Za'atari kids always stay active. For Khaldiya, being a refugee has its positives as well as its negatives: she has more friends than she'd ever had before and she is able to learn from them just as much as they are able to learn from her. Though Khaldiya does not speak for all refugees, she provides us with her own lens, one she is aware is vital and fills her with a sense of completion. "Before learning to film, I felt like there was a huge part missing in my life. The only thing that filled it for me was filming" she explains." "The image of a refugee camp can be distorted by portrayals by outsiders....and when I encounter a scene I think people would be interested in seeing, I film it -- life as it is. I'm filming from my own personal perspective. I live in the camp, I am within the camp, and I know the camp. An outsider will miss a lot of the deeper meanings because they haven't felt what it's like to live here." Unlike those with the fluidity to move from outside the camp in and then back out, Khaldiya moves us through spaces, revealing something new. "I want to show the rest of the world that even though we live in a refugee camp, and have different lives from others, we still have dreams and ambitions. We are creative. We strive to rise above our limitations and work toward our dreams. I feel it's my responsibility not just to tell the world that truth, but to let people see it for themselves." Many of the girls Laura worked with are from Dara'a, in Southern Syria. As families from Dara'a were less well-off than their northern counterparts pre-war, often making a living small farmers, for girls this meant their education ceased around 7th or 8th grade.
For Khaldiya, this means she likes her life in the camp more than she liked her life in Syria, as in the camp, she has been exposed to a variety of resources. Laura's workshops were such a resource. The goals of the workshops were to facilitate an exploration of imagination, experimentation, and expression as a means to develop creative thinking and communications skills. The girls participating in the workshops were given point and shoot cameras to keep, which Laura stressed to Save the Children and Women One who funded the workshops in 2014 and the International Rescue Committee and DFID who funded them in 2015, that the girls must keep.Through the 4 workshops, the young girls underwent lessons on point of view by engaging in movement, writing exercises though prompts such as "when I look through the window...", scavenger hunts, as well as abstract assignments such as 'Fall in Love with Movement'. Through these workshops, the girls would see how they have different stories to tell within the same spaces.
This isn't Laura's first time working with teenage girls. She has previously worked with girls in the Bronx aging out of the foster care system. Often Laura hears that girls she worked with in the camp must have it worse than girls she worked with in the Bronx. But for her, it couldn't be further from the truth. She sees they face different challenges. The girls she worked with in the Bronx had no family support whatsoever as they were aging out of foster care. However, the girls Laura worked with in the camp had their families and their support systems. For Laura, teenage girls are her preferred group to work with. They like to discuss makeup, always more quiet in co-ed groups and open among one another, but more importantly, they are questioning and figuring out their identities and Laura spent much of the past twenty years creating opportunities for girls to be heard in their own voices. Next for her is exploring how the girls she worked with in Za'atari can be compensated for their work, as well as workshops furthering their writing and editing skills as well as on the subject of distribution and media opportunities. Her hope is to have a global collective connecting girls with one another online and a summer workshop for them to all come together in person.
As the humanitarian sector is overburdened by refugees in protracted crises, the entrepreneurial, tech, and private sector have a large role in supporting integration and self-reliance in partnership with aid organizations. Re:Coded and Another Kind of Girl Collective are examples of what works. Others include refugees making bicycles for themselves out of wood, creating their own radio stations, creating innovative items like the MakaPads, embarking on art projects fostering creative outlets for expression, as Made by Refugees which recreates Syria's most famous landmarks in miniature models, keeping refugees connected to their rich history and culture. Initiatives like Refugees Welcome, RefugeeHero, and CALM can connect people and provide dignified housing, tools like Startup Refugees, Refugees Work, Eat Offbeat, and Zharity can provide employment that is tailored to each person's skills, and apps and sites such as Refunite, help me, Migeat, X2AI, and EmpowerVan for Girls and Women can provide refugees with the tools and resources to retake control of their own lives.
Calling all HuffPost superfans!
Sign up for membership to become a founding member and help shape HuffPost's next chapter