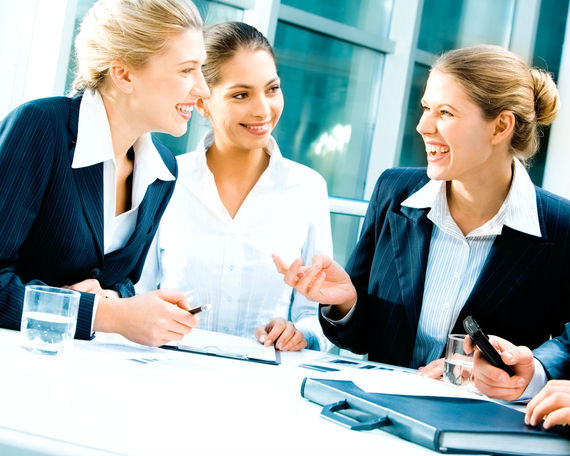 The gifts of entrepreneurship can be a powerful draw for many women, especially the ability to control your time and income. But behind the scenes, what the outside world sees as living the dream is, for many first-time entrepreneurs, often a starkly different reality.
New entrepreneurs soon discover the dark side of business startup. Days that begin and end stressing over cash flow, not enough clients, taxes, administrative issues, and the naysayers who gladly remind you it won't work, not to mention stepping through lifelong fears to create business success. This tends to be the reality in the beginning. It's not quite the idealistic scene many women envisioned when they courageously took the leap into entrepreneurship.
Despite these challenges, women that are new to the world of business are not letting the endless list of obstacles stop them from reaching business success.
When Kelley Kitley, founder of Serendipitous Psychotherapy, LLC told the practice head of the job she was working at that she was leaving to start a business, that practice head told Kitley she wouldn't be successful no matter how positive she thought. Kitley says, "As the primary income earner with four small children, I knew I needed to do whatever it took to make the business work." Ten months later, she's hired an associate, has a full client load, is a national expert contributor and speaker, and has a memoir coming out this summer with a goal of sharing her success to empower other women.
Vicky Llerena started Social Vibes Media with very little entrepreneurship experience or training. When she left corporate America, she thought she was really great at what she did. But she failed to realize that entrepreneurship is also the school of hard knocks.
For the first year and a half she was in business, she faced many challenges such as few to no customers, the isolation of working in her basement office and having no mentors. Llerena also felt bad charging people, especially friends and family, which meant she wasn't making enough money to survive.
Llerena says, "I was fed up with my challenges and said enough is enough. I began to strategize my tactics, think about my workflow and consider my options. I became a hustler, baby."
First, she forced herself out of her comfort zone and realized that if she wanted business she had to go after it. Llerena made herself think like a business woman and not like a friend who grants her friends favors. Then, she took massive action by attending local networking events to connect with other business owners. She built relationships with industry leaders and people who had been in business for years that did similar work. Llerena says, "I invited them for coffee and asked for their advice. These people became my mentors, my advisors, and part of my network of influence. They also helped me find customers."
She also rented an affordable office suite and started to work with freelancers, plus build relationships with local vendors. Teamwork helped her strategize a bigger vision for her business. To overcome her challenge with charging people, Llerena researched market value rates for her services and created a reasonable price sheet for her customers.
It was two years ago that Mirta Desir, founder of Smart Coos, became pregnant with her little girl. It was then she chose to leave a comfortable career as an attorney to launch a startup. Nine months after taking the official leap, with an infant in tow, her savings ran out while she was still in the research and beta test phase. With lots of ingenuity and some luck, Desir made it through and now has a growing startup that's changing the face of early childhood education. Desir says, "The word 'terrified' now seems like an understatement."
The dark side of entrepreneurship can be a harsh welcome for many, but through tenacity, hard work, and a drive to succeed, women are making their business dreams a reality.
Llerena shares this great piece of advice: "Business success is great when it happens, but it doesn't happen overnight. It takes mistakes, maturity, and madness for you to get out of your comfort zone and figure things out. Don't quit. Mistakes are part of the battle."
Julie Barnes is a brand story strategist and the founder of Your Story Gold. She works with entrepreneurs and business owners to give their business an identity through story. She's also the founder of Too Bizy Lady, a lifestyle blog for multi-passionate entrepreneurs.
Related
Popular in the Community