In 1914, U.S. President Woodrow Wilson officially set aside the second Sunday in May to celebrate Mother's Day. Although the day is sometimes dismissed as a "Hallmark holiday," I see it differently. Much like International Women's Day, which is celebrated in March, Mother's Day is an opportunity to reflect on the achievements of women and their evolutionary roles in society. I've been particularly interested in the financial evolution of women as it relates to personal finance and long-term investing.
There is no doubt that a woman's role in the household has rapidly changed over the past several decades, but a new study shows just how pronounced this change has been. According to the Allianz Women, Money, and Power Study, 51 percent of women report that they are the Chief Financial Officer (CFO) of their households, and 53 percent say they are responsible for managing long-term savings and investments. Additionally, 37 percent of women who participated in the study say they are the primary breadwinners.
I believe there are four key societal trends driving women to take a more prominent role in controlling their financial futures:
Trend 1: Leaning in and articulating their worth.
It's been four years since Facebook COO Sheryl Sandberg made "lean in" a popular (and sometimes controversial) rallying cry. Nearly half (44 percent) of the women surveyed by Allianz said that they have "leaned in" by asking for a raise or promotion at work.
Trend 2: Financial crisis.
Since the financial crisis of 2008–2009, more women are feeling responsible for household financial decisions. Author Jay Newton-Small has asserted that more women in Wall Street and regulatory roles could have prevented the crisis. As a result, women are taking ownership of their financial situations to ensure this doesn't happen again.
Trend 3: Women in the workforce.
This trend seems fairly obvious. By 2000, nearly 60 percent of women were in the labor force, up from 38 percent in 1960. This rapid growth boosted women's representation in the workforce overall.
Trend 4: Women in business.
We have also seen a rise in women going to graduate business school, which has led to larger representation in corporate leadership and more exposure to advanced finance and accounting. Beyond the traditional MBA, women are even surpassing men in master's programs in other related fields, like accounting and management. (See the Women Well Represented in Master's Programs chart for male-to-female ratio in applicant pools by program type.)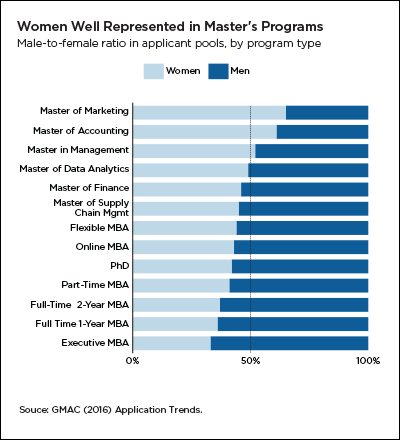 In TD Ameritrade's quarterly Investor Pulse Survey fielded in April, 36 percent of women said they fill the role of both CFO and CIO (Chief Investing Officer) of their household. I think we'll see this number grow as women become more financially powerful.
Today, women are not only playing a key role in daily finances (for example, budgeting and paying bills), but they are also assessing and soliciting investment advice as it pertains to long-term goals that they want to achieve. They're taking a more active role in managing their investment portfolios and 401(k)s. They're increasingly using long-term investing strategies like managed money and mutual funds and are participating in the markets more readily.
All of these changes have led to a philosophical shift. Now that women increasingly direct how money is spent, they will also start to direct how money is invested. Additionally, because women live longer than men, long-term planning is even more important.
Make the most of financial power.
Historically, women may have been perceived as less financially literate than their male counterparts, so it's crucial for women to bridge this education gap. Women need to be proactive in order to do this by listening to financial podcasts, reading books on finances and generally soaking up any and all information they can regarding finances.
It's also important for women to know their value in the workplace. Whether you are a fan of the "lean in" philosophy or not, know the market value of similar job positions, keep detailed records of your career achievements and value to a company, and check in with yourself on occasion. While the subject is top of mind, it might be a good time to discuss a raise or promotion.
As a general rule, people may not like talking about finances, and women are no exception. Find trusted partners—friends, family, professionals—whom you can be candid with. Then focus on actionable steps that you can take, and you'll be able to begin to chart your path. The good news is that there are a number of free online investor education resources that are easily accessible. This is essential, because you may need access to both digital and human guidance, or education that is in line with your particular needs and philosophies.
TD Ameritrade, Inc., member FINRA/SIPC. Stock investing is subject to risks, including risk of loss. Commentary provided for educational purposes only. Past performance of a security, strategy, or index is no guarantee of future results or investment success.
REAL LIFE. REAL NEWS. REAL VOICES.
Help us tell more of the stories that matter from voices that too often remain unheard.
This post was published on the now-closed HuffPost Contributor platform. Contributors control their own work and posted freely to our site. If you need to flag this entry as abusive,
send us an email
.