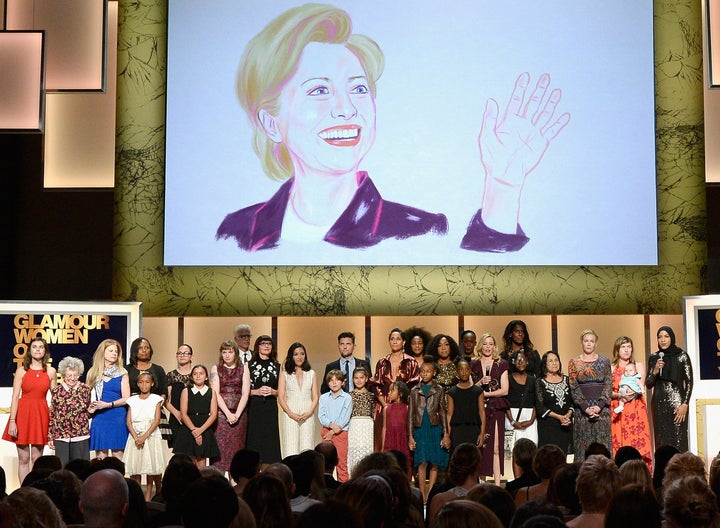 LOS ANGELES ― There have been two prevailing feelings among the many groups of people who voted for Hillary Clinton last Tuesday: grief and fear. And on Monday night in Hollywood, a group of artists, activists and celebrities attempted to move their own moods ― and the moods of those watching them ― from grief to action. 
Held at the NeueHouse in Hollywood, the event was intimate and emotional. In addition to honoring 11 incredible women, from Black Lives Matter founders Alicia Garza, Opal Tometi and Patrice Cullors to pop star Gwen Stefani, and one incredible man, Bono, the night provided those in attendance with some (very elegant) group therapy. It also left those watching with some actionable guidelines for how to move forward in the face of, as "Blackish" star and the night's host Tracee Ellis Ross put it, "a reality I do not like." (And one that for many groups of Americans ― Muslims, African-Americans, Jews, queer people, women ― is proving quite terrifying.) 
Below are six lessons to keep in mind when moving from mourning to action:
Find small moments of joy and share them with those you love.
For those who feel real grief in the wake of last Tuesday, it can be hard to take pleasure in anything. But as Tracee Ellis Ross pointed out: "We must continue dancing together, even if that means showing the world that sometimes I need alcohol to find my inner rhythm." With liberty, dance parties and justice for all. 
Do not fight hate with more hate.
When confronted by hatred and fear, you must fight back. But the way to fight back effectively is rooted in love and compassion, not more hatred and fear. One of the night's most moving speeches came from activist Nadia Murad, a young Iraqi woman who was kidnapped by ISIS and sold into sex slavery. She escaped and dedicated her life to being a voice for other women and girls. As Murad reminded the audience: "We cannot fight the terrorism with racism, because they are both the same base and the same ideology." 
Understand your privilege ― and use that privilege in the service of others.
The way the fallout of this election impacts you is determined in many ways by your identity. Whatever kind of privilege you may have, whether it's based on your gender identity, your skin color, your socioeconomic status, your religion or your sexual orientation, it's vital to understand how that privilege impacts your life and shapes your blind spots. Once you see and check that privilege you can do two things: listen to those who do not share your privilege and amplify their voices. 
During a panel at Glamour's first Women of the Year summit, which was held just hours before the awards ceremony, Lena Dunham pointed to the way white privilege played into voters' perceptions of Donald Trump throughout election season. She specifically pointed to the reaction to the now-infamous Access Hollywood tape. "In a way, even though I am white woman, even though I am a survivor of sexual assault, even though that tape chilled me to my core, I was a little bit angry that that was the moment, that we, as a country, decided Donald Trump wasn't a safe person," said Dunham. "Everyone who didn't have the privilege of being a college-educated white voter knew that on a deep, deep level already."
The lesson here? Listen, listen, listen.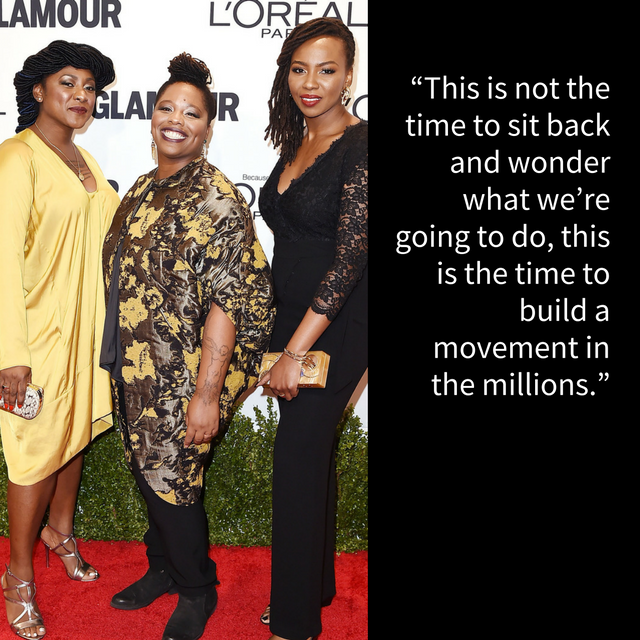 Stand with other women, because we are stronger together.
"When more women want the right to control our bodies, we are the wall," Dunham said during the same panel. "Women have the skills, the power, and the passion to protect each other."
Engage men in the fight.
If men are ever going to understand what many women feel in the wake of this election, we need to start talking to them. Women-only spaces are vital, but it is equally important to find male allies, because resistance cannot happen among women alone. Bono addressed this country's president-elect directly, in solidarity with women: "Look across to women. Make equality a priority. It is the only way forward. The train is leaving the station. Be on it or be under it."
Build a movement. 
Perhaps the most important lesson of all came from Black Lives Matter founders Alicia Garza, Opal Tometi and Patrice Cullors ― three women who know a whole lot about building a movement. "What happened in our country on Tuesday is something that we can fix," Garza said. "This is not the time to sit back and wonder what we're going to do, this is the time to build a movement in the millions."
Go forth and build and fight and love. 
REAL LIFE. REAL NEWS. REAL VOICES.
Help us tell more of the stories that matter from voices that too often remain unheard.
BEFORE YOU GO
PHOTO GALLERY
Women of the Year Awards Red Carpet