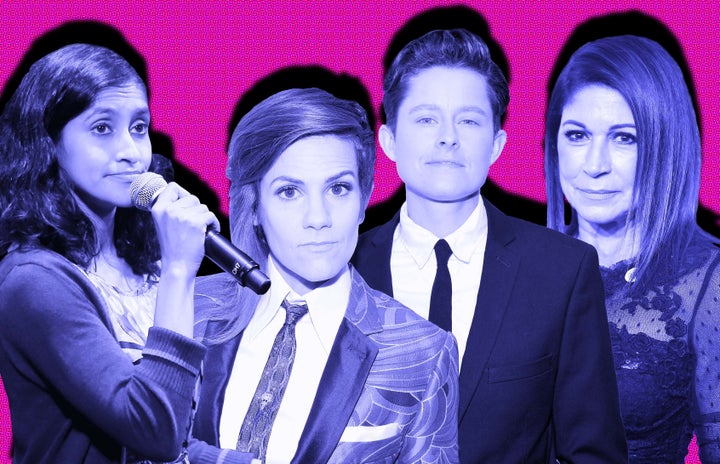 Tina Fey, Cameron Esposito, Rhea Butcher, Aparna Nancherla, Jenny Slate, Tig Notaro and Sasheer Zamata walk into a bar. No, this isn't the beginning of a bad joke, it's a comedy festival ― the New York Comedy Festival, founded by NYC comedy club owner Caroline Hirsch. The festival takes place every year, but in 2016, it's happening mere days before the presidential election. 
Hirsch, who opened her Times Square comedy club in 1992, started the comedy festival in 2004. She told HuffPost that the timing of this year's festival could not be better. As Americans celebrate the nomination of the first potential female POTUS, we have simultaneously been inundated with overt misogyny from her opponent.
A man who calls women "disgusting" and "fat pigs" ― on top of bragging about sexual assault ― may just become our next president, and female comedians are harnessing their uninhibited comedic voices to laugh in the face of it all.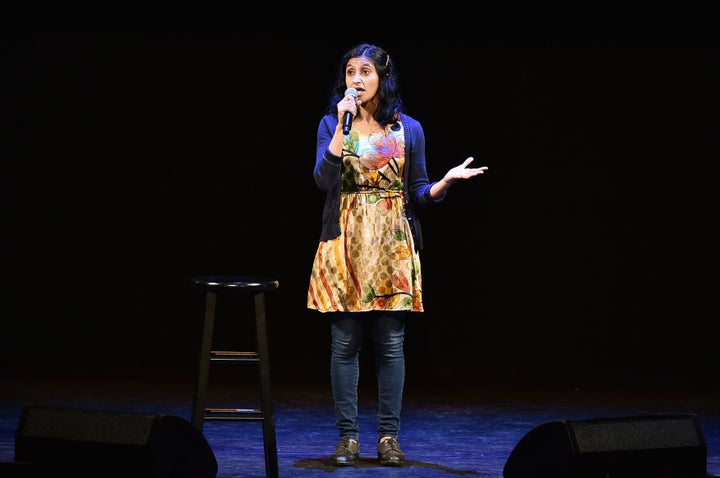 Among those voices are Aparna Nancherla and Rhea Butcher, two women performing in the festival, whose honest and hilarious observational comedy has given them both a cult-like following. 
Nancherla may best be known for taking her jokes about depression and social anxiety and packaging them into 140-character Twitter musings, but her standup is just as poignant ― and political. 
She frequently headlines shows that benefit women's organizations like Planned Parenthood and the Ms. Foundation, and her comedy is heavily intertwined with her own feminism. At the Ms. Foundation's annual comedy night at Caroline's on Broadway on October 25, where Trump's presidential campaign was the target of almost every punchline, she joked about celebrating the first female presidential nominee: "Clearly our gender has been given a free ride!" 
She told HuffPost that she attributes her commitment to women's empowerment to witnessing daily instances of sexism.
"I feel like I've gotten more involved [in women's issues] since doing standup," she said. "I started to notice things a lot more that I didn't before. These issues come into play a lot, especially in a male-dominated field."
Her comedy is also deeply influenced by her depression ― something she confronts regularly in her standup, on Twitter, and on the podcast she hosts  with fellow comedian Jacqueline Novak, "Blue Woman Group." 
Butcher ― an out butch lesbian from the midwest who's married to fellow comedian Cameron Esposito, with whom she's acquired an extensive following among the queer woman community ― feels the same way about mixing politics with comedy: It's just something that happens when you're not a straight, white dude. 
"There's so much conversation about diversity and voices right now," she told HuffPost. "I think there is a baseline normative-ness to a straight white guy doing standup comedy that people are still comfortable with."
But Butcher has no interest in staying in that comfort zone.
Her debut album "Butcher" was released in August of this year, and serves as a hilarious, self-deprecating celebration of her identity, including her "rock-a-doodle haircut and off-duty lesbian tractor mechanic outfit," and how ― as a butch woman ― women's public restrooms are her psychological equivalent to Vietnam. 
Like Nancherla, Butcher focuses less on beating her audience over the head with political jokes and more about doing what comedians have always done: talking and joking about what they know. It just so happens that for women ― particularly women of color or queer women like Nancherla and Butcher ― those jokes are inherently political.
For example, it's impossible to ignore the political implications when Butcher jokes about how nerve-wracking it is to be a butch woman in a ladies restroom. After all, the U.S. is so divided about LGTBQ bathroom access that the Supreme Court is involved, and the current Republican vice presidential nominee has advocated for conversion therapy. Butcher's joke invariably becomes a form of activism. 
"When you're not the norm, sometimes just existing can be political," Butcher told HuffPost. "I don't set out to be 'political,' but the personal is political."
She hopes more than anything that her comedy can open a dialogue about the issues that she cares about most ― feminism, LGBTQ rights, and social justice overall ― and that that dialogue can be a funny one. 
"If I can talk about my personal experience and [somebody] can relate to that, maybe they'll think about it more," she said. "If they like me, maybe they won't be so hesitant to hear about different [perspectives]."
When you're not the norm, sometimes just existing can be political.

Rhea Butcher
Both Nancherla and Butcher are representative of the growing presence of unapologetic women in comedy.
Hirsch, who's known for her ability to spot a comedian's talent early in their career (she told HuffPost that Ali Wong ― whose shows have sold out after her Netflix debut, performed in a "Comedy to Watch" show at Hirsch's club four years ago), has noticed that more and more women are breaking ground in comedy ― and is increasingly optimistic that more will continue to do so. 
"I am so impressed with how smart and talented these women are," she said.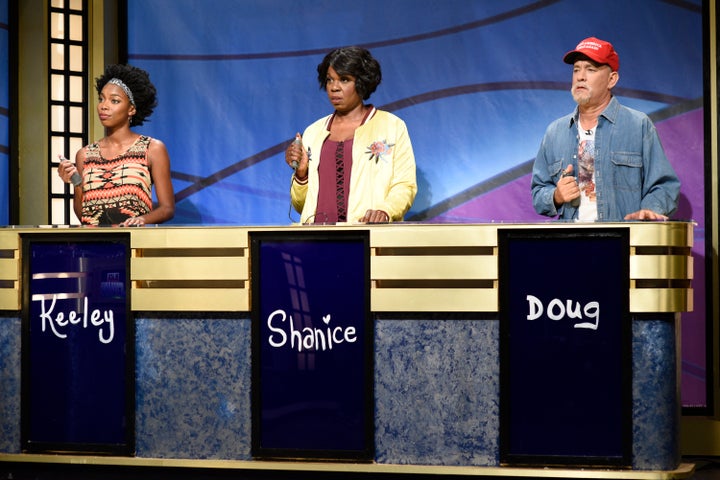 While the New York Comedy Festival features plenty of male headliners, like Trevor Noah and Bill Maher, it's become a platform for shining a spotlight on the comedic talents and refreshing voices of women in an otherwise tumultuous time. 
"This [election] stuff is really, really real," Hirsch said. "And comedy is a coping mechanism."
Calling all HuffPost superfans!
Sign up for membership to become a founding member and help shape HuffPost's next chapter
BEFORE YOU GO
PHOTO GALLERY
Funny Women - Past And Present