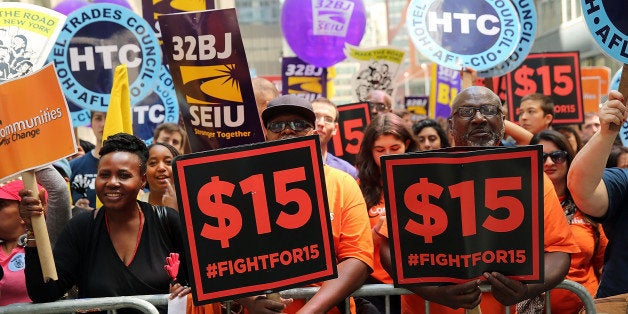 As a fast-food worker, I've learned a lot over the past three years about how to make change.
No, not the kind of change you make when someone gives you a dollar for a 75-cent item and you give them back a quarter.
I'm talking about making change in the lives of working people like me -- change for our families and our communities and change in our workplaces.
Across the country, people are coming to understand that $15 an hour is what workers everywhere need to survive. When N.Y. Governor Andrew Cuomo, standing alongside Vice President Joseph Biden, made the historic announcement last week that the minimum wage will be raised to $15 an hour for fast-food workers -- and that he is proposing to raise it to that level for all workers in the state -- I took a moment to think about how that change came about.
It started the week after Thanksgiving in 2012. I was working at three different KFCs in Brooklyn, NY, because the only way I could support my family on $7.25 an hour was to work up to 80 hours a week. My wife had just been diagnosed with cancer. We had four kids to feed. It was the worst of all worlds -- no time to see my family and not enough in my paychecks to provide for them as they deserved.
I heard there was going to be a meeting of fast-food workers to talk about what we might do to raise our pay and form a union that our industry would have to negotiate with. There were workers there from McDonald's, Burger King, Wendy's, and other companies.
We talked about how it is impossible to live on the minimum wage without relying on food stamps and rent assistance. We shared stories of how hard it is to take care of young children when your company won't tell you from week to week what your work schedule is going to be. We showed each other burn marks that happen when you have to work too fast without proper precautions.
As a result of meetings like that, we decided to pick a day and go on the first big strike ever held in the fast-food industry. I was scared. I heard a lot of powerful people saying that our goals would be impossible to achieve -- $15 an hour and a union. And to be honest, in my own mind I wondered if we could ever win.
I'm not sure any of us could have known that morning that we were going to light a spark that would start a movement all across America. Before long, fast-food workers got involved in the Fight for $15 in states like Michigan, Missouri, and Wisconsin. Walmart workers and workers in sectors like home care and child care joined us too.
Many of us have been on strike as many as ten times in the past three years. We've even joined hands with workers in other countries like Denmark, where fast-food workers are paid more than $21 an hour by the same companies like McDonald's that operate here. We've learned that the only reason we are paid so little is that these companies can get away with it in the United States today.
Because of our movement, cities and states have stopped waiting for Congress and have started raising the minimum wage themselves. And many elected officials and candidates for high office are lining up to support our Fight for $15. Who would have thought three years ago that a KFC cook from Brooklyn would stand with the Vice President of the United States?
For workers like me, $15 an hour means being able to feed my family without worrying that we're taking money we need for the gas or water bill or for bus passes. It means being able to see my kids grow up. It means real change in our lives.
Millions of people are concerned about what's happening in America today, with big corporations and a few people at the top collecting more wealth than at any time in history by driving down living standards for the rest of us. I'm proud to be part of a movement that is fighting back. With Governor Cuomo's announcement this week, we're continuing to prove that we have the strength to do something about it if we join together and make our voices heard.
Alvin Major is a KFC employee in Brooklyn, NY, and a leader of the Fight for $15 movement.
Related
Popular in the Community