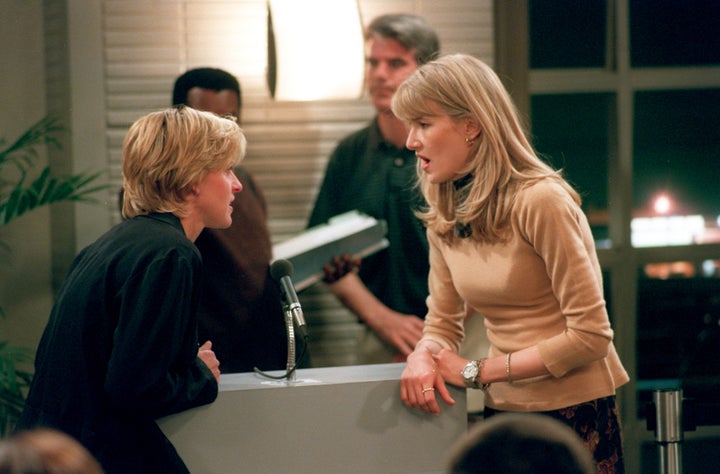 The door closed in an office on the Disney lot in Burbank. "Ellen's going to come out this season."  
It was at that moment, in July of 1996, that I knew I was going to be involved in one of the most anticipated episodes in the history of television.  What I didn't know was how life-changing it would be for me both professionally and personally.  Or that my twin sister, Marcia, would have the perfect pitch for Oprah Winfrey and I couldn't give her credit.
After a career in sports PR highlighted by serving as communications director of Billie Jean King's World TeamTennis organization, I was working as a writer's assistant on sitcoms in hopes of breaking in as a television writer.  In what has always felt like a "Sliding Doors" moment for me, I had just started on another series when I got a call saying the "Ellen" show was looking for an experienced writer's assistant.   I loved Ellen's comic sensibility and had wanted to be part of her writing staff.  So I decided to quit the other show and on my first day, behind closed doors, I was told about the coming out storyline.
A couple weeks before, during pre-production of the fourth season, Ellen had told the writers that she wanted her character, Ellen Morgan, to come out. Personally, she had decided she wanted to be honest and live her life unafraid and let people know it was okay to be gay. Co-showrunners Mark Driscoll and Dava Savel, along with the entire writing staff, were thrilled.  Ellen's comedic ability was undeniable but it had become increasingly difficult to develop a strong point of view for her character and come up with decent stories.  Ellen Morgan wasn't someone who was passionate about her career or relationships. Ellen herself didn't want to do anymore dating stories. In discussing this writing challenge an executive had actually pitched that to solve it perhaps Ellen could get a puppy.  And that is why when we needed a fake title for the coming out episode, for secrecy reasons, we called it, "The Puppy Episode." And it was never changed.   
Disney, led by Dean Valentine, Walt Disney Television president, was open to the idea of Ellen's character coming out, but did not want the episode to air early in the season as Ellen had hoped.  So when news leaked in September that discussions were underway to make Ellen the first gay lead of a prime time show, a media storm ignited that would culminate seven months later with Ellen being on the cover of TIME magazine with the headline, "Yep, I'm Gay."  
During those months many in the media saw the interminable wait for the episode to be intentional and ratings driven.  In truth, the episode still had not been green lit by ABC who would not officially agree to air the episode until they first read and approved a script.  There was also talk that Disney wanted to wait until after their yearend stockholders meeting as they were facing a backlash from the likes of Jerry Falwell and the religious right.
Unsure that the episode would even happen, the writers decided in the interim to include "clues" in earlier episodes as a nod to the hype and our intention to pay it off.  In one show, a realtor is looking for Ellen in an empty house and Ellen pops out from behind a closed door happily saying, "I was in the closet!"  In another, Ellen reacts to her parent's separation by declaring, "What if I said something shocking to you, like my whole life has been a lie and I'm really… left-handed?"
It wasn't until the following March, a week before shooting was to begin, that ABC finally gave their approval after reading the script.  The historic hour long show would end up being episodes number 22 and number 23 of a 25-episode season.  
When it came to breaking the story of "The Puppy Episode," the writers, including Ellen, wanted the audience to truly empathize with Ellen Morgan's struggle and root for her happiness. It was decided not to play the end result of Ellen realizing she's gay upfront. But instead for Ellen to find her way there and have Laura Dern's character be the catalyst for Ellen coming to terms with being gay.  To that end, it was important to have the perfect guy present who was interested in Ellen – so people wouldn't say, oh, she's just choosing to be gay because she can't get a man.   The guy, her college friend, Richard, a news reporter, would be in town with his producer, Susan, played by Laura Dern.  The first half of the hour show would focus on "What am I feeling?" and the second half, "What do I do about it now?"  
Ellen brought into the writers' room handwritten pages of dialogue that spoke of her character's need to be liked and her fear of being seen as a freak and rejected by society.  While the episode's plot was not a reflection of Ellen's real life coming out, the emotional beats certainly rang true.  These words were used in the therapy scenes with Oprah Winfrey and in her moving airport confession to Laura Dern.  And it was Ellen's brilliant idea, that when she leaned in to tell her deepest secret to Susan, she would inadvertently lean on the microphone and also announce that she was gay to everyone waiting for departing flight 368 for Pittsburgh.
With story by Ellen, and teleplay by Executive Producers Mark Driscoll and Dava Savel and Consulting Producers Tracy Newman and Jonathan Stark, the process of breaking the story and churning out drafts was extremely collaborative with fellow writing staffers Jan Nash, Matt Goldman, David Flebotte, Alex Herschlag, Mark Wilding, Ellen Idelson and Rob Lotterstein, Vance DeGeneres, Jennifer Fisher, and David Walpert all contributing.  Rob Lotterstein and Ellen Idelson particularly impressed me when they came in one morning during production and without being told had written a new opening scene.  It turned out to be the one used in the episode.   I remember Rob saying they "wanted to get on the board" and have their words in the script.  It was a lesson in work ethic and taking the initiative in a writing room that I never forgot.  And Ellen had actor Patrick Bristow, who played Ellen Morgan's gay friend, Peter, share his experience as someone who came out earlier in life which informed his big scene with Ellen.  
In a pre-internet, pre-hacking world, notes, outlines and scripts for "The Puppy Episode" were locked away each night.  For added security, early drafts were printed on maroon paper so the black print couldn't be copied or faxed.  Trouble was you couldn't read it either unless you held it up to the light just so.  During production of the episode, a local radio station announced with glee that they had obtained a copy of the shooting script and were going to read it out loud that day to their listeners.  Disney legal took immediate action to stop them.  A bomb threat was also called in and the stage cleared until bomb-sniffing dogs could rule out the threat.  
Before anyone had been cast, I suggested to a producer that we offer the role of a waiter to Olympic great, Greg Louganis, who at the time was pursuing an acting career, and was someone I had worked with in my sports PR days.  The producer said, "It's one line.  He wouldn't be interested."  I said I thought he would due to the historic nature of the episode and the fact that he was now living openly as a gay man.  Fast forward to when it was announced that Oprah Winfrey had agreed to play the therapist and suddenly the show was inundated with top actors saying they wanted to appear on the show, no matter how small the part.  That producer did come back to me weeks later to say he reached out to Louganis who unfortunately had a schedule conflict.  
The episode was shot over two weeks in March 1997, including two Friday audience nights.  In addition to the regular cast of Ellen, Joely Fisher, Jeremy Piven, Dave Higgins and Clea Lewis, other guest stars would include:  Steven Eckholdt, Jack Plotnick, k.d. lang, Melissa Etheridge, Demi Moore, Billy Bob Thornton, Jorja Fox, Gina Gershon, Dwight Yoakam, and Jenny Shimizu.  The episode was directed by Gil Junger. Tammy Billik was the amazing casting director.
After the first table read of the script, Disney felt Ellen's denial to acceptance was too fast.  They wanted to hear, "Is this the first time you ever felt this way?" Hear Ellen say "no" and tell the story of why she didn't pursue it or let it come out earlier.  There was also a lot of rewriting of Ellen and Laura Dern's scenes the first week to heighten the "clicking" between them.  The idea was for Ellen to feel they had so much in common and were so alike that when Susan says, "I'm gay," it sets off the comedy gold of Ellen in denial and not being able to hide it anymore.  
For a scene in a lesbian coffee house, Ellen wanted all the extras to actually be gay and put out the word for the crew to invite any family or friends to be background.  She wanted to showcase that not all gay women looked like the stereotype.  Playing a waitress and performer in the coffee house was k.d. lang who opened the scene singing an overly earnest woman anthem, "Our Time It Will Come Soon" that Tracy Newman, a singer/songwriter herself, wrote. Twenty years ago the song began, "A woman in the White House… it cannot come too soon."  Sigh.
During the second week of shooting, Oprah would be arriving for one day to shoot her therapy scenes.  The scenes had been sent to Oprah and we had no idea how many changes she would want.  It was a little nerve racking knowing how little time there would be to rewrite the scenes.  When Oprah arrived, the first thing she asked was if she could watch what we had filmed the week before which included the confessional airport scene.  The producers brought her into an office and she emerged with tears in her eyes.  She was so moved.  And she didn't ask for a single line change.
Since working as a writer's assistant on "Ellen," I've written numerous episodes for different sitcoms, but perhaps most special and impactful to me was pitching the show ending "tag" of "The Puppy Episode."  Jonathan Stark had written a joke in the hotel room scene when Ellen first learns that Laura Dern's character is gay.  Laura responds that she thought Ellen was gay, too.  Ellen, in the superbly acted scene, becomes comically defensive and uncomfortable:  
Ellen: I've heard about you people.  It's not enough to be gay yourself.  You have to go out and recruit others.
Susan: Yes, and now I'll have to call the national headquarters and tell them I just lost you.  Damn.  Just one more and I would have gotten the toaster oven.
Ellen:  What is that?  Is that gay humor?  Because I don't get it.  That's how not gay I am.
Later, in the airport scene when Ellen rushes to tell Susan she was right, she calls back the joke:
Ellen: … I guess what I'm trying to say is that… I did get that joke about the toaster oven.
Instead of a regular main title, in our fourth season Ellen would do opening bits with different guest stars  (Wolfgang Puck, Oscar de la Hoya, Jennifer Holiday, etc.).  For "The Puppy Episode," Melissa Etheridge was scheduled to shoot the opening title with Ellen – playing her guitar and singing ("Ellen, you're brave for the things you do…").  Even before shooting it, Disney was hesitant about using the opening as it was ahead of the story and self-congratulatory.  They were right.  In fact, the opening with Melissa wasn't used until the episodes aired in syndication as a lead off for part two.
As a big fan of Melissa's, I was trying to think of a way to get her in the show should the opening get cut.  So I pitched a tag to pay off the toaster oven joke:  Susan takes Ellen to meet with Melissa Etheridge, national headquarters rep, to complete the necessary paperwork and receive her toaster oven prize.  Mark Driscoll immediately loved it and had me put it on paper so he could show Ellen, who loved it as well and we shot it that week.   Melissa was hilarious – asking Ellen if she was gay,  having her sign and initial several pages, and stamping the affidavit several times to make it official.  Being on the stage floor during the pre-shoot and again when the tag was played back to huge laughs from a live audience was thrilling and such a privilege.  And contributed to people seeing me as a writer with Mark Driscoll putting me on staff soon after on "Suddenly Susan."  And later being hired as a writer by Newman and Stark on "According to Jim."
Once the episode aired, stores in West Hollywood were selling T-shirts saying "Win a toaster oven, ask me how," among other merchandize.  Somewhere in a box, I have a light switch plate of all things that a friend in New York bought with Ellen's face saying the same thing.  I guess in a pre-social media world, this was the equivalent of a joke going "viral."
Anticipating the moment when we would wrap the episode in front of an audience on Friday, March 14, the writing staff wanted to give something to Ellen to honor her courage in making it happen.  Since we had shot the airport scene the week before, and I had seen the studio's still photographer on set then, I suggested we present her with an engraved framed photograph of the historic moment her character says, "I'm gay."  We called over to Disney PR, requested to see the photographer's proofs and picked the best shot.  We then called Tiffany's to order a frame engraved with "The Puppy Episode" and the date.  However, they said they couldn't get it done as quickly as we needed it.  When we explained it was a gift for Ellen, they said they would absolutely get it done in time.  
Oprah had agreed to do the show to show her support for Ellen.  She would later report her participation as the therapist in the episode resulted in her receiving the most hate mail of her career.  
It was Dava Savel who pointed out during a rewrite that we should actually have Oprah voice her support and say that it's all right to be gay:
Therapist:  "So, you're afraid people aren't going to take it well?"
Ellen:  "Well, yeah, you have to admit, it's not exactly an accepted thing.  You never see a cake that says, 'Good for you, you're gay.' Well, except maybe in the West Hollywood Baskin-Robbins."
Therapist: Okay, Ellen, I'll say it.  Good for you, you're gay."
The night before our final filming day, I showed the script to my sister, Marcia, since she was coming to the taping the following night and had been in the audience for the previous week's shooting.  She always read everything I wrote and I wanted her to see the tag.  She read it, including the therapy scenes, looked up and said, "You guys should get Ellen a cake that says, 'Good for You, You're Gay' and have Oprah wheel it out at the end of the taping." OMG.  How did none of us think of that before?!  
I quickly called Mark Driscoll at home and asked if I could try to get a portrait cake of Ellen made in time.  I wanted to say it was my sister's idea but she didn't want me to since we weren't supposed to show the script to anyone.  Mark told me if I wanted to try to pull it off in less than 24 hours to go for it.  Remember, this was before you were able to just Google something.   I think I used a phone book and found a bakery in Santa Monica that did these cakes.  As soon as they opened, I called and they said they could do it and even deliver it to the studio but the cake artist would need a photo of Ellen to use as reference (again, pre-Internet, pre-email, pre-photo cakes).  
I raced over to nearby Disney, grabbed a promotional poster of Ellen and drove across town to the bakery.  I told the woman who was going to make the cake what we wanted it to say.  She looked at me and with a shy smile said, "My partner and I are fans of the show."  I told her how perfect it was that she was making the cake.  Later that afternoon, security called our offices concerned that someone was trying to deliver a cake.  They were pretty upset that no one had told them at a time when bomb threats had been called in.  We showed Oprah the cake and she was so excited about surprising Ellen with it at the end of the taping.  Photos of Ellen with Oprah and other cast members celebrating around that cake were published around the world.  
Between shooting the episode and it airing the following month, Ellen herself famously came out on the cover of TIME magazine.  I remember picking up several copies at a newsstand before work and walking into Mark Driscoll's office and putting one in front of him.  Even though we knew it was coming, it was still astonishing.  A signed copy of that TIME by Ellen along with the script cover autographed by the entire cast has hung in my various offices ever since.
The airing of "The Puppy Episode" on ABC on April 30, 1997 to an audience of 42 million became a landmark event in our popular culture.  "Come out with Ellen" benefit parties were hosted around the country.  Reviews were overwhelmingly positive and the series was nominated for six Emmy awards, winning for Outstanding Writing For A Comedy Series and Outstanding Multi-Camera Picture Editing.  The Peabody Award honored the show "for creating courageous and clever comedy with historic significance."
The one quibble a couple reviews had was over a 30-something woman suddenly coming to terms with her sexuality after meeting Laura Dern's character.  The New York Times, in a review based only on reading the script, called it "bordering on unbelievable."
It wasn't unbelievable to me.  Because it was my story.  And it was happening in almost real time as the episode was shot and aired.  It was quite surreal to be working on a storyline about Ellen unexpectedly falling in love with a woman, and then find myself in the exact same situation.  Well, not exact.  But close.  I was even the same age as Ellen's character.  I had good friends who were gay, but I had just never met a woman who had that type of catalyst effect.  And then I walked into a sitcom writing class that March and met my "Laura Dern."  I remember we went around the table introducing ourselves.  I mentioned working on "Ellen."  She thought for sure I was gay and was about to ask me out when I mentioned my boyfriend at the time.  I thought I had just met this really cool friend that I liked so much until I came home one night from hanging out together and in a true-to-life "puppy episode," confessed to my dog, Trevor, that I felt like I was falling in love with her.  No doubt Ellen's courage had helped opened that door for me.  Alas, as in the episode, that first love ended and caused a lot of pain but enormous growth.  It led me to accept who I am.  And years later when the Supreme Court dismissed the Prop 8 appeal in 2013, I married the love of my life, Melanie, a year to the day we met.
Watching "The Puppy Episode" recently with my wife, I was filled with gratitude over its profound influence on my life.  I was proud to see the episode holds up remarkably well and still elicits huge laughs and heartfelt moments.  I know the writers felt enormous pressure to deliver a script that not only lived up to the hype but more importantly, honored the risk that Ellen took to be the first gay lead in a prime time show.  It may be hard for younger people to realize just how courageous and momentous this episode was for Ellen and for pushing along gay rights and acceptance.  I imagine it even saved lives.  All it takes is a gay friend or neighbor or sibling to teach someone acceptance.  Ellen was that friend to many.
On Diane Sawyer's "Prime Time" special that aired immediately following the episode, an emotional Ellen talked about the celebration at the end of filming. She mentioned the line in the show where she tells Oprah that no one gives you a cake that says "good for you, you're gay." With tears in her eyes she recounted, "They wheeled out a huge cake that said, 'Good for you, you're gay.' And gave me a great picture of me with Laura Dern the moment I say, 'I'm gay.'  Literally, I was filled with joy."  
I knew the feeling.  And I also knew, even if it took me 20 years, I would tell everyone that the cake was Marcia's idea.
Calling all HuffPost superfans!
Sign up for membership to become a founding member and help shape HuffPost's next chapter
BEFORE YOU GO