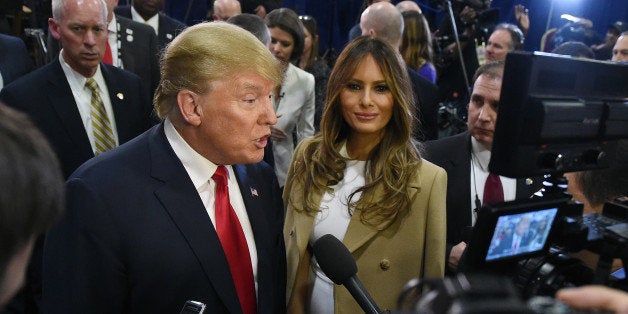 Despite his insidious remarks and racist rants, Republican candidate Donald Trump continues to have a huge constituency and may be unstoppable in the polls. In many polls, his numbers are still double that of his next competitor. But there may be a factor that pollsters, and perhaps campaigns, have underestimated. It may be that despite, or because of the discrimination and gender exclusion that women have endured over the 239 years since this country's birth, we -- Democratic, Republican, and Independent women -- will galvanize to elect one of our own.
Over the past few months, Donald Trump has called for blacklisting Muslims from the shores of America, labeled Hispanics as rapists and criminals, and said that he does not want "black guys counting my money! I hate it. The only kind of people I want counting my money are little short guys that wear yarmulkes every day."
But throughout his life, Donald Trump has saved his worst venom for women. And because women are the majority of registered voters in this country, perhaps in 2016, women can return the favor.
Let's take a look at how a Trump presidency would look for women, based on the words and deeds of a potential President Trump.
Trump married the smart and striking Czech model Ivana Zelníčková in 1977, and over the next decade, the couple had three children. According to People magazine, by the late '80s, he began cheating on his spouse with Marla Maples, an ex-Miss Hawaiian Tropic.
After appearing worldwide with Ms. Maples, Donald decided to divorce Ivana. Although he referred to Ivana as "my twin as a woman," he immediately locked her out of her office at the Plaza Hotel, and compared her to Leona Helmsley, a woman he called "a truly evil human being."
During this period, Donald took his case to the media. In an interview with Esquire, he remarked, "You know, it doesn't really matter what [the media] write as long as you've got a young and beautiful piece of ass."
In the heated divorce proceeding, Ivana accused Trump of "rape." In the 1993 book the Lost Tycoon: The Many Lives of Donald J. Trump, author Harry Hurt stated that Trump confronted his then-wife after undergoing an agonizing scalp reduction surgery to remove a bald spot. The Donald had used a plastic surgeon based on Ivana's recommendation, and said "Your fucking doctor has ruined me!" According to the account in the book, Trump proceeded to engage in a "violent assault" against Ivana, holding back her arms, pulling out fistfuls of hair from her scalp, tearing off her clothes, and raping her. Although she told some of her friends at the time, when money was transferred as part of the divorce settlement, Ivana retracted the story.
In his 2004 book Trump: How to Get Rich, Trump spoke about his work with female contestants and associates on the Apprentice. "All of the women on The Apprentice flirted with me--consciously or unconsciously. That's to be expected," he bragged. "The early victories by women on The Apprentice were to a very large extent dependent on their sex appeal," wrote Trump, later adding, "I believe we're all equal except women still have to try harder and they know it. They will do what they have to do to get the job done and will not necessarily be demure about it." But his most despicable comment on the Apprentice came in 2013 when he spoke about imagining the "pretty picture" of former Playboy Playmate Brande Roderick "dropping to your knees."
Although Trump's campaign has been run in the media, with the candidate bragging about the free coverage he receives, Trump has been very difficult on women in the media (especially those who pen anything not 100 percent positive about The Donald).
In 2012, he tweeted that Arianna Huffington, who created the Huffington Post, "is unattractive both inside and out. I fully understand why her former husband left her for a man--he made a good decision". In 2011, Trump wrote to the New York Times columnist Gail Collins that she had the "face of a dog." And famously, after the first Republican debate, when confronted by Fox anchor Megyn Kelly on some of his misogynous comments, Trump commented:"You could see there was blood coming out of her eyes-blood coming out of her wherever." Not stopping at this suggestion that her menstrual state was causing Kelly to ask these questions, Trump also re-tweeted a comment calling her a "bimbo" (later deleted) and a "lightweight."
But perhaps the most telling and alarming statement by Trump about women came during a 2006 interview on The View when he spoke about his daughter, Ivanka. "I don't think Ivanka would do [Playboy], although she does have a very nice figure," stated the father. "I've said if Ivanka weren't my daughter, perhaps I'd be dating her."
As the primary season quickly approaches, it is clear that the women of America could decide this election. Most probably, the choice will be between electing the first woman president, who happens to be the most experienced and competent of all candidates, or Donald Trump. Mr. Trump weighed in on this choice in a tweet last April.
"If Hillary Clinton can't satisfy her husband what makes her think she can satisfy America?"
REAL LIFE. REAL NEWS. REAL VOICES.
Help us tell more of the stories that matter from voices that too often remain unheard.