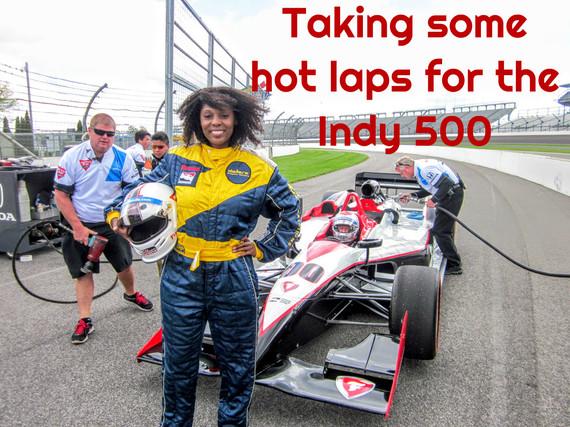 If you didn't already know, well then let me explain it to you-
I'm a gear-head.
I love motorsports. I didn't learn this about myself until about six years ago. But I am. And, I've embraced that on most experiences, I'm the only little chocolate drop to be seen on the track. (Well...who isn't working concessions or maintenance.)
Now, admittedly, most of my experience has been with NASCAR. That's because I worked four years in Charlotte. (Charlotte is home base to NASCAR.) So when I got a call from Firestone Racing and Firestone Tires asking if I'd like to come to a media preview of the Indy 500, we'll...you can guess that I made sure that my schedule was clear.
Now before you watch the vlog about my action packed day, which included behind the scenes tour of
's shop, hosted by Ed Carpenter himself, and a few hot laps with "the fastest driver on the planet", Mario Andretti, here's four things that I learned about IndyCar on this trip:
rain or shine (except for storms) they're ready to go, go, go on the track
drivers, no matter if they are retired (like 76 year-old Mario Andretti), will always like to drive
Harvey Firestone (the founder of Firestone) used to hang out and have camping trips with Thomas Edison and Henry Ford.
and on Sunday May 29th, 2016 will be the 100th running of the Indy 500.
Learn more about Harvey Firestone's camping trips and about my invite to the race later this month on The Daily Affair! *link is below*
Now for the main attraction, my video...
keep in mind, Mario told me afterwards that we were going about 140mph. And I may or may not have gotten a little woosey afterwards.
Visit The Daily Affair for an EXCLUSIVE photo gallery and 360° video of this trip.
Get it all in one by subscribing to our newsletter.