Yesterday, the blog Eater posted an entry about an alarming Craigslist ad by an unscrupulous business owner attempting to pay for fake Yelp reviews. The good news is that Yelp has pioneered successful strategies in fighting consumer fraud.
Most small businesses understand that the easiest way to establish a great reputation on Yelp is to provide superior service and an excellent product; in other words, ensure folks that patronize the business have a 5-star experience. For the minority of businesses that don't understand this, we go to great lengths to protect the integrity of Yelp's content and ensure consumers aren't mislead.
Yelp employs two tools to attack the problem of consumer deception: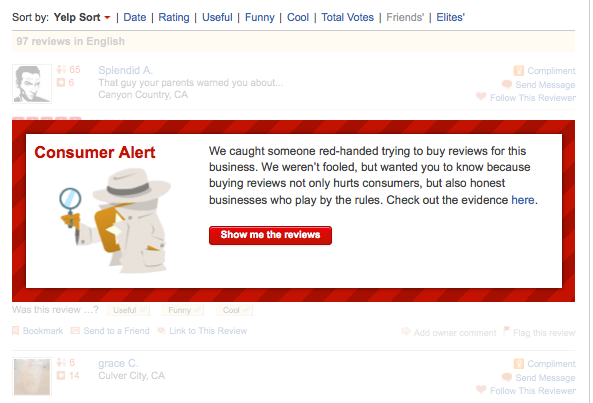 2. If these businesses aren't caught red-handed while attempting to deceive consumers, they typically find themselves hitting a frustrating wall anyway: Yelp's review filter. Every day, Yelp's automated software -- or review filter -- examines every review and ultimately deemphasizes around 20% of the more than 39 million reviews onto a secondary "Filtered reviews" page linked at the bottom of business listings. In a recent test, BusinessWeek reported that Yelp was the only review website of seven to effectively suppress shill reviews that were purchased and posted to mislead would-be customers. For more information about why Yelp has a filter, watch this short video:
The integrity of Yelp's content is critical to its usefulness. Our ability to help over 100 million people a month connect with great local businesses is achieved by a combination of technological approaches (automated filtering software) and proactive sleuthing designed to smoke out the few bad actors. We'll continue to aggressively fight attempts to game the system and to develop innovative techniques for protecting consumers.
That way, you can relax and just focus on finding that remarkable roofer or practical plumber or sympathetic stylist or delicious donut maker or....
Related
Popular in the Community