Sometimes I forget I had cancer.
Sometimes I forget I have cancer.
Sometimes I forget how very lucky I am to be living in an age where we have information at our finger tips. It's frightening and often overwhelming to skim the daunting prognosis stats, hear the triumphant stories and research every ache. Whether it's right or wrong to self diagnose, initiate treatments or push doctors for more, at least we have it. So many people don't. So many did not.
We've been honoring, mourning and reflecting on the career of actor, artist and comedian Gene Wilder. While he was an accomplished actor who starred in many notable films, what hit me most was a tribute he made to his wife, Gilda, after she died of ovarian cancer. Clouded with sadness, he wrote an essay trying not to blame himself for being so naive. He didn't know the signs, ask the right questions or understand what he could have brought to the table to help save his wife. With this information, he believed he could have helped prevent her untimely death.
While Gilda's disease was different than mine, I was fortunate to benefit from cancer survivors like her. I knew those lessons. I was armed with a briefcase filled of family history information. I knew pointed questions to grill doctors on about breast cancer. I was a survivor. I am a survivor. Yet, it still came back.
Even after the second bout of cancer, I didn't wallow in my sorrows. I followed my doctors orders, while also educating myself to challenge some of their thoughts. I've expanded my circle of doctors, creating a true medical team filled with oncologists, naturopaths and other practitioners focused on wellness. I've accepted these appointments with frequent follow ups. And though I constantly strive to take very good care of myself, it still comes down to this.
No matter how smart I am...
No matter how much I take care of my body through healthy living practices...
No matter how many times I scan and rescan my body...
Cancer still kills and we don't have a cure especially for a disease like mine, stage IV metastatic breast cancer.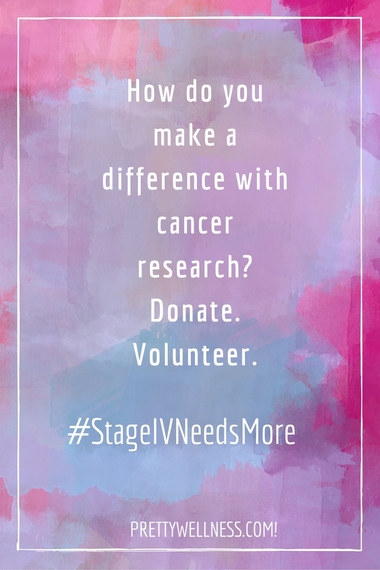 So, what does this mean? It means we need to find a cure.
Yes, we should all take care of ourselves and strive to live a healthy lifestyle - mind, body and soul.
Yes, we should advocate for ourselves and push doctors, naturopaths and other practitioners to help us heal our illnesses.
But cancer sometimes has its own mind and may rip itself through all the goodness and clean lifestyle ways. So, we need a cure...especially for the rare and stage IV diseases.
Imagine hearing those words...or better yet, stumbling upon those statistics online in the dark of night, when you can't sleep. We need to change the statistics. We need better outcomes, more cures.
So how do we find a cure? We support research for these rare or less funded diseases. We find charities that are linked up with hospitals or organizations that fund studies. We find opportunities big or small to make a difference.
How do you make a difference? Give a little bit of time (volunteer) or money (donate $1.) I've supported a lot of charities that educate, build awareness and fund research for overall studies. I'm incredibly proud to be associated with The Cancer Couch Foundation, a 501C3 non-profit corporation founded by Rebecca Timlin-Scalera, PhD, breast cancer survivor and neuropsychologist. Through this foundation, 100% of the donations and event proceeds go directly to institutions to fund cutting edge research projects on metastatic breast cancer. Rebecca is a brilliant mind, a beautiful soul, who through her efforts with the world leading cancer centers, will make huge inroads into finding better outcomes for those currently living with metastatic breast cancer.
As we join those watching Stand Up to Cancer this weekend or paint the town pink with October approaching, I ask you to think about metastatic disease and what you can do to help. You can help those with stage IV cancers, honor those who have experienced it and make the world a better place by standing up to cancer and doing something about it.
REAL LIFE. REAL NEWS. REAL VOICES.
Help us tell more of the stories that matter from voices that too often remain unheard.