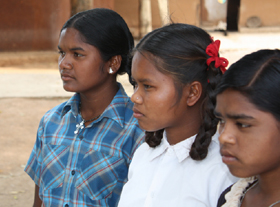 Halfway around the world, millions of women and girls are enslaved. Girls are kidnapped as young as seven and eight years old, and then sold into brothels. Young women are forced into prostitution by trickery and coercion. Why should this matter to you? And what can you do about this?
For some Westerners living far away from these women, they have assumed that prostitution is something that women turn to opportunistically as a way out of economic desperation. This is hardly the truth.
Take Meena Hasina, for example. Meena is an Indian Muslim who was kidnapped from her village near the Nepalese border when she was eight or nine years old. She was then sold to a low-caste tribe that controls the local sex trade, and taken to a rural house where the owner kept prepubescent girls until they were mature enough to attract customers.
When Meena was 12, she was taken to the brothel. When customers were brought to her, Meena fought them off. The brothel owners did not like this. "They beat me mercilessly, with a belt, with sticks, with iron rods," she reported. They even threatened to kill her. But with each customer, she kept resisting. "Finally they drugged me," she says. Then one of the brothel owners raped her. She gave in and stopped fighting customers.
Unfortunately, Meena's story is all too common for young women around the world.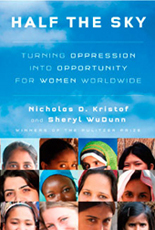 I first learned about Meena from Nicholas Kristof and Sheryl WuDunn, in their bestselling book, "Half the Sky: Turning Oppression Into Opportunity for Women Worldwide." According to the research of Kristof and WuDunn, they estimate that there are three million women and girls (and a very small number of boys) worldwide who are enslaved in the sex trade.
For the 12 years Meena was in the brothel, she says that she was beaten on average five days a week. It is common in brothels for girls to be consistently beaten until they smile for potential customers. This can send a confusing message to the rest of the world in terms of what is really going through the minds and hearts of these young women. A passing foreigner might see a girl smiling and laughing and assume she is doing this work voluntarily. This is hardly the case!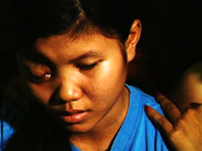 One young woman, Long Pross, was 13 when she was kidnapped and sold to a brothel in Cambodia. When she rebelled, the brothel owner punished her by gauging her eye with a metal rod. The peculiar thing is that the owner was female.
It turns out that women brothel owners are quite common. Why is this? Why are women willing to enslave, humiliate, and torture each other -- and sell each other to men?
One female brothel owner in India, quoted by Kristof and WuDunn, made it clear: "If my own daughters can be prostituted, then you can be, too."
I hear this and think about what a vicious cycle of self-hatred there is going on for women around the world. Women beat young girls, just as they had been beaten. The acceptance of rape, abuse, subjugation, and murder of girls continues this horrific cycle.
There are those who are unwilling to acknowledge the disgrace and dishonoring of this enslavement, and argue that girls and women get a decent income from prostitution. The fact is, according to research by Kristof and WuDunn, women and girls are often not paid. Add to this, in some brothels, girls are never let out and are forced to live without shoes or clothes for fear that they will run away. It is truly slave labor, performed under the threat of execution.
So what are the solutions?
Going to the police is not one of them. It turns out that police officers are no help because they are often "serviced" at the brothels for free. There have been too many stories of young women escaping to the police station, only to be laughed at and then beaten and raped by the people who are supposed to protect her. According to Kristof and WuDunn, in most places around the world where sex slavery is high (such as in India, China, and Pakistan), police officers, government officials, and even religious leaders avert their eyes from forced prostitution.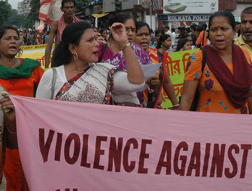 I feel that as women of the Western world, it is our responsibility to speak up for our sisters around the world. I believe we can do something about this. There are already many organizations that fight sexual slavery, such as Equality Now, Shared Hope International, and Vital Voices, but in my opinion, there need to be more. I think emancipating women and girls from sexual abuse and slavery needs to be a top priority of our government. With our voices, we can call attention to the atrocities to get our government to make gender-based violence a diplomatic priority. We need to put pressure on these countries to crack down on sexual slavery, and put brothels out of business. We need to hold governments accountable to pass laws and enforce them.
Along with the crackdown on brothels, we need put pressure on governments and support organizations that offer social services for the women and girls who have been enslaved. They need education, job training, and drug rehabilitation. Because being raped and being a sex worker is so stigmatized in all of these cultures where it is prevalent, there is no place for these young women to go, and no way for them to earn money. It is imperative that we find ways to grow institutions and organizations that support these women. One successful example is Apne Aap Women Worldwide, an organization that fights sex slavery in India, and has started a boarding school for girls, partly with donations from American supporters.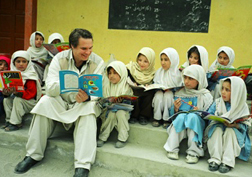 A key element to keeping girls from being trafficked is providing schools for them and making education possible. Greg Mortenson's schools in Afghanistan and Pakistan are a great example of this. Greg is the Executive Director of the Central Asia Institute and the author of the New York Times bestsellers "Three Cups of Tea" and "Stones Into School." He has successfully established 145 schools in remote regions of Afghanistan and Pakistan, which have provided education to 64,000 students, with an emphasis on girls' education. These girls are now working, making money, and seen as leaders, rather than seen as worthless.
Until we get this disrespect and dishonoring of women and girls straightened out, we are going to have a long way to go to create world peace. I believe it is this abuse of the feminine that holds us back. Without taking responsibility for abusing the Divine Feminine, we are killing ourselves internally and externally. Look at what's happening to Mother Earth, for example. She is being raped just as the women and girls are around the world. We keep taking from her, expecting her always to give back, but soon she will not. Her anger and hatred will be so strong, that we will destroy ourselves.
If we continue to allow the torture and subjugation of girls, we will be continually creating circumstances for hatred and war. Instead, we need to use our energy to create a global movement to emancipate women and girls from sexual slavery. This movement gains momentum each time someone joins in.
Here are 3 steps, recommended by Kristof and WuDunn, that you can take in the next ten minutes:
Go to www.kiva.org and open an account. Kiva connects you to the women who need you. You can lend a woman money to start her own business, creating economic independence for her.
Sponsor a girl or woman through Plan International, Women for Women International, or World Vision. By sponsoring a girl or woman, you can lift them out of poverty and make a HUGE difference in their lives and the lives of other girls and women.
Join the CARE Action Network. As Kristoff and WuDunn explain: This will assist you in speaking out, educating policy makers, and underscoring that the public wants actions against poverty and injustice.
These are first steps. The next step I would recommend is to read "Half the Sky" and hear the stories from women and girls about what's really going on, then blog or write about it like I am doing now. The more that we tell each other about what's going on in the world, the more it creates opportunity for us to create change in the world.
Tabby Biddle, M.S. Ed., is a writer/editor dedicated to the empowerment of women and girls. Her work has been featured by The Los Angeles Times, USA Today, NPR, and other popular media. She lives in Santa Monica, CA with her husband.
REAL LIFE. REAL NEWS. REAL VOICES.
Help us tell more of the stories that matter from voices that too often remain unheard.