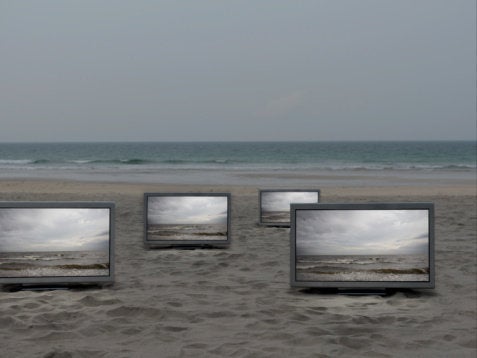 Sometimes I think that Twitter should have made a major contribution to Obama's campaign, since he brought micro-blogging to the world's attention. His successful run for the presidency was a great example of how technology can be used to educate and empower.
This week, I went looking for new ideas about how technology can help drive social change and ways that people like us can, as it were, plug in.
Games for Change - May 24 - 27 (New York)
Video games aren't just for teenage boys anymore. They're widely used as educational tools (for pilots, surgeons, soldiers, and schools). They're also being used to help save the world. Games for Change has been working to bring the good word about games to the wider community, and their annual festival is a must for anyone interested in this space (yes, it's this coming week, but you can still get in!). Four days of workshops and conversations -- everything from game design for youth (kids making their own games, how cool is that?), an intro to game design, and sessions on how to make games for learning (and assess whether they work). Speakers include the first U.S. Chief Technology Officer, Aneesh Chopra, and former Supreme Court Justice Sandra Day O'Connor (she founded ourcourts.org, a game-based resource for middle and high-school students). Plus, there's an expo featuring demos of the latest games.
Who goes? Games designers, people who work for NGOs and non-profits, academics, and foundation and government investors. "Every year a new group pops up," Alex Quinn, executive director of Games for Change, told me. "Last year it was documentary filmmakers thinking about games as a companion piece to film." Alex also placed their work in context. "What we're doing is analogous to where the web was a dozen years ago. Everyone knew they needed it but they weren't sure what it was or how to do it." Check out the festival and the Games for Change site for more -- and to discover games that are out there changing the world right now.
Net Change Week - June 7 - 11 (Toronto)
OK, now that you've got games under your belt, you're ready to explore the entire technology platform. And Net Change is where you want to be. This week-long event draws people working in social change (marketers, fundraisers, program developers, project managers) and technology (from those who figure out how to make it to those who know how to use it). It's a heady mix with workshops, thought leaders, and endless opportunities to schmooze. And check this out: at the beginning of the week, three projects will be handed over to the Net Change Future Lab - teams of people from across the digital divide will figure out how to realize these ideas in the real world, and judges will select the winning idea in front of a live audience. Who's speaking? People like Jeremy Heimans and Jon Warnow, who've used social technology to move millions to action. Katrin Verclas on the revolution wrought by mobile technology and how you can make it work for your organization. And Iqbal Quadir, founder of Grameen Phone and the Lagatum Center for Development and Entrepreneurship at MIT. Can't be there? Sessions will be live streamed and there are live chat rooms, too. Plus roving reports and bloggers. (I love that Net Change is walking the talk -- using technology to its best advantage -- it's just the kind of thing we've come to expect from SiG@MaRS.)
How about an interactive TV app that allows viewers to use their remote controls to engage for social change? The good folks at Time Warner Cable call it "Connect A Million Minds" -- and the tool is helping parents connect their kids with after-school programs in science, technology, engineering, and math (known as STEM). CAMM is a five-year $100 million philanthropic initiative designed to help address America's declining proficiency in STEM subjects. Such a great idea -- and it gets better. Time Warner Cable employees are sharing their passion for engineering and technology with students at career days across the U.S. -- we're talking about the next generation of New Radicals (New Radicals are people whose careers are about making the world a better place - for more, please see archived articles). See their site for more about how you can get CAMM working in your community.
Last week's post about a new model for city-building brought lots of interesting mail from readers, including a note about Emily Fischer. Emily is a unique urbanist - she makes hand-stitched quilts that feature neighbourhoods in New York, San Francisco, Washington, Chicago, and LA (if she read last week's column, she'll know to add Phoenix, Dallas, and Houston to her roster). Cozy, cool, chic: love it.
What's your take on technology and the good it can do? Please share your thoughts avec tout le monde by commenting below. As always, I invite you to contact me directly: julia (that familiar symbol) wearethenewradicals (punctuation) (most common suffix).
Popular in the Community