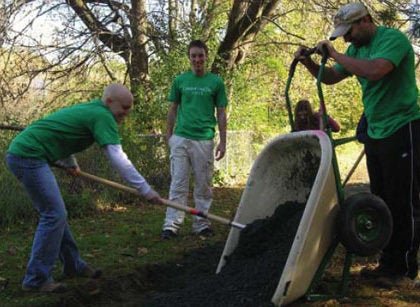 That our world is in trouble is not news.
This morning, I flipped through the two daily newspapers that appear on my doorstep before dawn.
Protests in Iran as anger over the election rises (and is met with violence).

New details about the British MPs spending scandal.

Another corporate pension-versus-executive-bonus story.

A team of researchers is traversing the Arctic to get a sobering look at how global warming is changing the landscape.
But wait. There is also the story about a man in Florida who has developed a portable water-filtration system that is powered by a small wind turbine and foldout solar panels. Such a machine would be a real boon for refugee camps, remote medical clinics, and anywhere that safe drinking water is in short supply. "It's clean water in a box," Ecosphere Technologies founder Dennis McGuire says simply. [http://www.ecospheretech.com/ ]
He doesn't know it yet, but Dennis is part of an emerging movement of people who are reinventing their work to help save the world. It's a movement based on a powerful new idea: that doing good can mean more than volunteering and philanthropy. How we earn our living can actually become the way we give back.
I call these men and women New Radicals (for more, please see archived articles [http://www.huffingtonpost.com/julia-moulden/]).
Over the last few years, I've talked and worked with scores of men and women who are reinventing what they do for a living. And have discovered that there is a fantastic variety of ways to become a New Radical - think of it as a continuum between "mildly" and "wildly" radical. New Radicals are appearing in each field, every sector, and around the world. While the possibilities are endless, the roles that New Radicals choose fall into three categories: Activists, Entrepreneurs, and Innovators.
Activists are those who actively serve the less fortunate. They're people like Rocco Rossi, who left a lucrative business career to become CEO of the Heart and Stroke Foundation. [http://www.heartandstroke.on.ca/site/c.pvI3IeNWJwE/b.4016527/k.D7F5/Foundation_supports_healthy_foods_in_Ontario_schools.htm] Or Kye Marshall who gave up a comfortable seat playing cello for a symphony orchestra to become a music psychotherapist for women at risk. [http://www.kyemarshall.com/]
Entrepreneurs start new ventures where doing good is the central mission. Patty Johnson of the North South Project is a good example. Patty's company works with indigenous peoples in countries around the world, helping them fuse ancient craft traditions with northern sensibilities to create hybrid design products -- winning awards and attracting customers around the world as a result. [http://northsouthproject.com/ ] And Wendy Kopp, who founded Teach for America. [http://www.teachforamerica.org/ ] And Matt and Jessica Flannery, founders of kiva.org. [http://www.kiva.org/ ]
Innovators are those who stay inside their field or organization and drive change from within. For instance, Ed Sutt, an engineer with Stanley Bostitch, reinvented the nail. His HurriQuake nail helps wooden structures better withstand the forces of hurricanes and earthquakes. Watch Ed's YouTube video. [http://www.youtube.com/watch?v=f5x9GOq1FHM] And Jamie Kennedy, a chef who's a pioneer in the local, seasonal cuisine movement. [http://www.jamiekennedy.ca/]
While Activists and Entrepreneurs are the ones who get most of the headlines, I really believe that Innovators are the ones to watch. And here's why.
It's no secret that millions of midlife baby boomers are itching to reinvent their work, searching for more meaning and a way to make a difference. And the group I call Next New Radicals - young men and women at the beginning of their careers - want to do good works from the get go.
Many will choose to work for organizations such as Doctors without Borders or Greenpeace. Others will become organic farmers or solar energy salespeople. But we can't all get jobs like this - and not everyone wants to leave their current job. Plus, the world needs a full range of skills - bus drivers and ballerinas, IT specialists and CEOs.
Which is why the world's largest organizations are beginning to understand that they need to develop New Radical Innovator programs - ways that people can change the organization that employs them (whether by introducing an environmental program, or changing the products and services they offer). Innovation is a win for the employee. A win for the organization (they recruit and retain people they need). And, best of all, a win for people and places in peril.
The question I hear most often is, "How can I become a New Radical?". While New Radicals have different motivations, take different journeys, and reach different destinations, they ask themselves a similar series of questions. This summer, I'll be writing about those questions, how others have answered them, and how these queries might help you think through how to become a New Radical. I'll also be referencing sources that will help you explore opportunities.
Over to you. Do you think that we can leverage the skills we've acquired in our careers and put them to work on the world's greatest challenges? What have you been doing? Whose story inspired you? Or which stories (this morning's papers also report that the UN says that one billion people are going hungry around the world each day)? What resources have you heard about, or found helpful as you've reinvented your work? Please share your thoughts by commenting below. Or, as always, feel free to email me directly at julia@wearethenewradicals.com.
Julia Moulden's new book is We Are the New Radicals: A Manifesto for Reinventing Yourself and Saving the World. [http://www.wearethenewradicals.com/news] Her next speaking [http://www.speakers.ca/moulden_julia.aspx] tour begins in September. She also writes speeches [http://www.juliamoulden.com] for New Radical leaders around the world.o