Review sites -- they're everywhere, and many business owners have a love/hate relationship with them. Often too concerned a single bad review can make or break the success of the enterprise, some will stalk the sites for anything said about their company, while others completely ignore them. Neither approach is ideal -- it's easy to take things way too personally, and ignoring it all together can present missed opportunity for feedback and growth.
Considering up to 70% of people, depending on age group, trust consumer opinions posted online online, which in right behind branded websites at 75%, and only 85% of people trust recommendations from people they know - what your online review profiles say about you is more important than you may realize. As of 2015, 92% of customers read online reviews, up from 88% in 2014. So - since most people are reading, and trusting, what reviews have to say about you, isn't it time you learn how to make them work for you?
Check for and Claim Any Existing Business Profiles
Chances are, you already have a profile on sites like Yelp, even if you haven't been reviewed yet. For instance, House Buyers Phoenix has a Yelp profile with extensive photos and imagery, and no reviews. Each unclaimed business listing like that one has the option to claim the profile to manage with a free Yelp Business Owner's account.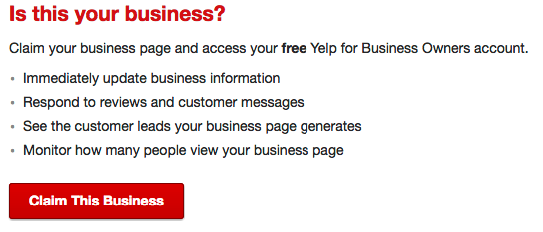 When you claim your profile, provide as many details about your business as you can - hours, price range, menu (for restaurants, food trucks, and other food-based businesses), products/services, phone number, address, website, accepted payment methods, whether or not walk-ins are accepted, service area, etc. The more detail, the better, as this can keep you one step ahead of the competition, and show reviewers that you're actively paying attention to the profile.
Create Profiles if You Don't Have a Presence
There are countless places to list your business online, and you should go beyond the generalized big ones like Google My Business, Yelp, and TripAdvisor, to look for smaller, more niche sites, too.
Read the Fine Print on Industry Specific Review Sites
While listings on the industry specific review sites can be a great thing because they will bring you more targeted traffic than a generalized site, sometimes, it's worth reading the fine print, especially if you pay for membership there. Some sites may remove your listing, and all of the reviews that come along with it, damaging a potentially vital traffic source for inbound leads.
Before you pay to join any website, find out what happens should you wish to discontinue your membership in the future.
Gather Reviews
You have to be careful here, because Yelp won't accept reviews if they believe you've asked your customers for them. Other review websites have similar policies, as well. There's no harm in asking your clients and customers to leave you a review, but you'll want to do it quickly after they've used your services - too long and they're likely to ignore your request.
Any time a customer compliments you via email, in-person, or over the phone, let them know you'd appreciate if they could leave the same feedback on a review website of their choice.
Make it easy for customers to review you. If they have to work for it, they're probably not going to. Link to all your review profiles on your website. It's easy as many of them offer downloadable graphics for you to use on your website and social media profiles.
You can always offer an incentive for customers to leave a review - since this is not the same thing as buying reviews. (Don't do that!) Offer a discount or small freebie for the next time they come in exchange for their review on a review site of their choice. Make sure the offer applies regardless of the content of the review - you're not incentivizing only positive reviews - you're incentivizing any review.
Start a program where you incentivize employees who are mentioned by name in reviews. Employees will be more apt to provide better customer service, and suggest that customers leave reviews if they have a reason to. Choose the bonus program that makes the most sense for your business.
When someone takes the time to review your business, make the effort to thank them. Many review sites make it easy for you to do this right from within the management platform. This will make your satisfied customer more likely to become a loyal one - and you can surprise them with a discount code in response.
Respond to Negative and False Reviews
One of the biggest benefits of claiming your review profiles is the ability to respond to negative and false reviews. If your profile is full of happy customers, great, but most people know there's no way you can keep 100% of your customers happy 100% of the time. As such, a bit of neutral or negativity isn't really a bad thing. In fact, too many raving reviews can send the "fake" flags flying.... See Amazon's recent decision to stop reviewers from getting discounted products in exchange for a review, if you want to know more about why.
When you do respond to a negative or false review, remain polite - as the comments will be visible by anyone who comes to visit the profile in the future. Simply acknowledge the customer experience, apologize, and provide a contact method, such as email or phone, to take the resolution off the review site.
Future viewers will understand that sometimes bad things happen, and will see that you took the initiative to handle the issue in a positive manner. This goes much further in earning business than bashing a customer for leaving you a bad review.
Review sites aren't going anywhere, and people will leave reviews when they want to. You may as well claim your listings so you can have better control over what users see when they're looking for you.
Related
Popular in the Community