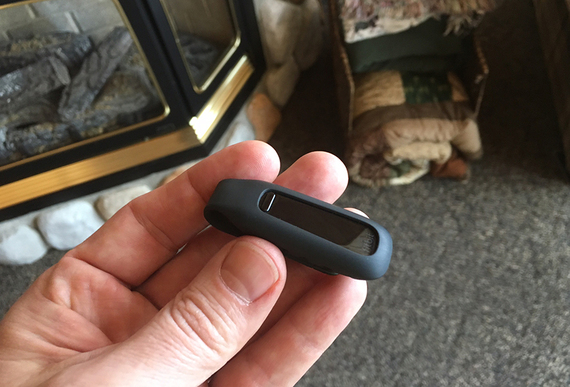 "Why do you keep walking up and down the stairs and all around the house? It's after 11:00 pm," my Mom asked as I briskly walked past her on my third pass through the kitchen.
"I gotta get in my 10,000 steps," I replied as if it would be obvious to anyone else.
Last Christmas, my Mom gave me a Fitbit One™. Having a fitness tracker had never appealed much to me. I had already developed good habits of exercise and fitness, so how could I possibly need "one of those"?
Don't get me wrong. I love technology; I love health and wellness; in fact, I write, speak, and coach about wellness and balance--it's my life's work. And until this year, I didn't think that wearing a tiny device would make that much of a difference.
But there's something more to wearing a Fitbit than just sporting the newest fad. It's more than just a little tracker--it's wearable accountability. Once you know it is monitoring your movements, your awareness of your movements changes. It's like having a wearable Life Coach.
Like hiring a Life Coach, having someone--or something--hold you accountable to your goals can instill a sense of progress and accomplishment. Plus, a fitness tracker feeds you objective data you can follow. And that's where the real fun begins.
Think you're walking a lot? Fitbit will tell you in steps, miles, floors, and calories. Have a fitness goal? Now you can set it and get it! Wearing an activity tracker will help you measure your activity and reach your intended targets. You can view daily and weekly reports, earn awards, and even connect with friends and compare your progress.
Another perk is the personalized feedback. Even though the Fitbit doesn't speak (not yet), it does give you witty little motivational messages on the LCD display including:
• Go Michael!
• Give Me A Hug
• High Five!
• Move It
• I Like You
Along with the tiny texts, I'm finding myself thinking more motivational thoughts such as, "Get in your steps!" or "Gotta get in my 10!" (referring to reaching my goal of 10,000 steps per day). My Fitbit has become my mini-Life Coach. And I love it.
Once you find your activity tracker, the key is to keep moving. Some helpful tips include:
Find your motivation. What helps you move? Do you like music? Then wear an iPod or music player while you move--a perfect complement to a walk, run, or other form of exercise. Never underestimate the power of good music.
Move with a friend. You don't need to do this alone--walk with a spouse, friend, or a family member. Learn how to integrate your exercise with social time. Plus, some of the best conversations happen when we're moving.
Begin where you are. Today is the first day of the rest of your life, so start here--start now. Just by being aware of your choices, you can start to move a little more each day. Besides, things don't happen overnight. Big changes always happen one step at a time.
So whether it's a Fitbit or whatever you need to keep yourself motivated about health and wellness, find it and use it. We all have our own ways of staying inspired, so find yours and stick with it. The results will always benefit you.
Michael Thomas Sunnarborg helps people to find better balance in their work, relationships, and life. He blogs regularly for The Huffington Post and is a featured speaker at national and international venues. Learn more at michaelsunnarborg.com

Image: My Fitbit coach