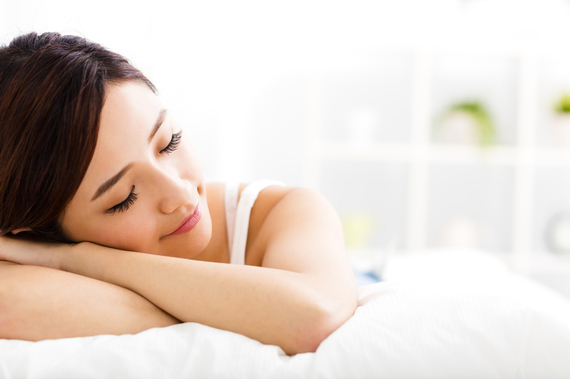 We've known about the importance of sleep for some time. Google search numbers on the topic are steadily rising, and yet millions of people are struggling with insomnia and chronic fatigue all over the globe. So what is the secret to put an end to you feeling like a character from "The Walking Dead" to ending up like Julie Andrews in "The Sound of Music" every morning?
Truth is, there is not one single component that can "fix" your sleep issues. Many factors need to work together harmonically, especially if your body isn't used to sleeping well. So if you can't remember when you got your last night's good sleep or if you are dreading to have to get up in the morning because you are just as tired as when you went to bed then rub your sleep-stingy eyes rather) because I 'm letting you in on one of the most crucial ingredients to get your body prepped for better sleep.
The secret ingredient is nutrition (see what I did there?). It is a vital part of the sleep orchestra, and once you are done reading this you will know exactly how to use that orchestra to create a perfect symphony basking you to sleep.
The key to having your body in an optimal state for sleep is to eat the right kinds of food and work with your blood sugar levels throughout the day. It's not difficult to implement once you understand how this process works to favor sleep.
In order to ride the sleep waves, your body needs to produce a hormone called melatonin. *Yawn, old news,* I hear you say. And you are partially right, but what most articles fail to mention is a tiny component called tryptophan. Tryptophan is an essential amino acid that cannot be produced by the body and which is essential for the production of melatonin. Think of it as the overlooked sidekick (Batman's Robin or Harry Potter's Ron Weasley).
So why is this important?
Without tryptophan there is no melatonin.
Tryptophan is what melatonin is basically derived from. You need tryptophan to create the hormone serotonin, which in turn gets transformed into melatonin, which in turn makes you sleepy and sends you off into healthy sleep. No biggie it seems.
The issue though lies with the little side note that it "cannot be produced by the body." So how does it get there? Exactly! You are literally eating up your sleep.
There are certain foods that are rich in tryptophan, such as nuts, seeds, tofu, cheese, red meat, chicken, turkey, fish, oats, beans, lentils, and eggs. So having those in your diet, especially towards the evening, will definitely help.
If you combine those "sleep foods" with reducing an insulin spike when you plan on going to bed, you're good to go. Insulin is produced when we get too much sugar into our bloodstream. It rushes in to balance our blood sugar levels out, which is a good thing. So why would this have anything to do with our sleep you may ask?
A side effect of insulin is its sidekick, a hormone called cortisol, which you might think of as melatonin's grumpy cousin, and those two hormones just don't like to be around each other. So if your cortisol is high, melatonin is low and vice versa. This means that just as melatonin is your sleep hormone, cortisol is your party hormone, and even if you don't feel like it, cortisol is going to keep you awake (much like that obnoxious neighbor you had in your first flat with paper walls).

So avoid a rise in your blood sugar by not eating or drinking anything highly processed or sugary before going to bed, such as soda, ice cream or chips and start investigating recipes that include foods which favor the built up of tryptophan (the actual hero of the show).
Do it now... don't just click away but actually take a few minutes to look this up and your life could change forever!
Don't hesitate to reach out if you need a little nudge in the right direction, I'm happy to help.