Meteorologist Nicole Mitchell was a star at The Weather Channel. She also served in the Air Force Reserve as a member of the elite Hurricane Hunters. But when NBC Universal bought The Weather Channel, the new management objected to her taking time off for reserve duty. So Nicole lost her job. Federal law is supposed to protect members of the armed services from this kind of discrimination. But The Weather Channel found a way around the law: forced arbitration.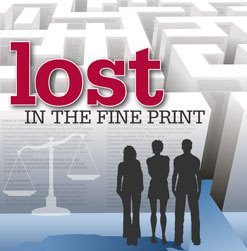 Nicole could not sue. She had no chance to stand up for her rights in court. Her employment agreement required that her case go before a private arbitrator. Without even holding a hearing, or meeting Nicole, the arbitrator reached a decision that Nicole can never appeal.
Alliance for Justice tells Nicole's story in our new film Lost in the Fine Print narrated by former Secretary of Labor Robert Reich. (See the film here). We also have resources to help fight forced arbitration.
In addition to Nicole, the 20-minute documentary tells the stories of:
● Debbie Brenner, who was lured by false promises from a for-profit college and wound up spending tens of thousands of dollars on a worthless degree.
● Italian Colors, a neighborhood restaurant that faced onerous fees imposed by American Express whenever a customer used one of its credit cards.
Nicole, Debbie, and Italian Colors never got their day in court. That's because, buried in everyday agreements for products, services, and jobs is fine print that prevents Americans from going before an impartial judge or jury if they are harmed by that product or service. Instead, these forced arbitration clauses send them to decision-makers chosen by the companies that wronged them.
Facing off against a powerful company in arbitration is like playing a baseball game in which the other team hires and fires the umpires. So it's no wonder that, in consumer disputes, one study found that arbitrators rule for companies over consumers 94 percent of the time.
You've probably signed all sorts of contracts -- or clicked "agree" to those long, long "terms of service" you see online -- that include forced arbitration clauses. Do you share pictures on Instagram? Do you get cell phone service from Verizon? Did you stream a movie on Netflix? Then you've agreed to forced arbitration. (We list these and many more companies on our website, where you can see their forced arbitration clauses -- and demand that those clauses be rescinded.)
And, as Nicole's case makes clear, forced arbitration isn't just in consumer contracts -- it's spread to employment agreements. Forced arbitration places such hallowed laws as the Civil Rights Act of 1964, the Age Discrimination in Employment Act, and the Equal Pay Act at risk. One study found that employees fare far worse when they're forced into arbitration than when they can go to court.
Although forced arbitration repeatedly has been upheld by the U.S. Supreme Court, some steps are being taken to address it.
● President Obama has issued an executive order limiting the use of forced arbitration by some government contractors.
● The Equal Employment Opportunity Commission is suing a restaurant company, demanding it stop imposing forced arbitration on its employees.
● The Consumer Financial Protection Bureau has the power to ban forced arbitration in contracts for consumer financial products like credit cards, checking accounts and private student loans. It is expected to issue a report on the issue by the end of the year.
● And Congress can pass legislation to ban forced arbitration across the board.
Perhaps most encouraging of all, when General Mills tried to impose forced arbitration on anyone who so much as downloaded a coupon, public outrage forced the company to back down. We're continuing that fight. Please go to www.lostinthefineprint.org to see the documentary and sign our petitions demanding that companies drop their forced arbitration clauses.
Calling all HuffPost superfans!
Sign up for membership to become a founding member and help shape HuffPost's next chapter