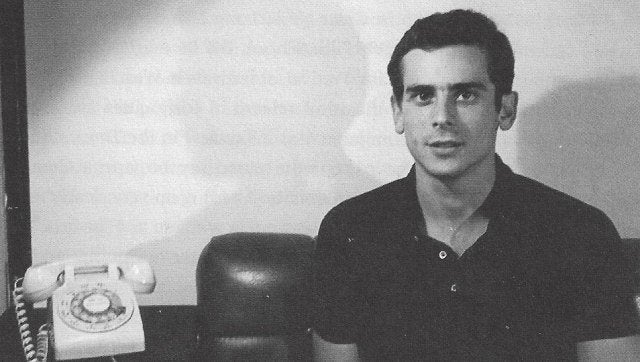 Howard Brookner joined Facebook Nov. 25, nearly seven months and 54 years after he was born.
His page has a photo of the film director at 25, sitting in his New York apartment, and a growing network of old friends from a close-knit, real-life community of writers, filmmakers and actors.
There are "liked" fan pages, status updates and comments on pictures. The page even links to new accounts for Twitter and Instagram, which promotes scenes from one of Brookner's best-known films, "Burroughs: The Movie," a documentary about writer William S. Burroughs.
Aaron Brookner, his nephew, who is in the midst of remastering the Burrough's film for redistribution, is the one who put his uncle online.
"You have to be an individual person to set up any fan pages on Facebook. I'm not on Facebook myself. I got off a couple of years ago because it was stunting my creativity and making me self-conscious, but in order to do a page to promote Howard's movie, I had to set up an account," said Aaron Brookner, who is 30 and lives in London. "So I set it up in his name and began adding people who knew him."
The Howard Brookner Facebook profile is full of photos of the acclaimed filmmaker, whose films include "Robert Wilson and the Civil Wars" and "Bloodhounds of Broadway," which featured Matt Dillon and Madonna. He has 53 friends, including his former partner, artistic collaborators and people that never met him but who "friended" his nephew. Part of the time, the account is promoting the Burroughs film; it recently solicited donations for a Kickstarter campaign. But the rest of the time, it's a living remembrance of a man long gone.
"How Burroughsian is this that we can all be friends here?" said one status update in late November.
"It's a little weird," said Brookner, who has set up a separate email address for the Facebook account. "But it's amazing how it's tied in. Burroughs thought immortality is the only goal we are striving for. That there's this sort of landscape beyond what's terrestrial in which one's existence could be. What's the difference between who is alive and who is dead? The line is very thin."
There are millions of accounts on Facebook that get left behind after people die. Many become memorials used by family and friends, while a few are shut down at the request of next-of-kin or through instructions left behind by the accounts' owners. But rarely is a profile created for a person decades after their death.
It's also against Facebook policy. "While users are free to create pages for those who are deceased, profiles must be operated solely by the named account holder," said Frederic Wolens, a Facebook spokesman.
But with a billion Facebook accounts, the rule is hard to enforce.
Brookner, who is also working on a film about his uncle's life, said that while there has been some discomfort about the account, he thinks overall it's had a positive effect.
"Everyone seems happy to talk about Howard. They're happy to have him back, even if it's on Facebook and for the sake of a movie. I've been amazed at how people are sharing memories that are so vivid," he said. "I wasn't sure how people would react, because people go into a major kind of shock after losing someone from AIDS. It's very painful. But there's something really sweet about his old friends requesting him."
"Some time ago I was motivated to do this film by this line that my uncle wrote: 'If I live on, it is in the films I made and in your memories."
Aaron said he is trying to do his part to keep that memory alive.
REAL LIFE. REAL NEWS. REAL VOICES.
Help us tell more of the stories that matter from voices that too often remain unheard.
BEFORE YOU GO