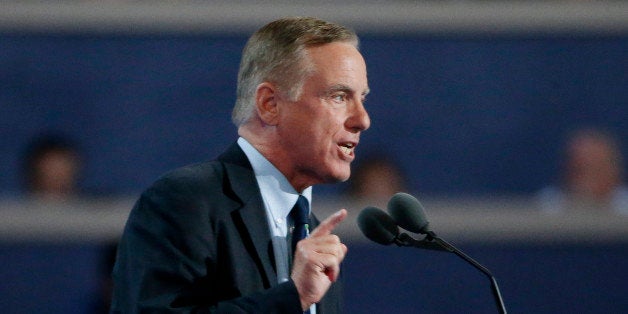 Remember Howard Dean, the former long-time Vermont Governor and single-payer health insurance advocate? These days he's quoted briefly or interviewed in the media for his political observations. But behind the scenes, he has become a wealthy lobbyist for the drug industry. Blandly called a "senior advisor" to the giant corporate law firm Dentons, along with Newt Gingrich, Dean is an all-purpose wheeler-dealer from working to influence state attorneys general, state, regional, municipal and other government bodies, to developing the notoriously wasteful, unaccountable public-private partnerships dominated by profiteering corporatism.

Readers of articles containing comments by Mr. Dean are not told of the "other Dean," now opportunistically opposing single payer healthcare or full Medicare for all with free choice of doctor and hospital, that he once called "by far the most economically efficient system." They are led to believe by reporters or editors that Dean is simply a political observer reflecting his experience in state government and as a presidential primary candidate in 2004.

Readers would not be aware that he has another profitable agenda when he lambastes Bernie Sanders' single-payer health care plan. The media is derelict in not identifying him as a full-time corporate lobbyist for the interests of the drug and health insurance companies and their trade associations. Law firms like Dentons, which has recently hooked up with Dacheng ― an influential Chinese law firm ― provide convenient, velvet glove cover for monetized pitchmen like the turncoat Dean.

The media often falls for this misidentity trap and fails to inform its readers, viewers and listeners who the persons being interviewed really are beholden to for their bulging paychecks. For example, lawyer Philip Howard, who writes op-eds for the "Washington Post," "New York Times," and "Wall Street Journal" critical of the law of torts and the civil justice system, is described as founder of the non-profit group The Common Good. Remarkably, he is not identified as a partner in the corporate law firm of Covington and Burling in Washington, D.C. Giant Covington is a no-holds barred law firm for the drug, tobacco, chemical, energy and other big industries that want the courtroom door blocked or difficult to open for wrongfully injured persons seeking their full day in court with a right of trial by jury under our Constitution.

A few years ago I challenged Philip Howard to a public debate. He took quite a while to respond. When he did, it had one proviso--that there be no mention of his being a partner at Covington and Burling. I denied his precondition.

So, for the mass media ― identify the occupational affiliations of these camouflaged apologists for corporate and other commercial interests. Your readers, viewers and listeners have a right to know. Moreover, the questions by reporters are likely to improve as a result.
REAL LIFE. REAL NEWS. REAL VOICES.
Help us tell more of the stories that matter from voices that too often remain unheard.