OTTAWA — Howard Dean, the former Democratic National Committee chair who wants his old job back, is advising Democrats not to take the path of complete opposition to Donald Trump once the new president takes office.
"Donald Trump has proposed some things that make sense," Dean said, pointing to the president-elect's massive infrastructure pledge. If Trump drops the corporate tax rate to 18 per cent and finances it by getting rid of corporate loopholes, should also support that, Dean added.
"I don't think we should oppose any idea that comes out of Donald Trump's mouth just because it's Donald Trump."
The former Vermont governor's comments echo what Democratic Party leadership in Congress has also said. But they may rankle some in the party's base, who have encouraged Democrats not to normalize Trump by giving him legislative wins. Congressional Republicans recaptured power after the 2008 elections by opposing, in lockstep, President Barack Obama's agenda, they noted.
Dean looks back at that first year of the Obama administration as a low point in opposition governance. The Republicans put their political interests ahead of the country's and it was destructive to both, he said in an interview with The Huffington Post Canada from Ottawa, where he was speaking at the Canadian American Business Council.
But Dean isn't calling for pure capitulation. He argued that the party needs to steadfastly defend its main priorities, and that includes the Iran nuclear deal, which he previously criticized but now calls one of "President Obama's lasting legacies."
"I think we gave away too much but I think it was about the only thing you could do ... and I think we should try to make it work," he told HuffPost.
"I don't think we should oppose any idea that comes out of Donald Trump's mouth just because it's Donald Trump."
One legislative topic where Dean may find himself at odds with his party's base is trade. He is supportive of the North American Free Trade Agreement, known as NAFTA, and argues that the benefits had far outweighed the costs.
"The rhetoric around these global treaties is exaggerated," he said, noting they helped lift a billion people out of poverty.
"Have they cost us manufacturing jobs? No, they certainly have not," he continued. "It is true that they have cost us manufacturing jobs in Ohio and Iowa and in places like that, but it has increased the number of manufacturing jobs, in particular agricultural jobs, in North Carolina, up and down the east and the west coast."
Dean said he is open to re-negotiating NAFTA but scrapping the deal completely would be "crazy." He argued that automation was far more damaging development to sectors like the auto industry.
"The idea that we are all going to get these factories back is nonsense. I mean I wish it were true. Politicians who claim it is true, they lie right in the public's face," he said. "We've got to start over in the new economy, we're not going to back to the old economy."
Despite his support for trade, Dean argued that the Democratic Party stands to benefit by replicating much of the political success of two ardent NAFTA critics: Trump and Sen. Bernie Sanders (I-Vt.). Focusing on both "working class" whites and people of color is the path to bringing the party back to power, he said.
"These folks who voted for Trump are by and large people who have lost their job and don't have college education, and the Internet is moving everything so fast that it is very very hard to get a job in the new economy unless you are digital native or unless you have a pretty high education level," he said. "Those are the people that we should be looking at and trying to make sure that they can still get a fair break in this country."
"It is not 'Make America Great Again'," he said, in reference to Trump's campaign slogan. "It is 'Make America Fair Again' — and that should be our slogan going forward."
Asked how the Democrats had lost sight of working class people, Dean said he didn't know.
"I haven't been active in the DNC for eight years," he said. "When we have the White House, the DNC withers because what happens is the DNC becomes the president's re-elect [committee]."
Dean faces a potentially crowded field in his quest to be elected DNC chair once more. Rep. Keith Ellison (D-Minn.) is an early frontrunner for the post, with the backing of top Democrats in Congress as well as Sanders. Dean said he is better placed for the post because he held it during similarly bleak times (when he took the job in 2005, the Democrats didn't have the House, the Senate, or the White House). It would also be his sole job and not something he'd have to split with his congressional duties, he added.
Dean praised Ellison as a good guy, but said the job of DNC chair requires full time attention. It is the "hardest job I ever had," he said, before suggesting it is against the bylaws of the Democratic National Committee to have two jobs. (The bylaws of the DNC state that, "The National Chairperson shall serve full time." They do not explicitly prohibit someone from holding two jobs.)
"I think I'm the favourite," he told HuffPost. "This is not about inside the beltway votes and endorsements, it's about outside the beltway, and sitting in people's kitchens in places like Des Moines and Montgomery that is how you get this done."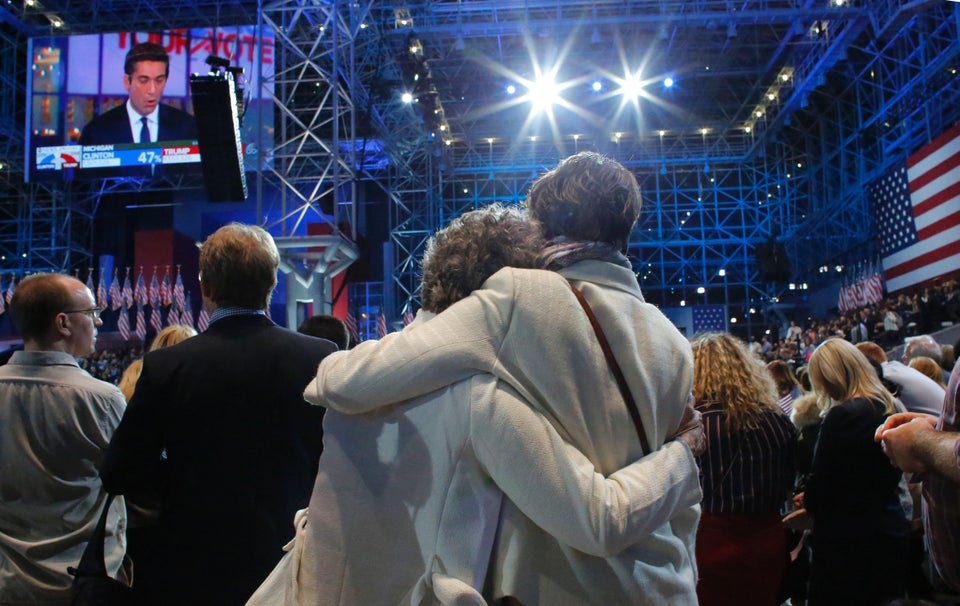 Clinton Supporters React After Election Loss