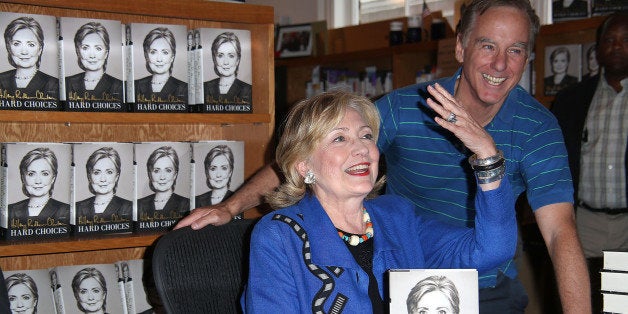 Former Democratic presidential candidate and Vermont Gov. Howard Dean has adjusted his tune on a potential 2016 Hillary Clinton candidacy, now saying that he hopes the former secretary of state becomes president.
Dean told CNN in an interview published Tuesday that he is an enthusiastic supporter of a Clinton presidency. The statement stood in contrast to his remarks at the progressive Netroots Nation gathering last year, when he said she wouldn't "get a pass" in the primary.
"I am a huge Hillary Clinton fan," Dean told CNN. "I just am. Not because I hope to get a job. I know her; I've known her for a long time. I think she has an enormous mental capacity to do analysis and let the chips fall where they may."
"If she is president, which I hope she is, I think she is going to be a terrific president," he added.
The former governor dropped by a Clinton's book signing in the Hamptons last weekend.
Dean's support for Clinton comes despite stark divides between the two political figures over foreign policy issues. Clinton, for instance, voted to authorize the Iraq War as a senator, while Dean was one of the war's harshest critics.
Dean founded a progressive group, Democracy for America, which has supported candidates like Sen. Brian Schatz (D-Hawaii) this election cycle. Schatz's primary challenger, Rep. Colleen Hanabusa (D-Hawaii), was a Clinton supporter during the 2008 presidential primary.
Clinton could benefit from having Dean in her corner, given his popularity with some liberal constituencies who remain skeptical about Clinton's progressive bonafides.
While Dean spoke positively of Maryland Gov. Martin O'Malley (D) and Sen. Elizabeth Warren (D-Mass.) in his CNN interview, he called Clinton the potential presidential candidate who is "best prepared." He said he'd wait to see the composition of her campaign team before offering a formal endorsement.
Dean came in third place in the Iowa Democratic caucuses in 2004, behind John Kerry and John Edwards.
REAL LIFE. REAL NEWS. REAL VOICES.
Help us tell more of the stories that matter from voices that too often remain unheard.
BEFORE YOU GO
PHOTO GALLERY
Hillary Clinton