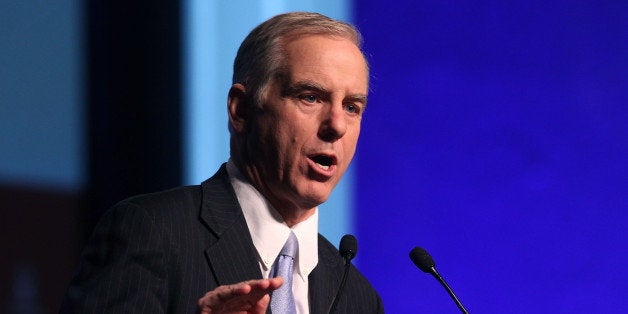 WASHINGTON -- Even if President Barack Obama loses a congressional vote to grant him the authorization to use military force in Syria, he will win politically, former Democratic National Committee Chairman Howard Dean argued Monday in an interview.
Dean said he personally supports a limited military mission in response to the reported use of chemical weapons by Syrian President Bashar al-Assad. But he praised the president for seeking the input of the legislative branch. If Congress ultimately says no to the Authorization for Use of Military Force, the president could -- and indeed, should -- respect that, Dean hinted, though he added that such an outcome wouldn't be a rebuke at all.
"I don't think it hurts the president to ask the opinion of the American people and then follow it," Dean said. "That is his job. The president may have one idea. He has decided to take the risk that somebody else may have another. And if that somebody else is the American people, I think that's fine. The Syrians can crow all they want about the president did this or the president did that. We in America will know that what the president decided to do is listen to public opinion.
"So while I agree with the president -- I support the president, I hope we do have a very limited intervention that is designed to reduce the possibility of chemical weapons being used in the future ... But if the Congress says no, I don't think that is in any way a reflection on Barack Obama. I think that is a positive reflection on him for upholding the system and listening when he was told no by the people he works for, which is the American people."
As a leading opponent of the war in Iraq, Dean's position on the conflict in Syria and what the U.S. government should do about it can carry weight for congressional Democrats debating the merits of an AUMF.
"I opposed Iraq because I thought we were being lied to by our own government, which turned out to be true," he said, in explaining why the parallels being drawn between Iraq and Syria are so poor. "So that was pretty open and shut…. So far there is no evidence of that [with respect to Syria] whatsoever. I do think there is a credibility problem for the United States government."
In part because of the history of the Iraq war, many U.S. lawmakers are on the fence when it comes to Syria. They're weary of getting involved in another Middle East-based, largely sectarian conflict that has few obvious implications for America's national security.
One House Democrat told The Huffington Post that momentum was growing behind a policy of very specific and limited military engagement. But the news and vote counts are fluid. A Republican congressional aide whose boss is supporting the president told HuffPost that a main complaint among members is that "no one back home supports this." It will "be hard to move members if the president doesn't move the American people," the aide added.
During a joint press conference with Swedish Prime Minister Fredrik Reinfeldt on Wednesday, the president said that he didn't believe that he "was required to take this to Congress." Rather, he said, "I think it's important to have Congress' support on it."
The question left unanswered is what the administration will do if Congress in the end says no to an AUMF. The White House is currently attempting to avoid that hypothetical by crafting a policy limited enough to alleviate some congressional concern, without drawing the ire of those demanding a heavier U.S. footprint. It's been a tough balancing act. On Wednesday, one of the most publicly pro-interventionist lawmakers, Sen. John McCain (R-Ariz.), said he couldn't support the Senate-crafted AUMF because it was too limited in scope.
As Dean sees it, the objective of America's engagement into Syria should be to "reduce the harm of chemical weapons being used against innocent people." Beyond that, things get complicated. While Assad has done "unspeakable things," there "are a lot of bad actors who are very hostile to the United States" among the rebel factions as well, Dean noted.
By offering Congress a chance to vote, Dean said, the president offloads some of the responsibility to choose the right path when dealing with these factions. It's a risk, but its downside has been overstated, he said.
"I would feel better if Congress decided that they would not empower the president to do that than if the president himself decided to retreat from his position [of seeking congressional support]," Dean said. "We do live in a democracy. The public has, as they should, some say."
Calling all HuffPost superfans!
Sign up for membership to become a founding member and help shape HuffPost's next chapter
BEFORE YOU GO
PHOTO GALLERY
Syria War In August (Warning: Graphic Images)