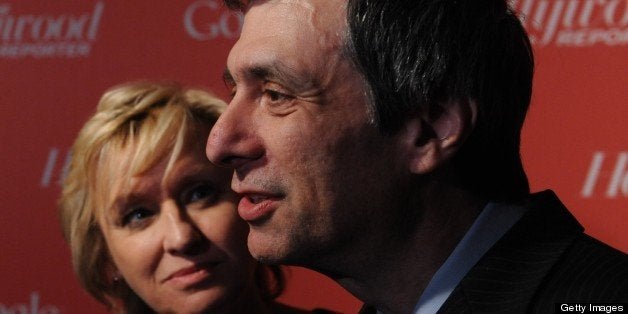 NEW YORK -- Howard Kurtz, the Washington bureau chief for The Daily Beast and Newsweek, has been regularly contributing to, and heavily promoting, a lesser-known media website with no financial ties to his full-time employer.
The site, Daily Download, is a regular fixture in Kurtz's Twitter feed and a place where he increasingly posts his takes on the state of media affairs. But no one is sure why, exactly, he's so involved with this particular piece of Internet real estate. Indeed, several of Kurtz's Daily Beast/Newsweek colleagues said they were baffled by the situation.
"There is a lot of gossip here about his connection to the Daily Download," one newsroom staffer told The Huffington Post, noting that judging by his output, the high-profile media critic seems to be spending more of his time these days on Daily Download than The Daily Beast.
Lately, Kurtz has been promoting Daily Download content on Twitter significantly more than content from his primary employers combined.
In April, Kurtz tweeted over 120 links to Daily Download, around 20 links to The Daily Beast and even fewer to CNN's "Reliable Sources," the weekly media criticism show he's hosted since 1998. Given that Kurtz has over 125,000 Twitter followers, that's a lot of potential eyeballs directed to a site that doesn't employ him either full or part-time.
Kurtz joined the Daily Beast as Washington bureau chief in Oct. 2010, landing a position that's rumored to pay him very well. Kurtz described himself to this reporter at the time as an "online entrepreneur" who had left old media (The Washington Post) for new media (The Daily Beast). Later, The Daily Beast merged with Newsweek and Kurtz became Washington bureau chief for both publications.
While media organizations often balk at allowing top writers to regularly contribute articles on the same reporting beat to other outlets, The Daily Beast apparently doesn't have any restrictions on where Kurtz can freelance.
"I'm a contributor at Daily Download and receive some freelance compensation, but the advisory board is an unpaid honorary position with no oversight," Kurtz told The Huffington Post in an email. "I was working with Daily Download before joining the Daily Beast, as the folks there know, and there is a limited content-sharing arrangement between the two. I'm a prolific tweeter so I try to send out a lot of links."
When told that some of his Daily Beast/Newsweek colleagues had questioned the amount of time he spends on Daily Download, Kurtz replied: "I work a zillion hours a week."
There may be some informal content sharing taking place, but there's no business arrangement between the sites.
"The Daily Beast does not have a formal content partnership deal of any kind with the Daily Download," a Daily Beast spokesman told The Huffington Post.
Ashburn told The Huffington Post that "there were efforts to organize and launch what ultimately became the Daily Download website" starting in 2010. As the site launched in February 2012, both Ashburn and Kurtz appeared on PBS "NewsHour" together to promote it and Ashburn also appears on Kurtz's "Reliable Sources."
Ashburn did some election-related video work for The Daily Beast last year, but she is not an employee of the publication. She is, however, a Daily Beast contributor and has written on media-related topics. Last month, she wrote a Daily Beast piece that appeared three days later, slightly tweaked, on Daily Download.
Kurtz, who looks critically at conflicts of interest among members of the media, has been dogged by questions of his own potential conflicts over the years. Some have raised concerns about whether he can aggressively cover CNN -- either for The Washington Post or The Daily Beast –- considering that the cable news network employs him.
Popular in the Community