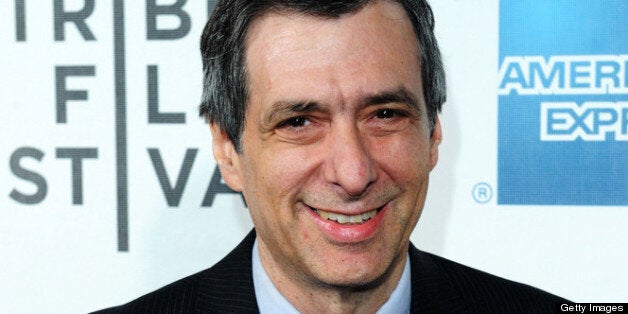 While other advisors offered some advice early on, Kurtz frequently wrote articles and appeared in videos with Lauren Ashburn, Daily Download's founder. Ashburn is also a frequent guest on Kurtz's CNN show "Reliable Sources," appearing over two dozen times since late 2009.
The Kurtz-Ashburn videos often get top billing on the site. While Daily Download has other contributors, there is no dedicated editorial staff listed on the site's "About Us" page.
According to a media executive who spoke to The Huffington Post on condition of anonymity, Kurtz characterized himself last year as a partner in Daily Download. A journalist who Kurtz approached to work there, meanwhile, said Kurtz described the site as a start-up he and Ashburn were developing together.
Kurtz and Ashburn have not responded to requests from The Huffington Post to discuss Kurtz's role in the site.
Three members of the advisory board say that unlike Kurtz, they had no role in running Daily Download, though they acknowledge having had conversations with Kurtz about its launch.
Jeff Jarvis, a CUNY professor and prominent blogger, wrote Friday he "didn't know until this week's Howard Kurtz kerfuffles that I was even listed as a member of the advisory board to his Daily Download."
"I did indeed give some advice to Kurtz and Lauren Ashburn a few years ago, before the site's launch, in a half-hour phone call as I headed to JFK one day," Jarvis wrote. "I can't even remember the topic. Since then, I think I was asked one question and emailed an answer. I know nothing more about the site."
Taegan Goddard, founder of Political Wire and another member of the advisory board, had a similar interaction.
"I gave some informal advice to Howard Kurtz and Lauren Ashburn in a 30 minute phone call before they launched their site," Goddard told The Huffington Post. "I was happy to do it. I've also had lunch with them in New York, but that's really been the extent of my involvement."
Jim Brady, editor-in-chief of Digital First Media and another advisory board member, told The Huffington Post that Kurtz is a friend and "so when launching a website, he called a friend he knows, a web guy, asked a couple questions, how they would roll it out, what they were going to do." Besides offering advice early on, Brady said he has not had any role in the site.
The other lingering question concerning Daily Download is why it was awarded grant money to produce the Ashburn-Kurtz videos and media-related posts. The Knight Foundation supports journalism and media innovation, and has "invested more than $150 million in new technologies and techniques, including hundreds of community news and information experiments" since 2007, according to its website.
Jay Rosen, an NYU professor and media critic, tweeted Friday: "I defy anyone to explain what [Daily Download] is, why it exists, why it is funded by the Knight Foundation."
A description on Daily Download states that the Knight Foundation "is funding a two-year effort to create a series of media innovation video reviews called Daily Download that will help viewers determine which websites and online tools for covering news and public affairs are effective and credible." The videos, Daily Download notes, are produced in association with Maryland Public Television.
"Knight Foundation funded this project, via Maryland Public Television Foundation Inc., to provide more coverage of digital tools through public media," Sherry wrote in an email to The Huffington Post. "The goal was to increase digital fluency through reviews of digital tools that deliver new forms of news and information."
Sherry said that he understands both Maryland Public Television and PBS have picked up Daily Download content. Indeed, Kurtz and Ashburn have appeared numerous times on PBS NewsHour.
The Knight Foundation provided a $230,000 grant to Maryland Public Television, broken up into two payments of $115,000 each that were made in December 2011 and November 2012.
When asked if Kurtz was involved in procuring funding from the Knight Foundation, Sherry responded: "Yes, his involvement was a factor in our support for the Daily Download."
UPDATE: 12:30 p.m. -- A CNN spokeswoman said Friday that Howard Kurtz will discuss his relationship with Daily Download Sunday on his show "Reliable Sources."
"He will address this issue on the program this weekend," she said.
"There has been no status change with Howard Kurtz [and] he remains the host of Reliable Sources," she added. CNN said Thursday it was reviewing Kurtz's connection to Daily Download.
Related
Popular in the Community