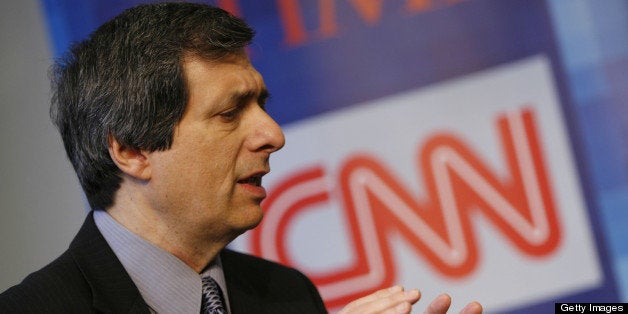 NEW YORK – On Sunday's "Reliable Sources," CNN host and media critic Howard Kurtz apologized for falsely claiming that NBA player Jason Collins didn't reveal that he was once engaged to a woman when coming out last week in Sports Illustrated.
In an unusual move, media reporters David Folkenflik of NPR and Dylan Byers of Politico got the opportunity to question Kurtz at the start of his show about the Collins flub, previous high-profile errors, and his ties to Daily Download.
Kurtz claimed Sunday that Daily Download, a site founded by USA Today veteran Lauren Ashburn, has "always been a limited venture for me."
"I'm a contributor to the Daily Download," Kurtz said. "I'm paid on a freelance basis. I don't have any equity in the site. My basic job was to make online videos."
Kurtz and Ashburn do regularly appear together in online videos discussing the media, and she's a frequent guest on "Reliable Sources," -- appearing over two dozen times since late 2009. But Kurtz's Daily Download role was seen by many as much more than mere video contributor, and has been characterized as more significant than that of other members of the advisory board, a group that included other prominent media figures like CUNY's Jeff Jarvis, Political Wire's Taegan Goddard and Digital First Media's Jim Brady.
On Friday, Goddard told HuffPost that he gave Kurtz and Ashburn "informal advice" during a 30-minute phone call as they "launched their site." Similarly, Brady told HuffPost that he offered Kurtz advice on "launching a website." And Jarvis -- who didn't know until last week that he was a member of the board -- wrote Friday that he gave "some advice to Kurtz and Lauren Ashburn a few years ago, before the site's launch." Unlike Kurtz, these three board members said they had no other involvement.
Kurtz and Ashburn have not responded to requests to discuss Kurtz's role in the site.
In a Sunday follow-up email, Goddard told HuffPost: "It was always my impression Howard Kurtz and Lauren Ashburn were partners. Emails we exchanged before and after the site went public refer to 'our venture' which only confirmed my impression."
Indeed, some considered Kurtz to be a partner in the startup due to his outsized role before its launch and his work to help procure funding. He also contributed to the site and sought writers for it, and heavily promoted it on Twitter.
That month, one journalist told HuffPost that Kurtz emailed a mock-up of the Daily Download site and suggested that he and Ashburn were working on it together. Another journalist, who said Kurtz approached him to work for Daily Download, said the site was similarly described as a venture that Kurtz and Ashburn were developing together. A media executive who spoke on condition of anonymity echoed that sentiment.
Alicia Shepard, a veteran journalist and former NPR ombudsman, told HuffPost Sunday that Ashburn called her in February of 2012, "asking me to write for the Daily Download, and said it was a site that she and Howie Kurtz were starting together." Shepard said she was primarily interested in contributing because Kurtz was involved in the project, but changed her mind after hearing they wanted her to write for free.
At that point, Daily Download already had money coming in through the support of the Knight Foundation, which funds journalistic entities and promotes media innovation. The Knight Foundation provided a $115,000 grant for the Daily Download project in December 2011, via Maryland Public Television, and provided a second $115,000 grant in November 2012.
NPR's Folkenflik seemed to have heard similar suggestions that Kurtz had a significant role in the site. On "Reliable Soures," Folkenflik said that he was told by two separate people over the past couple days that Kurtz told them he was a "founder in this venture."
"I am not a founder, and I have only tried to help promote the site," Kurtz responded, adding that he doesn't "have any role in the management of it."
Kurtz told Folkenflik that "when I was negotiating for the job at The Daily Beast, I disclosed in writing that I was involved, in a limited way, with this new venture."
Kurtz didn't mention Daily Download when making his much-covered jump from The Washington Post to The Daily Beast in October 2010, a move that prompted a great deal of industry chatter about the relevance of old media in a new media age.
However, Kurtz did suggest at the time that he viewed himself as more than a media writer leaving a newspaper for an online site, saying, "I see myself as an online entrepreneur."
Related
Popular in the Community