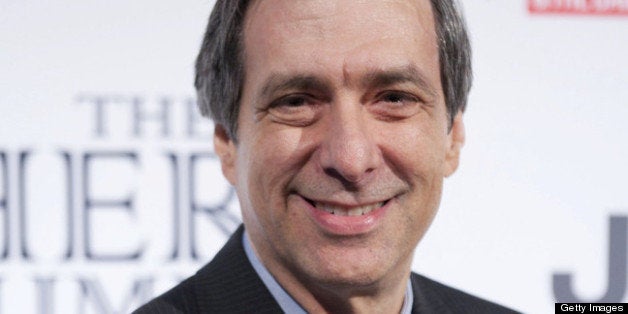 Brown's decision comes a day after Kurtz made another high-profile mistake amid long-running concerns in the newsroom that the media critic was spending too much time working on behalf of an obscure website called the Daily Download, which was interfering with his day job.
In a Daily Beast article posted Wednesday, Kurtz erroneously wrote that when NBA player Jason Collins came out as gay in a Sports Illustrated article published earlier this week, Collins didn't admit to having been engaged to a woman -- despite the fact that Collins did admit to that. Kurtz was roundly mocked online, and the Daily Beast retracted the piece on Thursday. The Daily Download removed a related video late Wednesday.
On Wednesday, The Huffington Post reported that Newsweek/Daily Beast staffers were baffled that Kurtz, who also hosts CNN's "Reliable Sources," was spending so much time contributing to and incessantly promoting articles and videos from Daily Download, a site launched in February 2012 by Lauren Ashburn. Asbhurn, who is listed as founder and editor-in-chief of Daily Download, worked previously as an anchor and reporter for USA Today and WJLA-ABC7 in Washington D.C. Kurtz has frequently appeared with her in videos on the website, discussing media topics and controversies similar to those he covers for The Daily Beast and on CNN.
In addition to Kurtz's journalistic missteps, sources told HuffPost that the management at Daily Beast/Newsweek had a growing concern about his murky relationship to Daily Download.
The Huffington Post asked Kurtz directly earlier this week if he had any equity stake in Daily Download. Kurtz did not answer the question specifically, but said in an emailed response that he is "a contributor at Daily Download and receive[s] some freelance compensation" but that his role on the site's board of advisors is "an unpaid honorary position with no oversight."
Despite his claim that he is merely a contributor, there are rumors that Kurtz has a larger role in the operation.
According to one media executive who spoke to HuffPost on condition of anonymity, Kurtz characterized himself as a partner in the Daily Download during a conversation last year. Separately, a journalist who was approached by Kurtz to work at Daily Download told HuffPost that he presented the site as start-up he was developing along with Ashburn.
And during a March 2012 episode of "The Situation Room," CNN's Wolf Blitzer referred to the just-launched Daily Download as Kurtz and Ashburn's "new venture." On the show, Ashburn told Blitzer that "we wanted to start Daily Download to really take a look at what's happening on the Internet, how mainstream media companies are adapting to the Internet, whether or not newspapers in print will be able to make the jump."
Kurtz did not respond to several calls and emails seeking comment to clarify his connection to Daily Download and whether he has any ownership interest. Ashburn has also yet to respond to requests about Kurtz's involvement.
It's unclear whether CNN is aware of the exact nature of Kurtz's role at Daily Download. A CNN spokesperson told The Huffington Post the network is reviewing the situation.
But if Kurtz has any ownership in Daily Download, it would be appropriate for him to disclose that fact when having Ashburn on as a guest of his show. She's appeared over two dozen times on "Reliable Sources" since December 2009.
On Thursday after the announcement, Kurtz tweeted:
"This was in the works for some time," Kurtz said in another tweet, "but want to wish all my colleagues continued success with a terrific website."
Brown expanded on her tweet in a statement. "The Daily Beast and Howard Kurtz have parted company," Brown said. "Under the direction of our newly named political director John Avlon we have added new momentum and authority to our Washington bureau."
The Huffington Post's William Wrigley provided research assistance.
Related
Popular in the Community