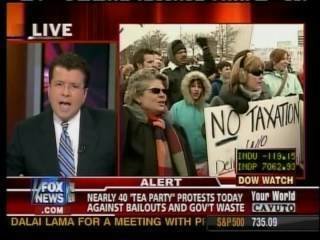 The media coverage even became a factor in the reporting. At a Chicago demonstration, CNN's Susan Roesgen started arguing with a protester over why he referred to President Obama as a fascist. "I think you get the general tenor of this," she reported. "It's anti-government. Anti-CNN. This is highly promoted by the right-wing conservative network Fox." Fox anchor Shepard Smith later laughed off her words.

On the other hand, this brief rant by Fox Business Network anchor Cody Willard, posted by a Daily Kos contributor, didn't meet my definition of fair and balanced. Speaking of a young girl, Willard says: "Now she has to pay for the $800-billion Republican-Democrat fascist stimulus package . . . Guys, when are we going to wake up and start fighting the fascism that seems to be permeating this country?"

Guys, what happened to we're-just-covering-the-events?
Indeed, the two examples he provides were particularly jaw-dropping in the way the so-called media professionals behaved whilst in the field. You may recall that I noted the former example myself. What I cannot understand, however, is Kurtz's coy admonishment to Fox. "Guys, what happened to we're-just-covering-the-events?" What happened to it? The same thing that happened to, "Go to bed, or Santa won't come." It's a lie you stop believing when you turn nine years old.
Calling all HuffPost superfans!
Sign up for membership to become a founding member and help shape HuffPost's next chapter