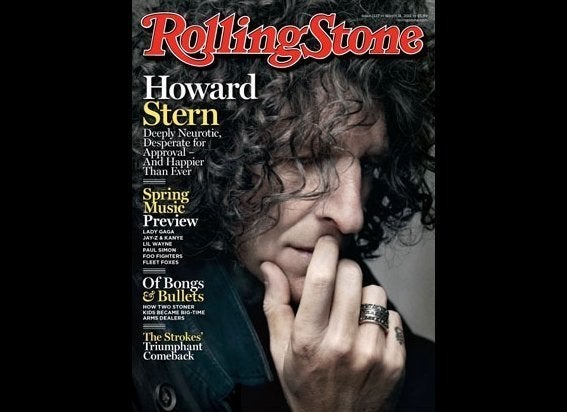 Howard Stern covers the new issue of Rolling Stone, and in a three-hour interview with Neil Strauss he opens up about his divorce from Alison Burns and finding love again with Beth Ostrosky, whom he married in 2008.
Howard signed a new five-year contact with Sirius XM in December, and he tells Rolling Stone how his parents shaped his obsession with radio and his neurotic rise to fame.
Here are a few highlights from the interview; read more excerpts here and pick up the issue on newsstands Friday.
"After my divorce, I realized, "Oh, wow, I can go have sex." And I was running around, picking up women. Then all of a sudden, it dawned on me that I really didn't need that much sex. I just wanted somebody with me every minute. I was using women as a surrogate mother. When I tapped into that, it suddenly became very childish behavior. And really, was it so great fucking every night? They're using me for my fame, I'm using them for their beauty, and the whole fucking thing seemed empty."
"In many ways, my marriage now is so easy, but I'm also aware that I could fuck things up very easily. I could start getting more into my work, and ignoring what's important to Beth. I'm awfully narcissistic, and I have to keep that in check. I can't be like King Tut sitting there and expect to be taken care of, because so many times we can turn our wives into mothers."
REAL LIFE. REAL NEWS. REAL VOICES.
Help us tell more of the stories that matter from voices that too often remain unheard.