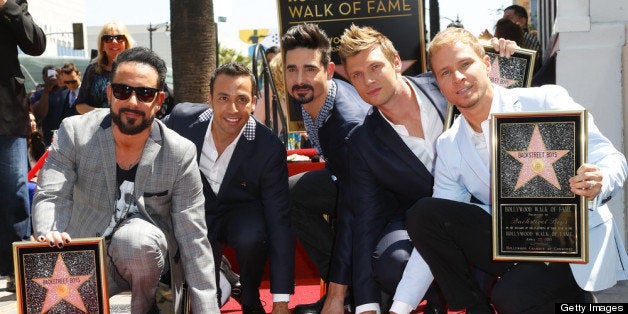 This year marks the 20th anniversary of the formation of one of music's biggest boy bands: The Backstreet Boys. Made up of Nick Carter, Howie Dorough, Brian Littrell, A. J. McLean, and Kevin Richardson, BSB formed in Florida in 1993. The iconic boy band has since released seven studio albums, received multiple Grammy award nominations, and sold more than one hundred million albums.
Now, the boys are back at it with big plans for 2013. While Backstreet Boys' last two albums have been recorded without Richardson, the group is celebrating its 20th anniversary with all of its original members. All five men will be featured on BSB's upcoming eighth studio album, due out later this year. A documentary on the band's enduring success and latest album is also in the works.
HuffPost Entertainment caught up with Dorough on the phone from Los Angeles, where the singer was preparing with his bandmates for a free concert for fans in celebration of the band's honor of receiving a star on the Hollywood Walk of Fame on Monday. Dorough said he "hopes" the band will have another 20 years ahead, reaching its 40th anniversary. "It's been an amazing roller coaster ride for these past 20 years," Dorough said. "I think we've gone through the ups and downs, and I think now we're probably more comfortable than ever in our own skin." Dorough spoke to HuffPost Entertainment about his favorite BSB song, his take on One Direction, and how he got Chris Kirkpatrick into *NSYNC.
So what can fans expect from Backstreet Boys' upcoming album?
I'm very proud to say we took to our time to make this 20th anniversary reunion record with Kevin on it and I think the fans are going to be -- I hope they're going to be pleasantly surprised with the sound that we've been able to keep there with our signature harmonies and melodies and great hooks, and once again modernize our sound over the years. It's just a bunch of great pop songs with a lot of great hooks. Some of the fans are going to hopefully be able to put it on their radio, on their CD player, or whatever the iTunes, and just you know, take a trip down memory lane with our sound as they've always known it as. They can listen to it and maybe get away from whatever is going on in life for an hour and just enjoy themselves with our music.
You said fans might be surprised by the sound, did you guys take any influence from other current acts or is it more vintage Backstreet Boys?
It's definitely a combination of vintage Backstreet with the signature harmonies and melodies, but also, you know, we definitely have our ears and our eyes open to what's out there right now in the music scene. We're all big fans of Coldplay, kind of that pop-rockish, kind of worldly type music. At the same time, we're fans of a lot of the up-tempo stuff that's going on right now. We had a chance to work again with Max Martin who helped us put together some of our biggest hits in the past, like "I Want It That Way," "Quit Playing Games," "As Long As You Love Me," and several others like "Backstreet's Back," "Larger Than Life." So we were able to reconnect with him, which is great. It will probably be our first single with him. We're just always trying to evolve. We always try to set the bar and push the envelope a little bit and always try to change things up with each record.
When can fans expect that first single?
I think we're hoping to have it out here pretty soon, within the next month. Hopefully by June, if not early July. We're actually right now in the process of getting our album mixed and we just made all the album selections just recently. Now we're getting it all mixed and mastered, and getting all the label packaging and all that stuff together. We did a photoshoot and we're finally starting to wrap up this whole past eight months of work now.
So you mentioned "As Long As You Love Me" and "I Want It That Way" and all those hits. What is your favorite Backstreet Boys song?
My favorite over the years is probably "All I Have to Give." That's probably my favorite. It's one of the first songs that the five of us were featured on the lead and I just think it has such a great sonic sound with all the melodies and harmonies. It has a little bit of a mixture of R&B and a pop sound. It's just a really good feel-good song.
This is Kevin's big return to the group, did you guys have to convince him to rejoin or he was doing it on his own accord? What was the process?
He approached us on his own, he came to us. We've always stayed in contact with him over the years. He decided to take a break on his own six years ago and it was definitely not anything to do with us, it was more so that he just wanted to have a break just to venture into some different things in life, start a family, do some acting. The music industry had changed while we took a break previously before that, and I think when he came back into it, the business had really obviously taken a turn. I think a lot of the creativeness was missing there with the labels that had freedom to do a lot. He just felt like it wasn't right for him. Instead of stifling us and holding us back, he said, "You know, guys, you have my blessing to go on and do your thing." We gave him our blessing to him to do his thing. The door was always open for him to come back and now is just the right time - it's perfect between our anniversary and I think we're all in a great headspace together. It feels like riding a bicycle again - we're all back on it.
What are your thoughts on this new wave of boy bands like One Direction and The Wanted? Are you a fan or do you see them as your competition?
We're definitely fans. I'm fans of all music so artist, group-wise, boy bands, girl bands, whatever it is, I think they're doing great. For One Direction, a good friend of ours, Rami Yacoub, who was actually one of my groomsmen and wrote several of our songs in the past with Max Martin, he is doing a lot of producing for them. I think he's doing a great job. It's almost like we're back to what we'd be doing if we were just starting off, and they're creating their own little sound. I think they're great, as well as The Wanted, I've met a couple of the guys and they're really, really great people as well. We wish them the best of luck. They're doing their thing, we're doing our thing. Even though we are considered I guess all boy bands, it's different in style. We're still more about the vocal harmonies and making more of a show with dancing and choreography involved. I think for them it's not as much choreography-based, it's more so the singing. It's kind of different styles... plus the age difference.
With *NSYNC was it a similar relationship or did you feel like there was rivalry at the time?
I just saw Joey [Fatone] the other day in Orlando. I live in Orlando now and he was there visiting family over Easter and we caught up at a Maroon 5 concert with a friend of ours. He's doing great. There was never really a competition there. I've known all those guys for years. Actually, Chris Kirkpatrick and I were in college in choir together, we sang at our community college. I'm partially the reason why Chris even got into being in a boy band with *NSYNC. So there was never any bad blood or anything like that. In the media, maybe, there was more of a competition between us all, but once again, they were doing their thing, we were doing our thing. There was plenty of space for both of us. There still is for all the groups that are out there now. I'm glad to see a resurgence with all the other groups that are coming back out again. We're keeping pop music alive.
Tell me more about your relationship with Chris and how you got him into *NSYNC.
Like I said I was in community choir at community college and coincidentally, when we started the group it was me, A.J. and Nick, the three of us by ourselves. We had two other guys that were in the group that are no longer in the group now, that Kevin and Brian replaced. But, at the time, we were looking for a blond-haired boy and a guy around my age, and I was like, "Well, you know, I just joined this community choir back home at my college with this guy. He sits right next to me, there's three of us tenors. I'm on one end, this guy is right in the middle of me and Chris Kirkpatrick. I said, I think he would be great. We had him audition amongst the other guys, and he coincidentally was part of a barbershop quartet with Chris Kirkpatrick, with a couple other guys in the school. He was in the group and unfortunately the producers felt like he wasn't going to be able to work out over time, just recording-wise. We had to ask him to leave, which was really really hard on us at the time. But, he kept in touch with Lou Pearlman and introduced Chris Kirkpatrick to Lou Pearlman and we always gave him our blessing to help them out in whatever way he could with Charles, the guy who was originally in the group, and so he actually ended up joining with Chris. Chris, over the years, kept in touch with Lou and then little by little, Lou and Chris started forming *NSYNC. Indirectly, I partially had something to do with it.
What do you think is sparking this '90s resurgence that is kind of happening right now? You guys are releasing a new album, and NKOTB is releasing a new album, and Boyz II Men is touring, everyone is back in the limelight.
You know what? I think it's just that music goes in cycles. People want to hear some of the songs that helped them create memories in life... something to take them away from their problems. We were lucky that we created a great fan base over the years. We've all had our highs and lows at different times throughout the years, but the fact that we had these loyal fans that just stayed with us all around the world is what's been able to keep us alive.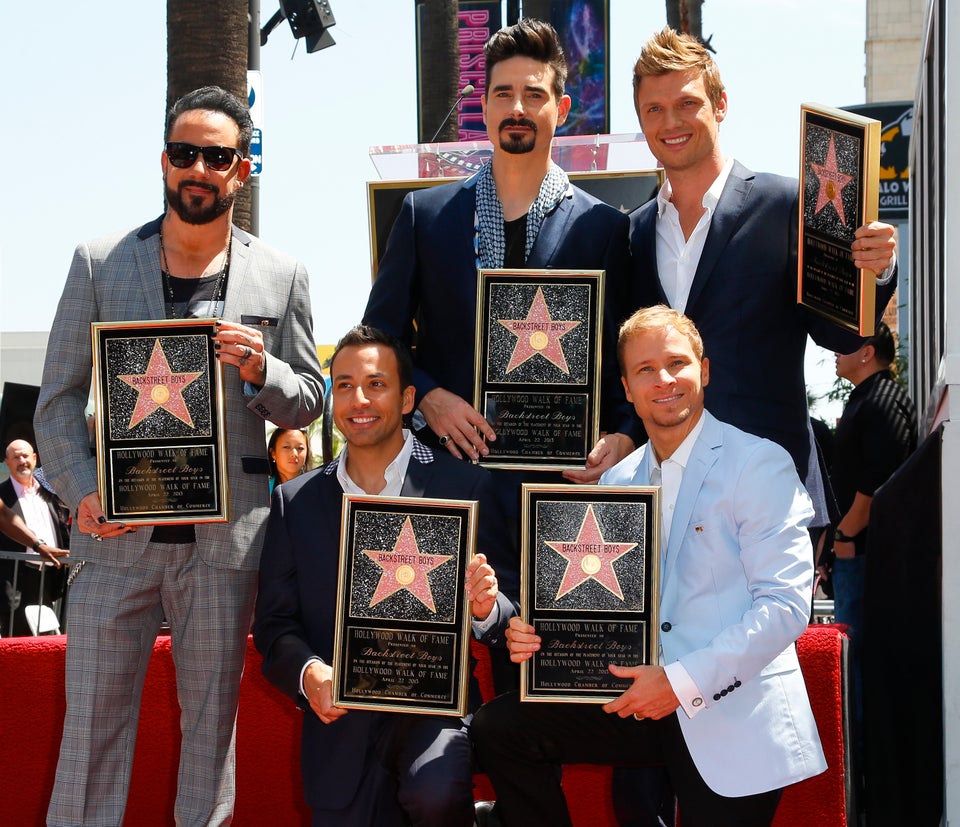 Backstreet Boys
Popular in the Community