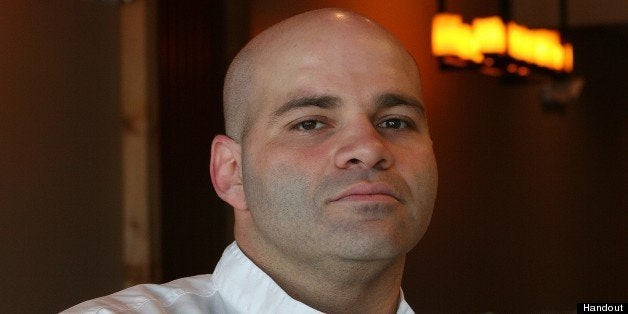 Former Top Chef season 3 contestant and barbecue extraordinaire Howie Kleinberg may have earned the nickname 'Bulldog' for his tough guy attitude on the show, but reputation aside, he's nothing but a hometown boy who's all bark and good bites.
After his Top Chef stint in 2007, Kleinberg made the dream of owning his own restaurant a reality by opening Bulldog Barbecue & Burger in Aventura. Known for smoking some of the best brisket in town, fall-of-the-bone ribs and killer burgers, Bulldog has garnered countless praises, including a spot among Bon Appetit's "Top 10 New BBQ Restaurants in the Nation."
This Sunday, Kleinberg is back behind the camera with the season 4 premier of "BBQ Pitmasters" on Destination America. Will the Bulldog take to the thrown for best barbecue? You're just going to have to tune at 9 p.m. to find out as Kleinberg competes against some of America's finest barbecue cooks for a hefty cash prize. But first, meet the man behind the 'cue:
Who are you:
Howie Kleinberg
Years in Miami:
Lifelong resident
First memory of Miami?
My first memory would be sitting in the surf at the beach with my grandparents when I was about three or four years old. I remember the waves lapping at my feet.
Current neighborhood:
Aventura/North Miami Beach
Current gig:
Chef and owner at Bulldog Barbecue
Favorite 'Only in Miami' moment?
I think Miami is the only place where you can get up early and have a truly amazing Cuban coffee while watching the scene –- either people starting their day, or, in a lot of cases, ending their day. A Cuban coffee is the best way to start the day.
What's your idea of a perfect day in Miami?
A perfect day for me involves taking my bulldog Lulu for a walk, then a little skateboarding followed by a trip to the bookstore to check out the cookbooks. Of course, I've got to end the day with a good meal.
Where do you take out-of-towners?
No trip to Miami is complete without going to South Beach.
Do you have a food guilty pleasure?
White Castle cheeseburgers.
What are three local meals you can't live without?
Bacon asparagus from Hiro's Yakko-San, brisket from Bulldog Barbecue, and white truffle pizza from Timo's.
Looking back on your last Top Chef Quick Fire and Elimination challenges, what would you have done differently?
To be honest, I don't like to live with regrets because you have to use every experience for growth. With competitive cooking shows, you learn you have to just cook better!
You're going to be on BBQ Pitmasters. Do you think you get to redeem yourself on the show?
BBQ Pitmasters is not about redemption for me. I'm really proud that Bulldog is in the show as it's an honor to be compared to the best pitmasters and barbecue restaurants in the nation -- we get to play with the top dogs!

Bulldog BBQ is known for having the best brisket in Miami. What's your key to the perfect brisket?
Three important elements: Certified Angus Beef; good fat content and marbling; and low and slow cooking.
Tell us about your new line of 305-themed burgers and dogs. Is the Big Daddy Dog a tribute to Rick Ross?
Yes. I'm a Miami native and 305-proud, so we wanted to make our burgers and dogs Miami-centric. Our first 305 dish was The Heat burger, which has bacon, jalapeno marmalade, fried pickled jalapenos, pepper jack cheese, and house sauce.
Upcoming projects you're working on:
In June, we hosted our first pop-up dinner with Two Woks and we are going to continue the series with a pop-up in August. We're also working on new menu items and our catering program. Down the line, we might even do a Bulldog food truck!
Why do you hate Miami?
I used to hate Miami because the food scene was lagging behind New York, but I truly think we're catching up on lost time as there is a lot of food excitement and innovation now.
Why do you love Miami?
Diversity! No other city is as big a melting pot as Miami with our Latin, Caribbean, and Haitian cultures, languages and food. It's this diversity that inspires our exciting new food scene.
In a word or two or three, Miami is...
Home! World Champions!
Calling all HuffPost superfans!
Sign up for membership to become a founding member and help shape HuffPost's next chapter