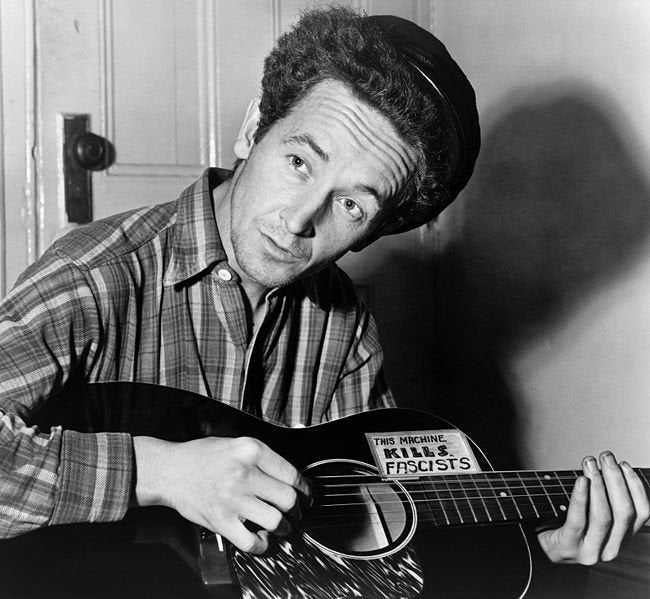 You may not know the name Howie Richmond, but without him, it's likely you'd have never gotten to know the music of Woody Guthrie, Pete Seeger, Lead Belly and many other essential figures in American and European popular music.
Howie, who died peacefully at his home in Rancho Mirage, CA, on Sunday at 94, contributed mightily and without fanfare to the music business for nearly three quarters of a century.
My dad, songwriter Carl Sigman, gave Howie his first hit (see below) and Howie gave me my first job: helping to catalogue the massive piles of reel-to-reel tapes in the library of TRO, the music publishing powerhouse he founded in 1949. It was a job I would have gladly paid to do; I knew a little about Guthrie, Seeger and Lead Belly, but here were hundreds and hundreds of songs about the great issues of the day and the smallest, most playful human experiences.
And those heroes were just a part of what Howie and his colleagues had built. I heard incredible songs by Pete Townshend, Tony Newley and Leslie Bricusse, Charles Aznavour, Lionel Bart, Lonnie Donegan and Shel Silverstein.

I got to brag to my high school friends about two brand new songs that would blow their minds -- "Paper Sun" and "See Emily Play," from Traffic and Pink Floyd, respectively.
The Sigmans and the Richmonds grew up together on Long Island; my folks were close with Howie and his wife Anita, a brilliant liberal activist; my brothers and I went to the same summer camp as the Richmond kids; we all took a Florida vacation together. During the '70s, the two couples bought houses in the same cul-de-sac in Rancho Mirage, CA, between Frank Sinatra Drive and Bob Hope Drive. Howie's "uncle" Abe Olman -- a music biz legend in his own right and one of Howie's original partners (the other was the great Ali Brackman ) -- lived in the house between the Sigmans and the Richmonds. As my mom would say, "There was nary a civilian in sight."
A deep dive into the history of just one song reveals something of the breadth of Howie's career. One day, shortly after World War II, Gene Rayburn and Dee Finch, deejays on New York's powerhouse WNEW radio station, were weeding out scads of of records looking for something unusual to play. They came across a tune called "Scotch Hot," written early in the century by the eccentric Billy Whitlock. The song was originally recorded (on a cylinder, by Edison Bell Gramophone Company) with a special set of glockenspiel-like musical bells. Whitlock made an acetate recording in 1924, but it went virtually unnoticed until the deejays' discovery.
Rayburn and Finch played the song over and over, and became obsessed with finding Whitlock and updating the number. They found the former entertainer in a lonely boarding house in Brixton, England, where he toiled as a night watchman. He was thrilled to have his song revived. Rayburn convinced my father to write a lyric. In 1949, the year I was born, Howie published that song, "Hop Scotch Polka (Scotch-Hot)," with Guy Lombardo & His Royal Canadians, and Kenny Gardner as vocalist. It became his inaugural smash, topping the charts in several countries and leading to cover versions by a slew of other artists, including Art Mooney, Bob Crosby, Jimmy Charles and Tex Ritter.
Howie was a pioneer in understanding the power of radio airplay to break records. During the '40s, publishers would attend big band live performances, pitch their songs to the bandleaders and then release their recordings. Richmond put his tunes on shellac and made the rounds of key deejays all over the country, relentlessly plugging away until they couldn't say no. The resultant airplay made good songs into big hits.
Howie was as generous with his financial resources as he was with his time and energy. Among countless non-profit and charitable activities, two stand out. He, Johnny Mercer and Abe Olman founded the Songwriters Hall of Fame in 1969. And, in honor of Anita, who died in 1996, he established the Anita Richmond Children's Discovery Museum in Rancho Mirage.
I was in close touch with Howie over the past two years and was struck by his extraordinary memory for the tiniest details of the music business, circa 1940, and his exquisite appreciation for the absurd. He had hands down the most infectious laugh of anyone I've known.
As part of his final act, Howie, Bill Marx (Harpo's son) and radio personality Audley Upton launched the non-profit CGH (Chico Groucho Harpo) Society. The organization -- which doesn't seek donations, just participation -- is dedicated to celebrating the Marx Brothers' contribution to comedy and spreading the healing power of laughter to people of all ages. They've designated May 15, 2014, the centennial of the Brothers' first performance under their "O" names, as an "International Day of Laughter."
The transformational songs in the TRO catalogue -- an embarrassment of riches --include "This Land Is Your Land," "If I Had A Hammer," "We Shall Overcome." " Goodnight, Irene," "Tom Dooley," "Who Can I Turn To," "Fly Me To The Moon," "My Generation," "Space Oddity," "Whiter Shade Of Pale," and "Get It On (Bang A Gong)."
Howie Richmond was that rare leader who played to win but also had a huge heart. Until the end, he referred to himself, without false modesty, as "just a press agent." He would be astounded at the outpouring of love and admiration in the days since his passing.
REAL LIFE. REAL NEWS. REAL VOICES.
Help us tell more of the stories that matter from voices that too often remain unheard.