Werewolves are sexy and intriguing, which is why we love to watch them, and perhaps even fantasize about being taken to the dark side by one, which is exactly what happens when you cross paths with the super talented and oh so dangerous Kristen Hager in the Syfy hit series Being Human, where she plays Nora, a pretty badass and yes, sexy werewolf.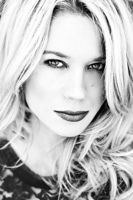 In Being Human a pack of 20-somethings, who just so happen to be a vampire, a ghost and a couple of werewolves live together, and as you may well imagine, while they struggle to keep their humanity they get into a whole lot of bloody mischief along the way. Hager doesn't make an appearance in the show until episode four of season one, where Nora, a young doctor, falls in love with Josh, a werewolf. From the beginning Hager had no idea where her character's storyline would go, and whether or not she might get killed off or turned.
All that uncertainty just helped add fuel to the fire and created a very real partnership. "Nora grew with me," she says. Resulting in a really sweet payoff -- Hager made a big impact on the storyline and the fans, and by the beginning of season two, rather than being dead, she was a werewolf -- and we were off to the races right along with her.
Playing this kind of primal role is not for the faint of heart, because more often than not it's pretty gritty. Yet Hager is definitely up for the challenge, and even loves that aspect of the role, delving deep into scenes where "being human" is often about getting physically and emotionally down and dirty, whether that's being smeared with dirt, blood or sweat, or wrestling with love, frustration or heartbreak. Perfectly capturing all the nuances of what it means to be a human struggling with a very dark side.
When it came to howling at the moon, Hager "imagines" herself transforming into a werewolf, being in incredible flesh searing and bone breaking pain, heading off to cause bloody mayhem and then waking up naked in the woods -- and making us believe every minute of it.
So she's really not a werewolf -- right? Of course not, but you might actually believe she gets her werewolf on from time to time in real life when she weaves her on screen magic which is raw, primal and so very real, pulling you into the action each and every time. One of the reasons Hager is so damn amazing in this role is that she loves every second of playing Nora. "It's so much more exciting than I thought", she says. While she brings some incredible depth to the role, it also gives her something in return. "There is something about the raw grittiness that I find so very empowering."
While there are plenty of those gritty moments there are also some exquisitely beautiful human ones, which show you exactly what Hager is made of, and yet another reason why she nails it in this series. One of my new favorite Being Human moments comes at the end of this season's premiere episode when she is laying on the ground, staring at her lover who is trapped in werewolf form, full of sadness, love and longing -- uttering "do you really want to die." In a way that makes you feel her pain, and makes you wish someone loved you that much.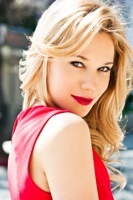 Hager is pretty old school when it comes getting ready to take on a role, picking up pen and paper, and filling countless notebooks with thoughts, ideas and whatever else she needs to become someone else, so much so people often think she is a student doing research or writing a paper. Yet she is definitely an actor, and has been since way before she discovered she could "do this" for a living. "As a child I lived in a land of make believe" she says.
One filled with costumes, adventures and lots of support from her mom, who was the drama teacher in the only high school in Red Lake, Ontario, a gold mining town deep in the woods of Canada. Writing and directing plays, making costumes and inspiring her daughter with her creativity and talent. "We had a house full of costumes", says Hager. After shows or rehearsals you would more than likely find Hager climbing up on stage just to "feel the energy."
All that energy combined with a love of acting led her out of the woods into the halls of York University in Toronto. While she was prepared to get a day job after graduation, she didn't have to -- within weeks she landed a role on the mini series Beach Girls. When you see Hager she may seem all too familiar even if you haven't seen her ripping up the screen on Being Human, since she's appeared in some blockbuster films, including I'm Not There, Aliens vs. Predator: Requiem, and Wanted.
While Hager splits her time between Los Angeles and Canada, she's still a country girl at heart, so it's not a hardship that some of Being Human is filmed in the woods. "I need to be in nature" she says, and when she's away too long, well it's not good. "I start to whither," she adds. So that may mean a trip home, hiking mountain trails, trudging through the snow to commune with nature in the park while shooting in Montreal, or better yet, heading to the woods because "happiness is a cottage in the woods next to a lake".
Hager has been pretty busy during her hiatus from Being Human, with two Indie films coming out this year. In each one she breathes life into women who are unique, multifaceted and have a very real edge. "I gravitate toward dark material" she says. And that is certainly the case with In Embryo, a love story where she plays a heroin addict with some deep emotional scars. What was that like? "It was intense to say the least" she says. And while it was new territory for her, she loved it. "It was was terrifying and gratifying at the same time" she says. Three days after wrapping that film, she switched gears and was shooting Trigger, a thriller about a serial murder, in which she plays a cop with a dangerous side.
Now that is something I can't wait to see, because while Hager is gorgeous, charming, and ridiculously smart, it's her killer acting skills that keep me coming back for more, and make her extremely dangerous no matter which screen you catch her on. If you haven't already you can check her out on Being Human and maybe, just maybe, find yourself howling at the moon.
Special thanks to Angelo Kritikos for the great photographs.
Calling all HuffPost superfans!
Sign up for membership to become a founding member and help shape HuffPost's next chapter