I don't know about you kind reader, but I have a regular, annoying need to have my written words checked and rechecked by another set of eyes. About 1000 times.
I need this editor or educated friend or plain old pal to ensure I haven't made any typos, misspellings, grammatical errors or mistakes in syntax or style. That's a lot of potential mistakes I need caught before the embarrassment of having them published and me outed as an ignorant fool.
Writing for many of the world's top publications and editors as I have, it's crucially important that I make my editors' jobs easy and not make them, or me, look bad. That's why a new grammar, spelling and oversight software called Grammarly caught my attention recently.
Grammarly does everything I used to need to bug my editor/friends to do. It checks over 250 intricacies of grammar such as subject-verb agreement; article use; and modifier use, all the really gnarly details and sometimes arcane small-stuff of the written word. Serving up citations and similar written ideas with references, Grammarly is a writer's coach, cheerleader and referee.
Started by Max Lytvyn and Alex Shevchenko in Toronto, Canada in April of 2009, their product is a prime example of what I refer to as "The Technology & Programming Superiority of Eastern Europeans." I wrote about this extensively and why it was true in my column with that title.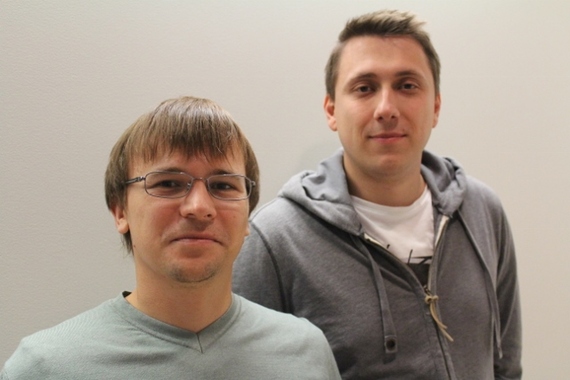 Lytvyn and Shevchenko are 'high-tech start-up friends' who grew up in the same Ukraine city but never met until university in Kiev
The programming and technical prowess of Asian minds is well-publicized. But what's not as well-known or publicized is the way in which the young minds in Ukraine, Belarus, Bulgaria, Poland and so on--all of which I've seen first-hand--are far superior to any others around the world. Kiev in particular, has some stunning scientific and mathematical geniuses who in the course of building a fiber laser for instance, can program their own uber-advanced code over the weekend to control that complex machine--it's that easy for them. They do this kind of advanced programming as a kind of fun game or hobby.
I would fondly refer to Lytvyn and Shevchenko as the "Crazy Ukrainian Entrepreneurs" behind Grammarly.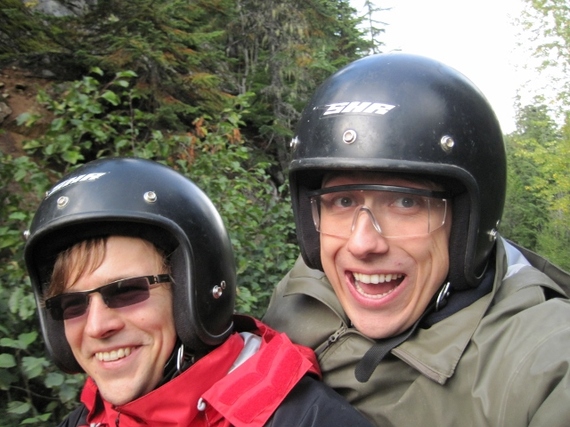 Don't they look like a lot of fun? Well, they are.
The fact that these two built Grammarly by bootstrapping and the utter fearlessness that involves, just makes their story even more interesting.
Lytvyn and Shevchenko met in 1997 at the International Christian University-Kiev (Kyiv) while the former was studying for his bachelors degree in information sciences and latter for his bachelors in business administration. "Max was always more technical than I was," Alex Shevchenko told me. "Computers and Internet access was so expensive in those days (in Ukraine) and Max had a great computer and Internet access. Our interest in computer components and building our own computers--which was what you had to do in those days--was what brought us together," Shevchenko recalled fondly. "We couldn't afford IBM or Dell, so we made money building our own computers and selling them."
Relocating to Toronto for more education and enterprise, the two businessmen, soaked up some North American business culture before finally moving to America. Now based in San Francisco, Lytvyn and Shevchenko are centrally located and primed for growth of Grammarly, born in 2008.
Grammarly was begun by Lytvyn and "then Alex jumped in," according to Lytvyn. "There were two moments when we were just iterating how to start a product," Lytvyn continued, "one of the tricks to test a product was to run ads for a product that didn't exist--a 'hackey' research technique. So we spent a few hundred dollars on Google' AdWords and AdSense to test this product and it did well. The second moment was when we released our first (Grammarly) product and clearly thought that language-learners and students were our first customers. But then we saw that there were so much more diverse users: journalists, salespeople, consultants, government and technical/medical writers."
"It was a magical experience," Lytvyn remembered, "to see how excited our users were."
As I moved forward with my journalistic testing of their product, Grammarly turned out to be a breeze for me. Not only am I now running everything I write through it (as I'm doing with this piece before it runs in HuffPo now), scanning for simple errors but Grammarly also checks to see if the words I am stringing together in any particular order might be 'borrowed' from some other writer or whether I need to properly attribute something I write to somebody else.
I'd imagined but never fully realized how many people and how oftentimes they need a real system for finding and correcting mistakes in the words they write.
Serving up a clean and simply navigated user interface through their website, Grammarly allows for you to easily cut and paste any copy you're writing, directly into their 'dashboard.' Whether it be for a press release, corporate document, sales brochure or a column for HuffPo or the WSJ, all your documents are stored in their various levels of completion. You can also upload documents directly into Grammarly for checking.
For PC users, Grammarly offers a neat 'add-in' for the Microsoft Office Suite.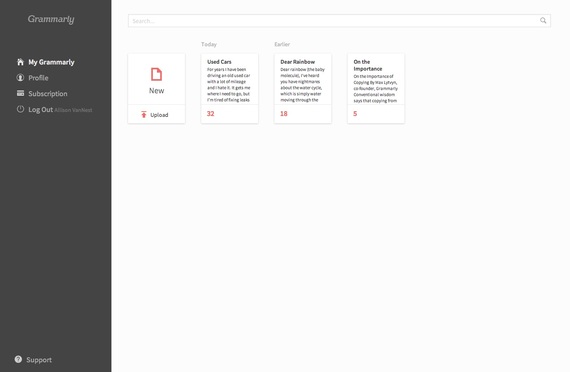 Once your copy is pasted inside the Grammarly' editor field, the checking software swings into action.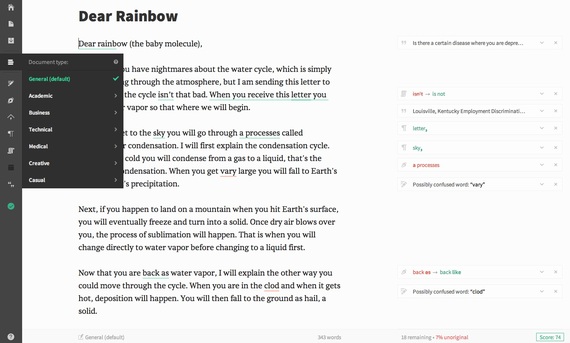 Offering different types of checking such as "Academic," "Medical," "Business," "Technical," "Creative" and "Casual," Grammarly covers the spectrum of different kinds of writing and the various intricacies in each.
And on each "error" in your copy, you can drill down and see more info about that error to either bypass it if it's what you wanted or correct it quickly and with ease.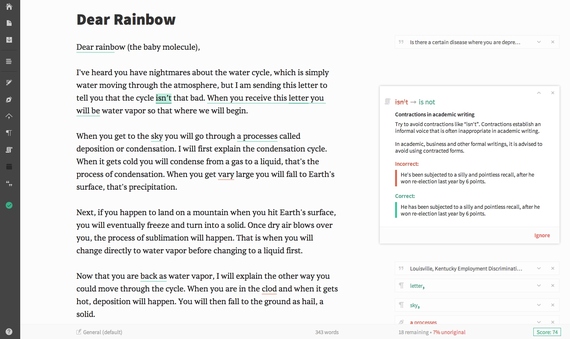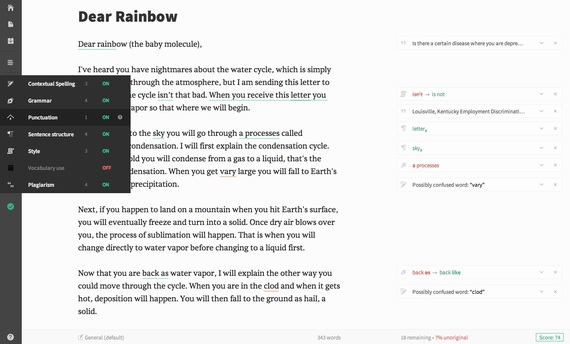 Grammarly offers a whole host of neat, free add-ons for the 'prosumer' writer. There's "Grammarly Lite," which is a browser plug-in that travels with you on the Web and protects your grammar everywhere you write; "Grammarly Answers," which is a writer's forum where you can ask all kinds of writers all kinds of questions regarding the artistry of writing; "Grammarly Handbook," is a style and grammar book for writing; and "Grammarly Words," an online contextual thesaurus.
Pricing is currently $29.95 per month, $59.95 quarterly or $139.95 annually for individuals; with Institutional and Enterprise licenses available. Don't be surprised to see a pivot however, on Grammarly's pricing.
"There are two ways our users are employing Grammarly today," Alex Shevchenko observed. "First, they are uploading a document to the Grammarly Editor by either cutting and pasting the text in or uploading the document direct (RTF or Word documents) and can use the four major web browsers (Chrome, Firefox, IE, Safari). Second way, is an add-on for Microsoft Word. Open a Word file and Grammarly automatically proofreads the document inside Word."
Max Lytvyn chimed in, "Where we're going is rather than bringing users to Grammarly, we want to bring Grammarly to everywhere people write. We're moving toward a place where our product would sit between the storage of an organization's documents and be automatically checking documents as people write them. But right now, we're focused on making the best product for our current users. "
On the 'privacy issue,' Lytvyn told me, "There's no sharing on Grammarly like Facebook, LinkedIn, etc. so the privacy is very high."
Up until now, Grammarly has been "completely bootstrapped;" a valiant yet risky way to build a company. Lytvyn summarized, "We are cash-flow positive right now and don't have a need for external funding right now. But we might in the future."
P.S. I ran this column through Grammarly in its entirety and it found 147 mistakes!
Calling all HuffPost superfans!
Sign up for membership to become a founding member and help shape HuffPost's next chapter