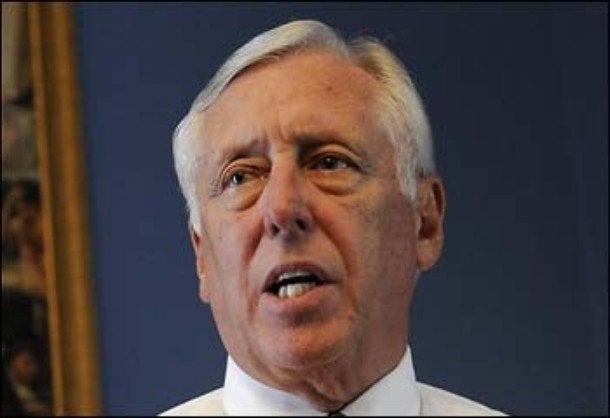 House Majority Leader Steny Hoyer (D-Md.) told reporters Tuesday that a health care reform bill that did not include a public insurance option could pass the House as long as it met key objectives.
House Speaker Nancy Pelosi (D-Calif.) has repeatedly said that such a bill would not have the votes to pass. Progressives in the House have vowed not to support any bill that doesn't include a robust public option and Democrats are unlikely to get more than a handful of GOP votes.
When Hoyer floated the possibility of passing health care reform without a public option earlier this summer, Pelosi quickly responded by saying that it couldn't be done. Yet Hoyer went back to the same well.
"I think a bill can pass the House that a majority of the House believes enhances, moves forward substantially, the providing of access to affordable quality health care. I know that sounds like a litany to you and it is a litany, but the fact of the matter is I believe a bill that accomplishes very substantially the objectives the president has put forward and we've put forward can pass the House," he said.
"I think the public option is a very good choice for consumers to have," he said. "On the other hand, I have said that I hope to move a bill forward that can garner majority support."
So the public option, asked one reporter, isn't necessarily vital?
"No, I think it's vital and important. Do I think it's a condition of passing the bill? My position has been: I'm for the public option," Hoyer said. "But I think there's a lot that in the bill that is very good in addition to the public option. Interpreting that means if the public isn't going in there, I still could support a bill because I think there's a lot in there that's good."
House progressives have vowed to vote against any bill that doesn't have a public option. The bloc has enough members to sink the legislation, putting them closer to a game of chicken with the conservative Blue Dog Coalition. Blue Dogs, however, are not unanimously opposed to a public option -- a number of them have publicly supported it -- and the progressives are not in lock-step opposition to any bill that doesn't include it.
A handful of members have said they are open to a compromise where the public option would be "triggered" by the failure of the insurance industry to meet certain objectives within a specific time frame. Advocates of the public option worry the trigger is an industry ploy to kill it entirely and that the legislation would be written in such a way that it would never be triggered.
Hoyer said he hoped that the progressives didn't follow through on the threat to sink the bill. "I hope we don't blow up the whole process. I think this is a robust, animated, important debate that we are having about how to put this together. Everybody knows how consequential it is," he said. "So I don't think anybody's being recalcitrant. I think they're stating their views and stating them strongly. In the final analysis, we'll have to come down and see what we can pass."
Hoyer then referenced the death of Sen. Edward Kennedy (D-Mass.), a "great warrior," in pushing the case for compromise. What made Kennedy great, said Hoyer, was that he was a "consummate legislator."
Those negotiations won't likely involve House Republicans, Hoyer said. "I would like to forge a bipartisan bill over here. My analysis is that that's not the desire of members of the committees -- in fact, although I'm not going to mention specifically which committee -- one ranking member has made it clear his leadership discussed with him a lack of interest in him pursuing with the chairman a bipartisan alternative," he said.
The House will not be waiting for the Senate to pass a bill before it moves to final passage, Hoyer said, but he added that he and others were curious to see what the upper chamber would do.
"We don't have a policy of waiting for the Senate to act," he said.
The Senate returns to its pre-recess routine Tuesday. The Gang of Six -- three Democrats and three Republicans on the Senate Finance Committee -- will meet to discuss a proposal laid out by committee chairman Max Baucus (D-Mont.). A source familiar with the proposal said that it comes in south of $900 billion over ten years and includes nonprofit cooperatives instead of a public health insurance option.
"The policies included represent many of the policies discussed with Finance Committee members and described in previous options papers. In addition, the policies also reflect the group's conversations and the group's work throughout the summer, including throughout the August recess. It adheres closely to the group's work and reflects the numerous areas of agreement among the members," said the source in an e-mail.
"Chairman Baucus proposed this framework for consideration and response by the group's next meeting Tuesday. He made clear to members that the proposal is not a final product, should not be construed as a Chairman's Mark and does not include everything that might be in a Chairman's Mark." (A Chairman's Mark is an alternative bill dropped into the process by the chairman and doesn't need the input of other members.) The email continued: "Members were encouraged to suggest individual modifications or offer whole or partial counters to specific provisions. Members were also advised that any modification offered that would increase the cost of the package, should include offsets to keep the package budget neutral."
Popular in the Community