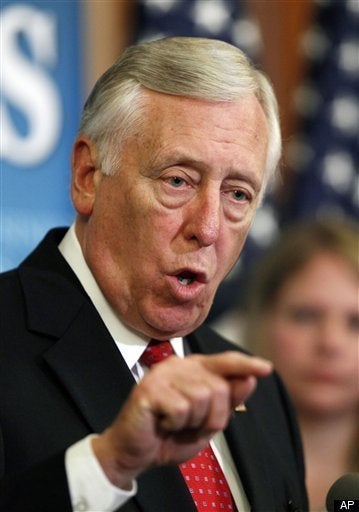 UPDATE: Dec. 16, 10:05 a.m. - The Senate has at least 62 votes to repeal the military's Don't Ask, Don't Tell policy, Rep. Barney Frank (D-Mass.) said Thursday morning.
"I have to give Joe Lieberman credit. We were told, Steny Hoyer was told by the Senate leadership, and particularly by Senator Lieberman -- Senator Collins and I will give her credit too, she has been good on this from our standpoint -- that if we passed it as a separate bill that would help," Frank said on the Sirius XM Satellite Radio show "POTUS." "There are at least 62 senators -- more than the 60 that is needed under that outrageous filibuster rule, but at least we have even met that -- who are committed to repealing 'Don't Ask, Don't Tell.' It was tied up with other things and they said they couldn't do it until they got a tax bill worked out, until they got the spending bill. All the obstacles that people have said existed to a straight up-or-down vote have now been met. And unless there are some liars in the Senate, we are going to get this done."
The Senate has enough votes to pass a standalone repeal of the military's Don't Ask, Don't Tell policy, Majority Leader Steny Hoyer (D-Md.) has been told by Senate counterparts, he said in an interview with HuffPost Wednesday evening after the House approved its own version of the bill.
Hoyer said that he's been working closely with Sens. Joe Lieberman (I-Conn.) and Susan Collins (R-Maine), the leading reform advocates in the Senate, and that he suggested last week to Lieberman that the House move first.
"Senator Lieberman and Senator Collins determined that they would introduce a bill," said Hoyer. "I called and talked to a number of people. I then called Senator Lieberman and said 'Joe, my intent will be to talk to Congressman Murphy' -- who's the sponsor of the amendment that was adopted in the defense bill -- 'and put this in as a free standing bill, because we can probably send it over to you more quickly than you can send to us.' And he agreed and we introduced exactly the same bill that they have in the Senate."
That bill passed 250-175 after heated debate and a number of unusual statements made by Republicans in support of continuing the policy. "The United States military is not the YMCA. It's something special," insisted Rep. Duncan Hunter (R-Calif.).
Rep. Barney Frank (D-Mass.) said that it is not the soldiers who have a problem with repealing the discriminatory policy, but rather that Republicans are "imputing their own unease" about gays and lesbians on to those soldiers, who, said Frank, "are better than that."
Hoyer said that his Senate partners say they have the votes, though he has no assurance yet from Senate Majority Leader Harry Reid (D-Nev.) as to when it'll come up.
"I talked to [Reid] late last week and early this week so he anticipated this action, but I have no assurances from him. I do, however, have talked to both Senator Lieberman and Senator Collins and they both believe they have the requisite number of votes to pass this legislation," he said.
The repeal will need 60 votes to overcome a filibuster; it won 57 votes last week. Sen. Blanche Lincoln (D-Ark.) has vowed to support it next time after missing the vote. Sens. Scott Brown (R-Mass.) and Lisa Murkowski (R-Alaska), who have expressed some level of support for repeal, could cast the deciding votes.
Earlier on Wednesday, Sen. Richard Lugar (R-Ind.) said he was still open to voting for repeal, raising the possibility that if it becomes clear the repeal has 60 votes, several other Republicans may switch and support it in order to get on the right side of history -- and avoid interrogation from grandchildren over the holidays who have long since discarded the prejudice that underlies the policy.
Watch the floor speeches on behalf of repeal:
Calling all HuffPost superfans!
Sign up for membership to become a founding member and help shape HuffPost's next chapter